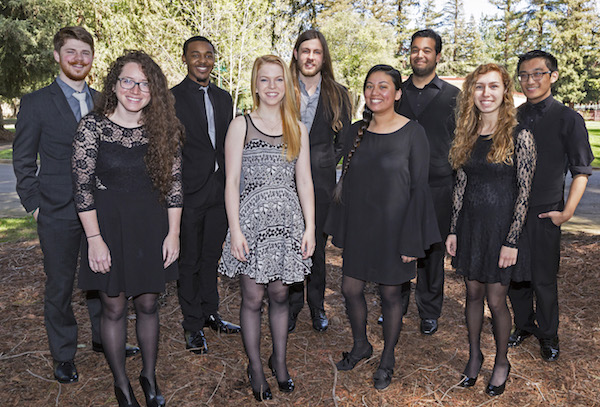 Sacramento State's C-Sus Voices group was declared the No. 1 college vocal jazz group in the nation during the Monterey Next Generation Jazz Festival. (Sacramento State/Craig Koscho)
How good are Sacramento State's vocal jazz ensembles? The judges at the Monterey Next Generation Jazz Festival think they're the best, declaring the University's C-Sus Voices (www.csus.edu/music/jazz) as the nation's No. 1 college vocal jazz group during the festival's awards presentation Sunday, April 10.
As a reward for that win, the group will perform live Sept. 16-18 at the renowned Monterey Jazz Festival, which attracts professional jazz musicians from around the world.
The Next Generation Festival invites competitors from across the country, each sending samples of their repertoire to festival officials. From there, the judges narrow the choices to a handful in each category, and those selected perform live at the festival.
In the College Vocal Ensemble Division, the C-Sus Voices performed a program that included "Noticing the Moment" and Hiatus Kaiyote's "Lace Skull" to beat out five other university groups, with CSU Long Beach placing second and Valencia's College of the Canyons coming in third.
Professor Gaw Vang-Williams is in her third year as director of Sac State's Vocal Jazz program, and she was understandably pleased with the win.
Professor Gaw Vang-Williams
"The students were shocked, completely shocked," Vang-Williams says. "It's great that they're recognized for all the hard work they did."
And they're looking forward to performing at the main festival in September. "It's such an honor and a great educational experience to perform at that festival," Vang-Williams says.
"I am proud of our Sacramento State Jazz Studies students for their spectacular performance at this prestigious jazz festival," says Professor Steve Roach, director of Sac State's Jazz Program, which includes the vocal and instrumental ensembles. "They competed against some of the top university groups in the nation."
The win also comes shortly after the University's Music Department became the Sacramento State School of Music. That occurred in September, the start of the current academic year.
"Professor Gaw Vang-Williams is a homegrown talent, and she was part of our outstanding vocal jazz ensembles as a student," says School of Music Director Ernie Hills. "Now, she has taken this ensemble to new heights. She and her students are awesome!"
The group's talent will be on display Friday, May 13, when C-Sus, the Sac State Jazz Singers, and Vox Now all perform at 7 p.m. in the Capistrano Concert Hall. Tickets are $10 general, $7 for seniors and $5 for students, available at (916) 278-4323 or www.csus.edu/hornettickets.
For more information about Sacramento State's School of Music, visit www.csus.edu/music or call (916) 278-5191. – Craig Koscho