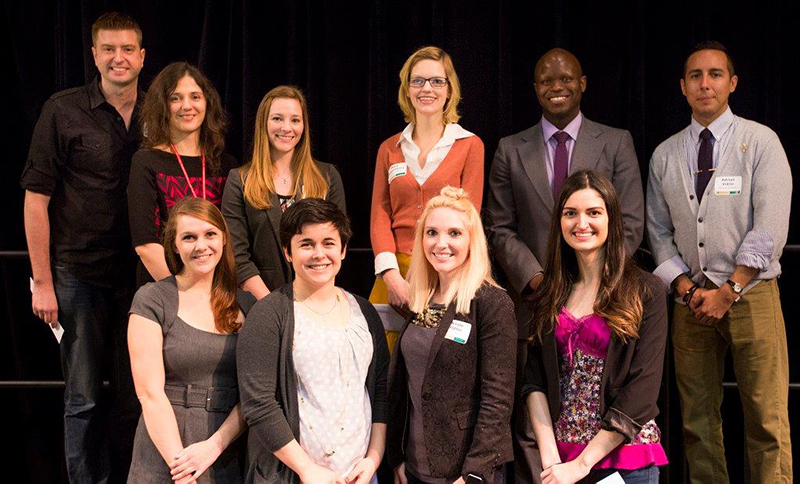 Representing Sacramento State at the CSU Student Research Symposium are (front row, from left) Morgan Garvey, Holly Siino, Nicole Potter, and Bethany Parker; and (back row, from left) Benjamin White, Lyudmila Moraru, Beth Parvis, Mary Rosenberry, Didier Mponte, and Adrian Vidrio. (Not pictured: Elizabeth Ketelle)
Sacramento State will send 11 outstanding scholars, representing a variety of academic disciplines, to the 30th annual California State University Student Research Competition, April 29-30 at CSU Bakersfield.
The students – nine individuals and one team of two – qualified for the CSU competition after impressing jurors with their oral presentations at Sac State's 2016 Student Research Symposium in February.
The students' topics for the CSU showdown are wide-ranging, from secure coding and California's native Tule perch to stormwater runoff on the Sac State campus and how the 1970 rock opera Jesus Christ Superstar interprets the apostle Judas Iscariot.
In addition, three graduate students in English will present their research findings on two American literary giants: poet Walt Whitman and novelist Ernest Hemingway.
Lyudmila Moraru will explore "The Poetry of Chaos: Fractal Forms in Walt Whitman's Poetry," and Elizabeth Ketelle will present "One Big Union: Walt Whitman and the Wobblies." And Mary Rosenberry's topic is "Potent Potables: New Interpretations of Alcohol in Hemingway's Novels."
"I'm so proud of these students," says Nancy Sweet, professor of literature and faculty mentor for the three women. "I was a juror at the Student Research Symposium last year and thought, 'Our students in English should be here and share their research.' And now they're going to Bakersfield. I love seeing what students can do with their research interests."
Also representing Sacramento State at the CSU-wide meet are the following undergraduate and graduate students, along with their major, topic, and faculty mentor:
Adrian Vidrio and Didier Mponte (electrical and electronic engineering, undergraduate), "Exoskeletal Arm Brace System" – Fethi Belkhouche
Holly Siino (child development with a minor in Italian studies, undergraduate), "World War I Commemoration: Giuseppe Ungaretti, Soldier, Poet, and Seeker of Beauty" – Barbara Carle
Bethany Parker (chemistry, undergraduate), "Quantification of Polycyclic Aromatic Hydrocarbons as Chemical Tracers of Stormwater Runoff on the Sacramento State Campus" –Justin Miller-Schulze
Nicole Potter (psychology, undergraduate), "Perirhinal Cortex Involvement in Fear Extinction to a Discontinuous Light Stimulus" – Sharon Furtak-Nguyen
Morgan Garvey (psychology, undergraduate), "How Jesus Christ Superstar Boldly Interprets Judas Iscariot" – Harvey Stark
Benjamin White (computer science, graduate), "The Secure Coding Assistant" – Jun Dai
Beth Parvis (biological sciences, graduate), "Sexual Dimorphism and Size-Related Changes in Body Shape in Tule Perch, A Native California Live-Bearing Fish" – Ron Coleman
The 11 were among 107 undergraduate and graduate students who showcased their original scholarly work as a poster or an oral presentation during the 2016 Sacramento State Student Research Symposium, held in the University Union Ballroom. Six oral presentation winners received the Provost's Award for Research Excellence and $500. They and four other top oral presenters, including the team of two, will represent Sac State at the system-wide competition in Bakersfield.
Sacramento State will host the CSU Student Research Symposium in 2018. This fall, Sac State will open a student research center at the University Library, which will serve as a clearinghouse and hub for students and faculty. – Dixie Reid