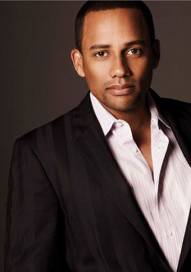 Dr. Hill Harper
Famed actor Dr. Hill Harper, best known for his starring role on CSI: NY, will address Sac State scholars at the third annual DEGREES (Dedicated to Educating, Graduating, and Retaining Educational Equity Students) Project recognition ceremony from noon to 1:30 p.m. Tuesday, May 3, in the University Union Ballroom.
The event, "Celebrating the Fight to the Finish Line: Honoring Families and Mentors in Success," will celebrate the DEGREES Project's scholars and pay special tribute to the families and mentors who make a difference. Students, staff, faculty, and the public are invited.
Harper will take the stage as this year's guest speaker. His recent work includes co-starring in Sony Pictures' Concussion and starring in USA Network's Covert Affairs and the new CBS drama Limitless. As a graduate of Brown University and Harvard Law School, Harper is a philanthropist for education and academic success for underserved youth. He has received honorary doctorates from several universities, including Westfield State College and Howard University, and is the author of four New York Times best-sellers.
Harper connects with the DEGREES Project as the founder of the Manifest Your Destiny Foundation, which provides mentorship and scholarship programs to students. The DEGREES Project also hits close to home, as he attended Bella Vista High School in Fair Oaks.
"I'm excited to return to Sacramento. A wonderful city from where I graduated high school. A city that still maintains some smaller-town qualities. I have so many fond memories of living very close to Sacramento State throughout high school," says Harper.
The DEGREES Project provides academic and student support services aimed at improving graduation rates for underrepresented minority students and serves as a comprehensive hub of support for the campus, says Marcellene Watson-Derbigny, associate vice president, Student Retention and Academic Success. Resources include advising services, leadership development opportunities, 24-hour online tutoring, internships, learning communities for freshmen and transfers, peer coaching, and mentorship campus-wide.
CSU Chancellor Timothy P. White is to visit campus the same day, adding to the celebration. CSU Executive Vice Chancellor Loren J. Blanchard also will provide brief remarks at the DEGREES event.
For more information on the DEGREES Project, visit www.csus.edu/degreesproject or call (916) 278-6183. Additional information about Hill's foundation is available at mydf.org. – Jayla Lee