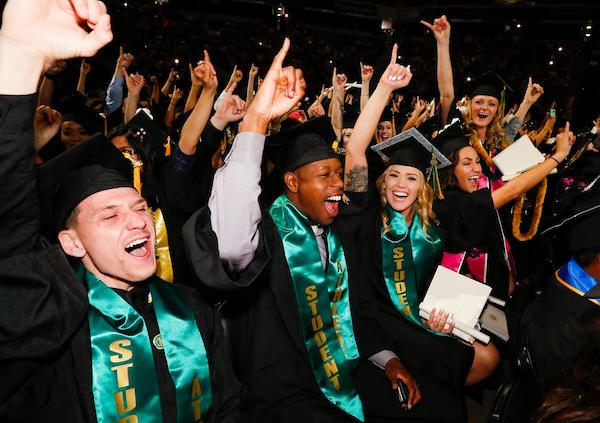 (Sacramento State/Jessica Vernone)
Videos, photos, profiles, and more: Visit our Commencement Coverage page
---
Nearly 5,000 students – including bachelor's, master's, credential, and doctorate in education candidates – walked across the stage in caps and gowns during seven festive, heartwarming Spring Commencement celebrations May 20-21 at Sleep Train Arena.
The graduates now join more than 224,000 alumni who have proudly been "Made at Sac State."
President Robert S. Nelsen presided over his second commencement as Sacramento State's leader and, as is his habit, shook hands with each graduate while offering his congratulations. A total of 4,939 students were eligible to participate in the graduation ceremonies.
Nelsen also conferred two honorary degrees on behalf of Sacramento State and the California State University: a Doctor of Fine Arts to Sacramento artist Gregory Kondos and a Doctor of Humane Letters to local business leader Dave Lucchetti.
At age 93, Kondos (Art '51, Master's in Art '57) is one of the world's foremost landscape painters and a longtime art teacher. "I'm an old man, but I still have a fire in me," he said. "I paint daily, and I enjoy sharing (my knowledge) with others, especially young children. I was lucky to be one of the first students in (Sac State's) art department."
Lucchetti (Physical Education '67, Certificate '68) is president and CEO of Pacific Coast Building Products, and has been a part of many important fundraising campaigns. His family made the lead gift to the Sutter Medical Center Foundation and was recognized with the naming of the Anderson Lucchetti Women's & Children's Center.
"I was looking at some of the (honorary doctorate recipients) who had preceded me, and I said, 'Wow, how do I belong here?' It is a significant honor, and I thank you very much," Lucchetti said.
Nelsen, during his heartfelt, 18-minute welcome to the graduates and their loved ones at each ceremony, frequently spoke of the value of success, leadership, service, gratitude, and pride, noting that "Sac State is truly transforming lives."
He singled out three students, all Dean's Award winners, to illustrate his points:
Nicole Hunter (College of Education) – The mother of two children, one with special needs, attended Sac State nights and weekends for 22 years to earn her degree. She works full time, and the hours she once spent in the classroom now will be devoted to helping the homeless.
Maricela Cortes (College of Health and Human Services) – She grew up in migrant camps with a father who was an alcoholic and drug addict. Her family didn't believe in education. Her parents didn't know that she graduated summa cum laude, with the highest honors, in speech pathology.
Payam Hojjat (College of Business Administration) – Chosen by Nelsen as the 2015-16 President's Medal winner, Hojjat was declared a genius at age 8 and then developed abnormal brain activity that resulted in 79 grand mal seizures. He persevered to finish high school in two years and transferred to Sac State from community college. His dream is to earn his doctorate in management information systems at Stanford University and return to Sacramento State as a professor. "Sac State has prepared me to start working in the real world now," Hojjat said. "We (graduates) are the difference-makers in the world. It is time to go and be the shepherds of the world. We are all bound for greatness."
During each ceremony, Nelsen recognized the parents, grandparents, spouses, partners, and children of the graduates, and thanked them for their support. He asked two groups to stand: students who were the first in their family to graduate, and all who served in the military.
To the faculty, Nelsen said, "Thank you for caring about quality and wanting the best education you could give these students."
"This is a day of gratitude," Nelsen told the graduates. "Today has been about success, service, and sacrifice. Congratulations. You have just graduated."
And, as he ends nearly every address, the President stepped away from the microphone and shouted, "Sac State is No. 1! Stingers up!" He asked the new graduates to move the tassel on their mortarboard from the right side to the left. "Your heart is on the left side. You're putting Sac State in your heart forever."
He closed by saying, "Today is the day when you can truly say, 'I was Made at Sac State." – Dixie Reid