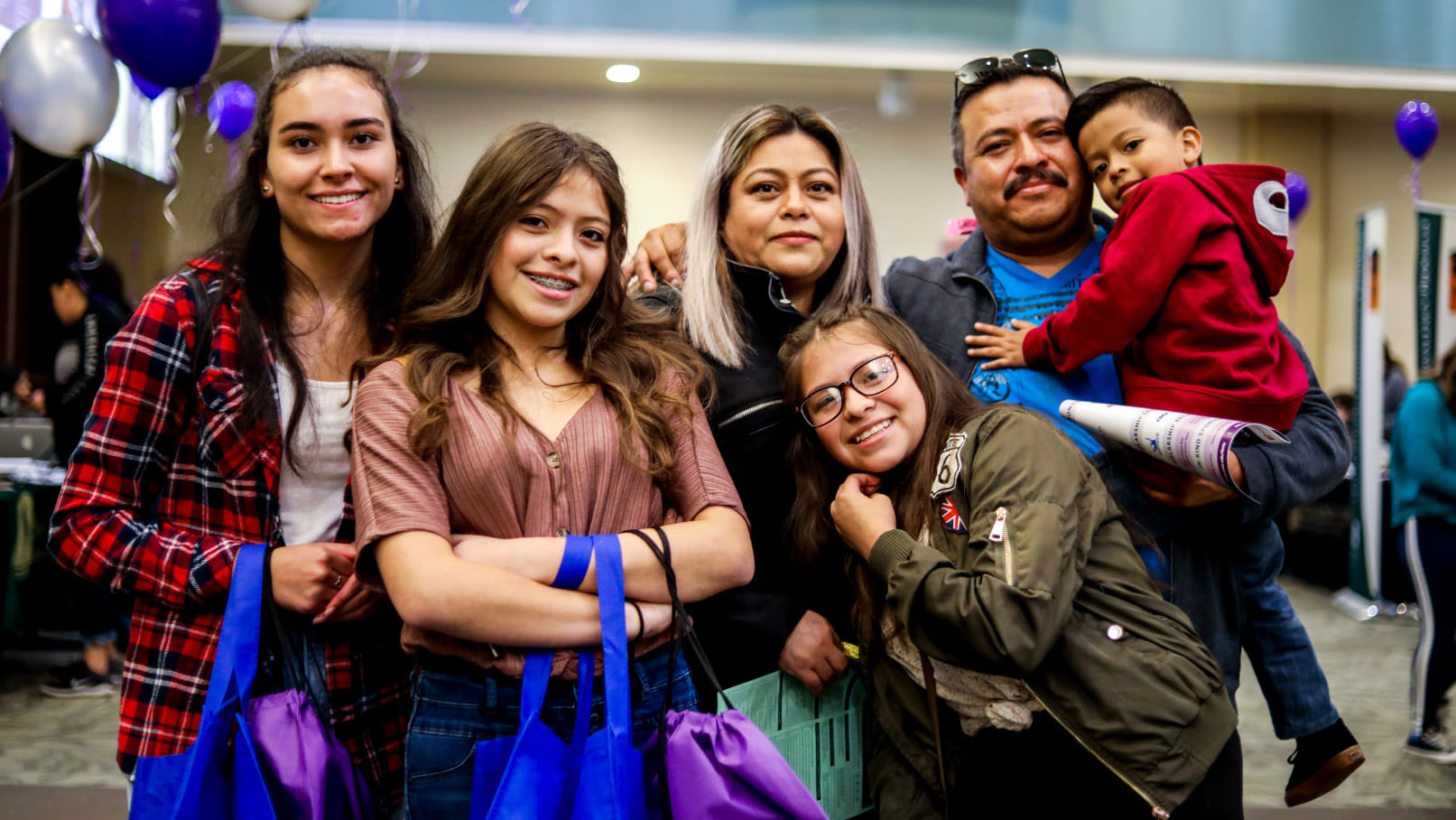 Students and family members were all part of the large turnout for the 2019 Feria de Educación held Oct. 12. (Sacramento State/Bibiana Ortiz) | More photos
By Cynthia Hubert
They came to campus from small agricultural towns and cities across Northern California. About 7,200 students and their guardians participated in the Feria de Educación on Oct. 12 at Sacramento State, an annual event designed to connect Spanish speakers with resources to put them on a path toward college.
"Welcome to your new home, Sacramento State, and your new family," said Viridiana Diaz, assistant vice president of Strategic Diversity Initiatives. She told a crowd gathered at Serna Plaza on a perfect fall day that "education is the best gift" that parents can give to their children, and children to their parents.
Visitors toured the campus, attended workshops on financial aid, admissions and other topics, and met with representatives from community colleges, California State University and the University of California. Entertainment was provided by mariachi musicians and Aztec dancers.
Sac State is a Hispanic-Serving Institution, a designation applied to universities with a Latino student population of at least 25 percent. The designation makes campuses eligible for federal grants and other support to help ensure Latino student success.
The education fair's purpose, in part, is to bridge the cultural gap between Hispanic parents and California's educational system, Diaz said.
"The idea is to show students and their families a path to college, and a path to a better life," she said.
Steve Stuck of Univision, one of the primary sponsors of the education fair along with Sac State and CSU, said organizers want to ensure that "every student, regardless of where they are from or what language they speak, have the best opportunity" to attend college and succeed in life.
"My goal is that Latinos no longer are under-represented in the educational process," he said.
Leslie Aguilar, Alzany Corona and Bibiana Arredondo traveled to the event with their classmates from Orestimba High School in the small town of Newman, near Modesto.
The high school seniors were interested in obtaining information about financial aid and college admissions. "We want to expand our knowledge about college," said Aguilar. First, though, they visited a "visualization photo booth" where they donned graduation regalia for pictures that would serve as inspiration for the future, they said.
"It's a chance for us to see what it's like to put on our caps and gowns before we do it in real life," Aguilar said.
Anahi Gallegos Ruiz, a transfer student studying biochemistry at Sac State, attended the Feria with her family from Riverbank. She received a $1,000 scholarship at the event.
Her parents are immigrants from Mexico who "always told me that school has to come first," she said. "They came from nothing and didn't go to school themselves, so they wanted that for me."
Ruiz said Sac State's Dreamer Resource Center has helped her navigate life as a DACA (Deferred Action for Childhood Arrivals) student on a large college campus. She encouraged other students to take advantage of programs, clubs and resources available to them.
The education fair "is helping to make students aware of all of the programs that can help them get into and through college," said Ruiz, who hopes to parlay her college education into a career in cancer research. "If these students can take advantage of all of the programs that are offered, it can take them to a whole new level."