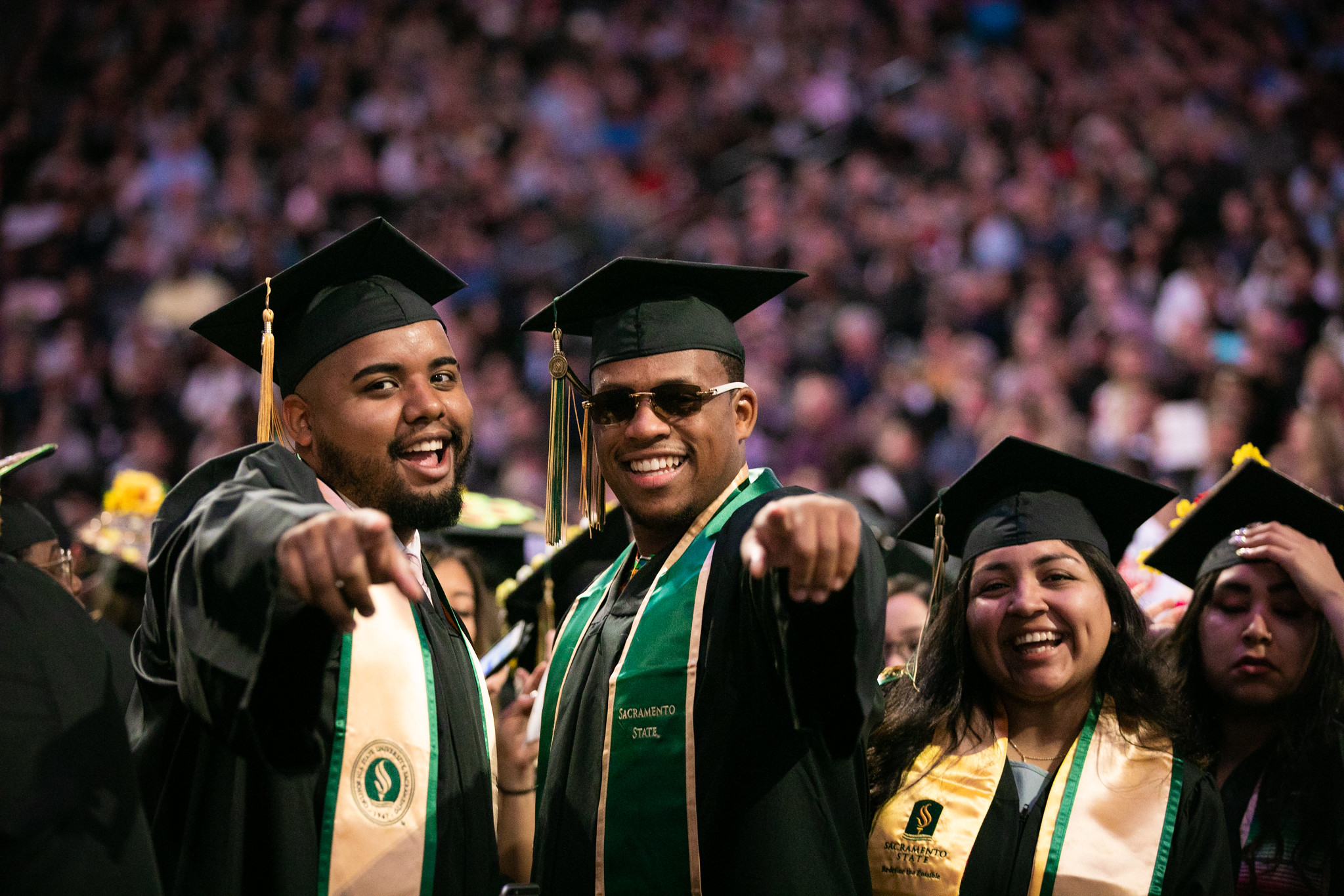 The push to improve graduation rates, already resulting in success at Sac State, will be the focus of an important symposium in Sacramento. (Sacramento State/Jessica Vernone)
By Cynthia Hubert
More students than ever are earning their bachelor's degrees from the California State University, thanks in large part to an aggressive push to boost academic achievement and graduation rates among incoming freshmen and transfer students.
The CSU's Graduation Initiative 2025 helped more than 13,000 additional students earn their diplomas last year, according to Chancellor Timothy P. White. More than 105,000 students, a number that exceeds the populations of entire cities including Redding and Santa Barbara, received their degrees from CSU campuses in 2018, he said.
This year's results may prove even more impressive.
At a symposium in Sacramento this week, participants will review the initiative's objectives and goals and announce the CSU's preliminary 2019 graduation rates. CSU representatives, as well as leaders of community colleges and the University of California, will brainstorm ways to continue to help students graduate in a timely manner, and shrink achievement gaps for members of ethnic minority groups.
"It's an opportunity for us to share best practices across the system, and learn successful interventions from universities that have challenges similar to ours," said Sacramento State graduation czar James Dragna.
Sac State is expected to be among the CSU's leaders in improving graduation rates, having more than doubled the percentage of students who are completing their degrees within "Finish In Four" guidelines, Dragna said.
In 2019 at Sac State, 20.4 percent of graduates completed their course work in four years, up from 8.8 percent in 2016. That jump represents a 127 percent gain, believed to be one of the highest increases in the country during that period. Transfer students also have made progress, with 42.8 percent of them graduating in two years in 2019, a rise of 15.7 percentage points from 2016.
Dragna said he expects the trends to continue, putting Sac State on pace to shatter goals set by the CSU and the University for improving its graduation rates by 2025.
A "culture change" has transformed how Sac State students, parents and faculty think about the importance of completing undergraduate degrees more quickly, Dragna said. All Sac State students are benefitting from expanded resources such as additional faculty members, hundreds of new course selections, thousands of classroom seats, summer scholarships, counseling and electronic platforms to plan classes and track progress.
Many other CSU campuses, which take pride in offering higher education to students who may face financial, cultural, language and other barriers, also have seen significant graduation gains in recent years. The system's cumulative four-year graduation rate was 25.5 percent in 2018. CSU's four-year goal for 2025 is 40 percent.
Toni Molle, director of public affairs for the Chancellor's Office, said White will release preliminary 2019 rates for the entire system at this week's conference.
At last year's symposium, White called the CSU's graduation gains "stunning" and said they represent "revolutionary steps forward" in efforts to enhance student achievement within the university system.
Students who graduate in a timely manner, he pointed out, have less debt and can more quickly enter their chosen careers and contribute to their families and communities.
Graduating just one semester early translates into "an immediate savings" of more than $13,000, White said. These graduates will save more than $31,000 in the longer term, he said.
The success of the graduation initiative "is a statement of our values," said White. "By every measure, we are doing better."
This year's invitation-only symposium will take place Oct. 17-18 at the Sheraton Grand hotel. The event will feature panel discussions and remarks from a variety of speakers, including California Gov. Gavin Newsom; Jeff Gold, assistant vice chancellor for Student Success Strategic Initiatives in the chancellor's office; Doug Lederman, author and editor of Inside Higher Ed, an education website; and Michael Sorrell, president of Paul Quinn College, which is nationally renowned for its innovative approach of using higher education to address society's most pressing problems.
All CSU Graduation Initiative 2025 Symposium speakers and breakout sessions will be livestreamed at calstate.edu/graduationinitiative.
---
Related material:
Improving graduation rates make room for record Fall enrollment
'Finish In Four' push leads to dramatic graduation rate jump