–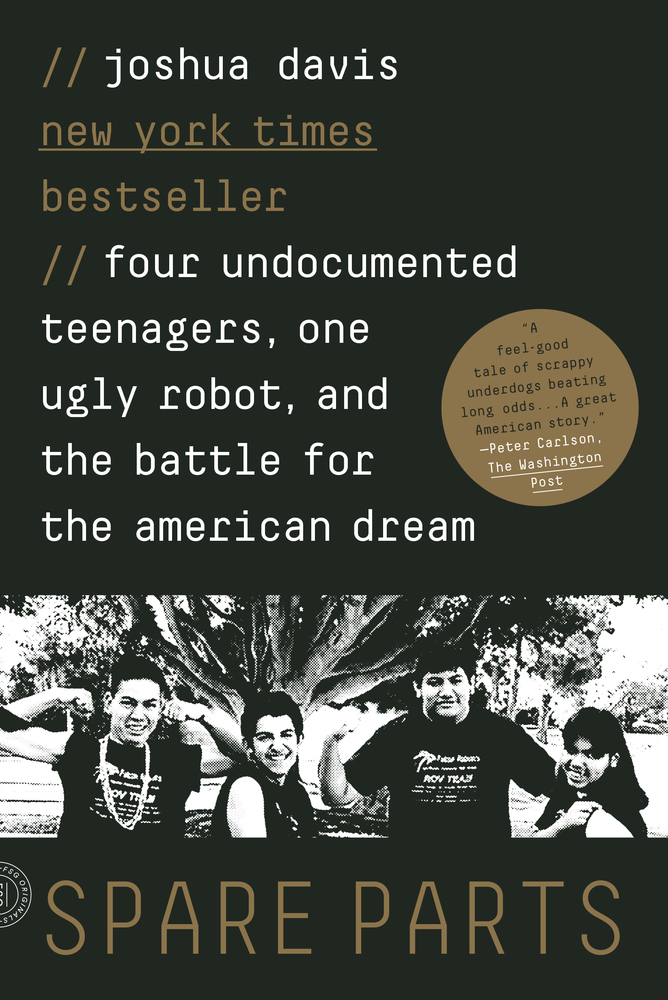 This year's One Book selection,
Spare Parts
, chronicles an unlikely team that prevailed in a prestigious robotics competition. (Cover image courtesy of Farrar, Straus, and Giroux)
By Dixie Reid
In 2004, a ragtag high school team from West Phoenix, Ariz., beat out the Massachusetts Institute of Technology in an underwater robotics competition.
That team's story became the New York Times best-seller Spare Parts: Four Undocumented Teenagers, One Ugly Robot, and the Battle for the American Dream by Joshua Davis (Farrar, Straus, and Giroux, 2014). The moving tale is Sacramento State's One Book choice for 2019-20.
"The selection of Spare Parts as this year's One Book will help our campus community understand the ramifications of undocumented status in student lives, from the personal to the academic," said Viridiana Diaz, assistant vice president for Strategic Diversity Initiatives.
"Learning about the frustrations, fears and limitations experienced by these four students brings attention to the awareness and sensitivity needed for an inclusive campus," Diaz said.
"This book makes you reflect on what it means to be American and the value our undocumented youth bring to this campus and the country."
Sac State's One Book season kicks off on Friday, Nov. 8, at the Harper Alumni Center. An RSVP is required and can be made online.
Following an 11:30 a.m. luncheon will be a screening of Spare Parts, the 2015 movie based on Davis' book and starring George Lopez, Marisa Tomei, and Jamie Lee Curtis. Oscar Vasquez, a member of the winning robotics team, will join the party at 2 p.m. for a livestream conversation.
The movie will be screened two more times, at 3:30 and 7 p.m. Tuesday, Nov. 19, in Riverview Hall. No reservations are needed.
Davis is scheduled to come to campus Monday, Dec. 2, for a book-signing at noon in the MultiCultural Center and for a community lecture at 6 p.m. in the University Ballroom. RSVP for the book signing and for the lecture can be made online.
Author Joshua Davis will be on campus Dec. 2 to discuss his book,
Spare Parts
. (Photo courtesy of Joshua Davis)
Davis first wrote about the undocumented teens and their stunning win for Wired magazine, where he was a contributing editor.
Science teachers at West Phoenix's Carl Hayden Community High School, where 80 percent the students lived below the poverty line, had challenged four of their students to build an underwater robot for the third annual Remotely Operated Vehicle Competition, at UC Santa Barbara.
The boys – an ROTC cadet, a would-be gang member, a brainy nerd, and a quiet, towering giant – cobbled together an underwater robot from PVC pipe and scavenged parts. They named it "Stinky," in reference to the smelly rubber glue that held everything together.
"The teachers had entered the club in the expert-level Explorer class instead of the beginner Ranger class.," Davis wrote. "They figured their students would lose anyway, and there was more honor in losing to the college kids in the Explorer division than to the high schoolers in Ranger.
"Their real goal was to show the students that there were opportunities outside West Phoenix. The teachers wanted to give their kids hope."
Sacramento State's One Book Program was established in 2008 to introduce the campus community and the Sacramento region to writers who have addressed contemporary issues in a compelling way.
The 2019-20 One Book celebration is presented by the One Book Program, Centers for Diversity & Inclusion, College Assistance Migrant Program (CAMP), College of Engineering & Computer Science, Division of Student Affairs, Dreamer Resource Center, First Year Experience, MESA Engineering Program, Serna Center, and University Housing Services.