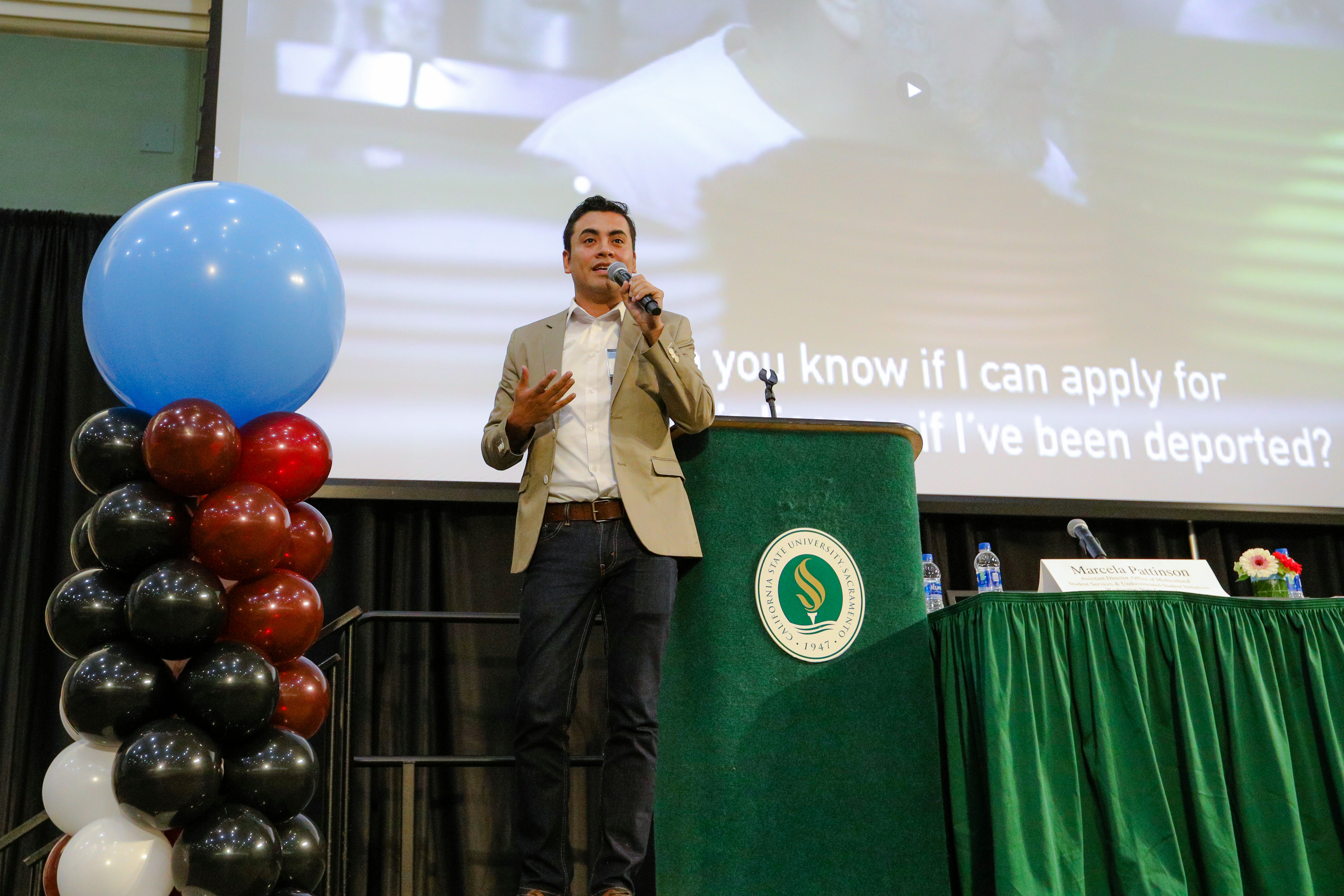 Filmaker and activist Armando Ibañez talks to "Keeping the Dream Alive" participants on Monday, Dec. 2, 2019, suggesting that it's time to "change the narrative" that applies to undocumented immigrants. (Sacramento State/Bibiana Ortiz)
By Cynthia Hubert
Educators must do more than help undocumented students survive in America, said participants in the fourth annual "Keeping the Dream Alive" conference at Sacramento State. Rather, they must help them thrive.
Whether that means guiding them toward a graduate degree, helping them find their voices and tell their stories, or supporting them in their efforts to drive political change, work on behalf of undocumented students is essential, panelists said during the event Monday, Dec. 2, 2019, at the University Union.
Hundreds of educators, activists and students from across California and beyond gathered to share ideas and programs for removing barriers, promoting success and reducing fear among students whose futures are increasingly uncertain as debate about Deferred Action for Childhood Arrivals (DACA) continues.
RELATED STORIESS:
The Supreme Court is considering whether to end or sustain DACA, in which undocumented immigrants who were brought to the United States before age 16 and who meet other strict criteria – known as Dreamers – are protected from deportation and are eligible to work or study in the country. DACA has aided more than 1 million people since a directive by the Obama administration established it in 2012.
Author Joshua Davis talks about themes in his book, "Spare Parts," a reflection on the value undocumented students bring to the country. (Sacramento State/Bibiana Ortiz)
Estimates suggest that as many as 900 undocumented students, many of them DACA recipients, attend Sac State.
The University's Dreamer Resource Center, one of the first in the country, is key to Sac State's efforts to help its undocumented population navigate college life. The center provides students with academic and financial resources as well as legal and emotional support.
Other institutions, including Washington State University, also offer wide support for immigrant students.
Through its Office of Multicultural Student Services and Undocumented Student Initiatives, WSU sponsors "UndocuAlly" training programs for faculty and staff members; a Spanish orientation session for parents of incoming first-generation students; and an UndocuQueer conference to address issues confronted by undocumented and LBGTQ communities.
"It's important to have support from everywhere on campus, so that these issues are understood at every level," said Linda Vargas, a DACA recipient and WSU graduate student who serves as the university's Undocumented Initiatives Ambassador.
After the 2016 national elections, Vargas said, WSU created a team to quickly respond to concerns about new political realities for undocumented students.
"The focus is on student health and mental health, so that they feel comfortable on campus and don't feel threatened" by groups promoting hurtful sentiments and policies aimed at immigrants, she said.
Armando Ibañez, a filmmaker and activist from Mexico, told conference participants that his work celebrates the immigrant experience by telling the complex stories of their lives. He is the writer and director of "Undocumented Tales," a popular YouTube series that follows the journey of an undocumented, queer Mexican restaurant server living in Los Angeles.
When Ibañez arrived in the United States at age 18, he was told "that if I had dreams or goals, I should forget about them," he said. But he became tired of "hiding, lying and feeling depressed," he said. He joined "Undocumented and Unafraid" protests, earned his high school equivalency certification and earned a college degree in film studies. His goal is to "change the narrative" about immigrants through his work, he said.
"We are not one-dimensional," said Heidy Sarabia, an assistant sociology professor at Sac State whose studies have addressed immigrant adaptation and incorporation. "We should be talking about our humanity beyond our immigration status" to help promote compassion and understanding.
Conference participants attended workshops that explored mental health from diverse perspectives, best practices for supporting undocumented K-12 students, and the role of student organizations. Information about federal immigration policy and other topics was offered.
Sac State President Robert S. Nelsen opened the event by telling the participants that "today more than ever, we need all of you."
He talked of undocumented students "not knowing how they're going to get an appointment" because they are unable to obtain proper identification, and "not knowing how they will pay for college" because they cannot work. He spoke of their ongoing fears of deportation, and their mental health struggles.
"We all must be activists," he said. "We must all lead with our hearts and protect one another."