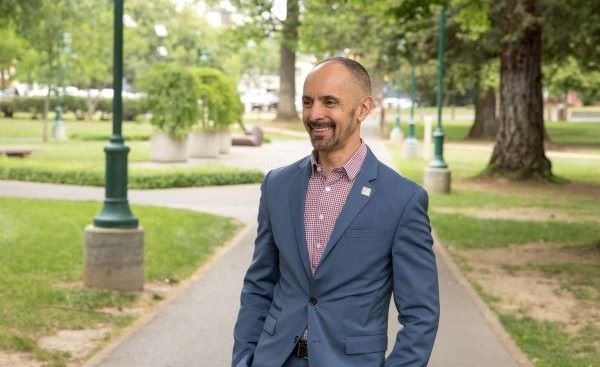 Chrisopher Cabaldon brings a powerful resume to the endowed chair he is set to occupy at the University. (Sacramento State/Andrea Price)
He's the dynamic mayor of West Sacramento, but Christopher Cabaldon's connections reach far beyond the booming town across the river from the capital.
Cabaldon has strong ties to California government, higher education, and urban planners and policymakers around the country, background Sac State administrators believe make him a perfect fit for the first Hazel Cramer Endowed Chair in the Department of Public Policy and Administration.
He will join the University as a full-time, tenured professor in the fall, working to strengthen Sac State's community ties and cement its status as an "anchor institution" in the region.
"A lot great work is already happening here, but there is so much more to do," Cabaldon said in an interview.
Cabaldon plans to use his substantial connections to raise Sac State's profile and voice on such issues as distribution of social services, new modes of transportation and access to technology. He said he wants the University's faculty and students to play a more substantial and visible role in tackling tough problems such as housing affordability and homelessness.
"It's not just about marketing," he said. "It's about bringing together many different voices to make an impact in the community and the region."
Although the Sac State position represents "an enormous career and lifestyle change," Cabaldon said, he considers it an opportunity to expand Sac State's footprint in Northern California. "I'm really looking forward to collaborating with other faculty on campus to make a difference," he said.
Cabaldon's appointment represents only the second endowed chair in Sac State's history. Antonio T. Bly, a professor at Appalachian State University, recently was named the Peter H. Shattuck Endowed Chair of Colonial History within the College of Arts & Letters. He also is scheduled for a fall 2019 arrival.
At Appalachian State, Bly primarily researched and taught courses on Early American History, African American and Africana Studies, and the History of the Book in America. He also served as director of the Africana Studies program.
Cabaldon will teach one public policy course this fall and two in subsequent semesters. He will have an office on campus, as well as at Sac State Downtown. His position in the College of Social Sciences and Interdisciplinary Studies is supported by a gift from the late Hazel Cramer, whose donations also have funded an endowed scholarship at Sac State.
Among other things, Cabaldon will be expected to conduct "community engaged research" that can translate into ideas and possible solutions to real-world issues. He also is charged with developing new avenues for students to learn about urban planning and public policy in action. He plans, he said, to launch an "Innovation Lab" that will bring together people representing a wide range of disciplines to brainstorm ideas for solving social problems.
"It's not that people who are currently working on these things aren't trying hard enough," Cabaldon said. "But we need new faces, new voices, new ideas at the table."
Interim SSIS Dean Ted Lascher called Cabaldon "one of the top leaders in the region," and said his background and contacts make him well-suited to help Sac State ramp up community engagement.
"He's extremely innovative," Lascher said. "He's got a great reputation for trying new things, and succeeding at them."
Cabaldon was first elected West Sacramento's mayor in 1998 and has overseen the city's significant population surge and economic growth during the past two decades. He has been lauded for his collaborative work on transportation, social, economic development and land-use issues, including the development of West Sacramento's waterfront area, and efforts to help find solutions to homelessness.
He is chair of the Jobs, Education and Workforce committee for the U.S. Conference of Mayors, and has been an appointee in the administrations of five California governors representing both parties. He is a founding partner of Capitol Impact, a policy and strategy firm.
Throughout his career, Cabaldon has demonstrated a strong commitment to higher education, having previously served as vice chancellor of the California Community Colleges and as director of the state Assembly Committee on Higher Education.
And he was Made At Sac State, earning a master's in Public Policy and Administration from the University in its founding class. He taught as an adjunct Sac State faculty member and received the University's Distinguished Alumni Service award. He owns a bachelor's degree in Environmental Economics from UC Berkeley.
Cabaldon arrives at Sac State at an ideal time, said Phil Garcia, vice president of Public Affairs and Advocacy.
"Given his record of distinguished public service in local government and education policy, and his expertise in workforce and economic development," Garcia said, "he is perfectly positioned to help the University leverage our new Sacramento State Downtown location" and raise the University's profile as a thought leader and public policy driver.
President Robert S. Nelsen welcomed Cabaldon to the Hornet family.
"While his expertise as mayor will bring a unique perspective to the program, the breadth of his knowledge in public policy and education is significant," Nelsen said. "I look forward to the impact he will make on our students and the public policy program.
"I cannot imagine a more illustrious hire to serve as the inaugural Hazel Cramer Endowed Chair." – Cynthia Hubert
Editor's note: An earlier version of this story included an incorrect year for when Christopher Cabaldon was first elected mayor of West Sacramento. The correct year is 1998.