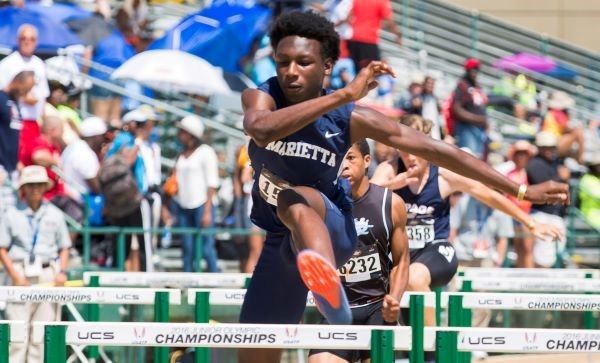 Young athletes from across the country will compete for national honors during the Junior Olympics championships at Sacramento State, July 22-28. (Sacramento State file/Jayla Lee)
By Dixie Reid
Sacramento State, noted as being the site of numerous high-end track and field meets, is set to host one of the most prestigious events for young athletes – the National Junior Olympics.
Officially named the 2019 USA Track & Field (USATF) Hershey National Junior Olympic Track & Field Championships, the meet is scheduled for July 22-28 at Hornet Stadium.
More than 7,000 outstanding young athletes – ages 7 to 18 – will compete the national stage at Sac State. Qualifiers for the upcoming meet earned their way through the USATF's Junior Olympic Program.
Avid track-and-field fans have swarmed Hornet Stadium in past summers to witness such major competitions as Olympic Trials, the USATF Outdoor Championships, USATF Junior Olympics, and NCAA Outdoor Track and Field Championships.
Sacramento set attendance records for the 2000 and 2004 U.S. Olympic Trials, with more than 20,000 spectators in the stadium each day.
The city and Hornet Stadium were in the running to host the 2020 Olympic Trials but lost out to Hayward Field in Eugene, Ore.
Hornet Stadium's $1.4 million Mondo Super X 720 track, installed in 2014, has made Sac State a sought-after venue for top-level track and field meets. More recent upgrades to the campus facility include a new video board, elevator, and scoreboard.
"Hornet Stadium is an ideal facility and will prove to be a premier host for this year's Junior Olympic competition," said Mike Sophia, director of the Sacramento Sports Commission.
The commission, along with Visit Sacramento, the USATF Pacific Association, the city of Sacramento, and Sacramento County, are joining Sacramento State to present the 2019 Junior Olympics.
Admission wristbands may be purchased at Hornet Stadium starting Monday, or on the Sacramento Sports Commission website. Prices for adults are $15 per day or $45 for the week. Youth admission, for ages 7-12, is $8 a day or $25 for the week. Children 6 and younger will be admitted free.
The complete daily event schedule for the meet also can be accessed online.
Opening ceremonies are scheduled for 7 p.m. Tuesday, July 23 in Hornet Stadium.