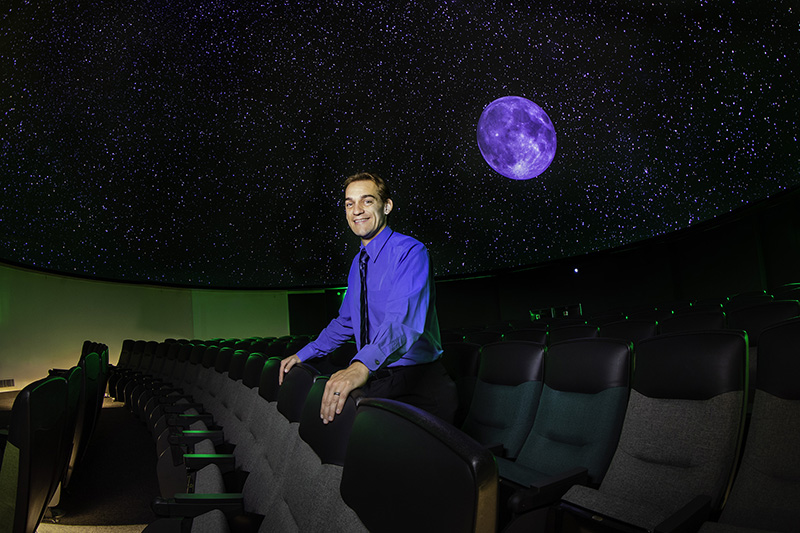 Kyle Watters is eager to provide visitors thrilling new experiences as the Sacramento State Planetarium's first director when it opens this fall. (Sacramento State/Andrea Price)
---
By Cynthia Hubert
The bulldozers and dump trucks have stopped rumbling, and the jackhammers have gone silent. The landscaping is in place. The final tiles have been laid on the Sacramento State Planetarium's shimmery dark outer dome, and its 120 plush indoor seats have been installed.
"Now comes the fun part," said the planetarium's director, Kyle Watters, as he sat in his office at Sequoia Hall, steps away from the Ernest E. Tschannen Science Complex.
The complex, which will be the new home of the College of Natural Sciences and Mathematics, is scheduled to open in September. Faculty are moving in, and students will be taking classes in the state-of-the-art building during the fall semester. School groups and members of the general public will be welcomed to the planetarium shortly after the grand opening.
Watters, a Physics lecturer who will continue to teach classes at both Sequoia and the planetarium while hosting stargazing shows and film presentations inside the domed building, is eager to introduce Sac State's latest showpiece to the city and the region.
The planetarium will offer a window into the cosmos that most visitors likely haven't experienced, said Watters.
"I can show you a summer sky or a winter sky," he said. "I can show you the Southern Cross," which is the most familiar star pattern in the southern hemisphere but invisible in the United States. "I can show you constellations you've never seen. We can fly to Saturn and zoom in on its rings. We can go to Jupiter, or explore the Andromeda Galaxy."
Beyond astronomy, shows will take audiences on historical and geological expeditions, among other adventures.
The latest, greatest technology for projecting ultra-high-definition, 360-degree images makes it all possible, Watters said.
"There aren't many nicer planetariums anywhere in terms of the quality of the display," he said. "It's top notch."
Watters, whose brother Cody also is part of Sac State's science faculty, said his new position is a natural fit for him.
He has been interested in science since he was a boy growing up in Sacramento's South Land Park neighborhood, he said. He pored over David Macaulay's book The Way Things Work, and tinkered with Legos and Lincoln Logs. He worked mathematics problems for fun before taking his first physics class in high school. He instantly was hooked.
"For me, physics used math to help explain how the world worked," he said. "I absolutely loved it."
Watters earned his undergraduate degree at Westmont College in Santa Barbara and his doctorate at Stanford. After that, he and his wife Laura moved to Nebraska, where she was a resident physician at the University of Nebraska and he was a visiting assistant professor at Creighton University. Upon completion of Laura's medical residency, the couple returned to Kyle's hometown.
Watters joined Sac State's Department of Physics and Astronomy in fall 2014. He has taught a variety of classes, from beginning astronomy to advanced physics.
"I love talking about astronomy and engaging people about science," he said. "My favorite thing in class is to be interrupted with a question. That's very appealing to me."
When the opportunity to become the planetarium's first director came up, Watters was eager to apply.
William DeGraffenreid, who then chaired Physics and Astronomy, thought Watters had the background and personality to excel as planetarium director.
Watters "is an outstanding and dynamic teacher, and he has an infectious energy when explaining science," said DeGraffenreid, now interim vice provost for Faculty Affairs. "Having observed the connections he makes with students in and out of the classroom, I have no doubt that he will inspire children and adults alike in his new role."
During the past two years, Watters has watched the property south of the Guy West Bridge transform from a parking lot, to a hole in the ground, to a gleaming five-story complex with a rippling design that mimics waves within the nearby American River. The detached planetarium has a compound curve design.
"It's been great," said Watters. "I've seen it go from metal bars to a skeleton of a building to what it is today. It's pretty much finished, and I feel a little extra attachment to it because I've watched it develop."
Sac State, in an effort to raise $20 million for the Science Complex, is offering naming opportunities for laboratories, teaching spaces and even the planetarium itself, which will require a $5 million gift. Donors who make a $1,000 gift to the University's "Seat Under the Stars" campaign will have their names permanently affixed to the back of planetarium seats.
While workers put the finishing touches on the planetarium, Watters is busy acquiring a library of shows, conducting trial runs and making sure the building's "command station" of computers is operating perfectly.
He already is fielding inquiries from school districts about visits to the planetarium. The planetarium is expected to host about 15,000 visitors per year.
"The opportunity to share my love of space and science with students and the community is a wonderful thing for me," Watters said. "I hope everyone brings good questions."
Upcoming planetarium shows:
NASA's "Future of Space Exploration"
"Two Small Pieces of Glass," about telescopes and how they work
"Stars of the Pharaohs," which takes viewers to ancient Egypt and describes the roles of the heavens in that society
"Secrets of the Sun," a look at the role the sun plays in the life of our solar system
"Losing the Dark," which focuses on light pollution
Follow the planetarium's plans on Twitter at @CSUSPlanetarium or on Facebook at Sac State Planetarium.