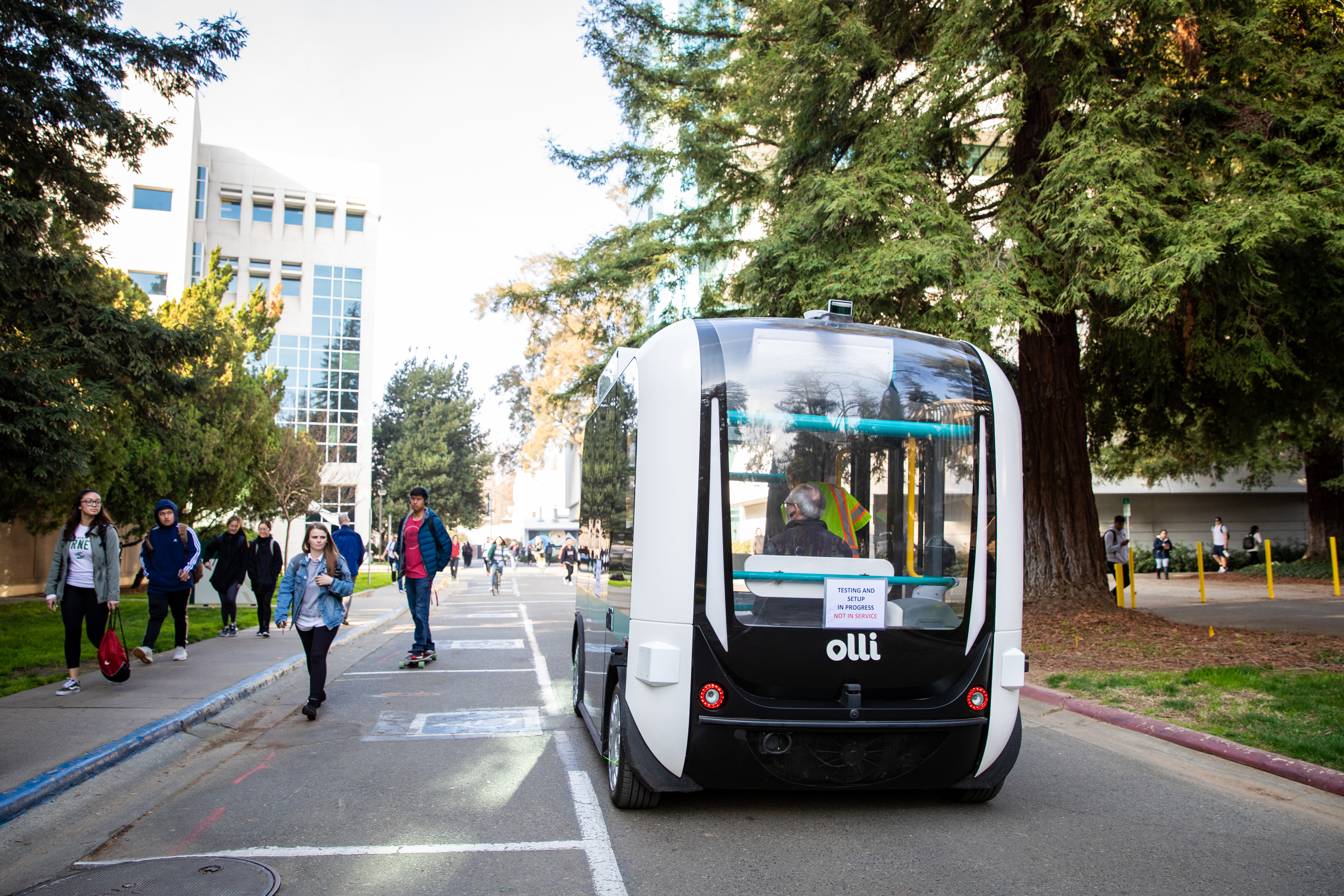 The Olli autonomous vehicle was a notable presence on campus during Sac State's Spring 2019 semester. The vehicle's run provided insights about alternative transportation. (Sacramento State/Jessica Vernone)
By Dixie Reid
During the Spring 2019 semester, Sacramento State introduced the region to the futuristic world of autonomous passenger vehicles with a petite shuttle named Olli.
The electric, driverless eight-seater, with a trained safety operator always on board, plied Moraga Way from March through May, ferrying 992 riders between Yosemite and Amador halls.
The brief "Olli experiment" hinted at what's possible as Sac State works to reach full carbon neutrality by 2040, five years ahead of California's 2045 deadline set by former Gov. Jerry Brown.
"I wanted to make sure that five years from now, when autonomous vehicles become more intelligent and more capable, that I could buy one and put it on the route between the 65th Street light rail station and Sac State, and students would take it," said Tony Lucas, senior director of University Transportation, Parking and Support Services (UTAPS).
"We did a good job of introducing autonomous-vehicle technology and, in general, students were receptive. I believe there has to be a need for it, though. Students aren't necessarily going to ride Olli because it's cool, but because it solves a problem."
The city's 2035 General Plan and Sac State's Campus Master Plan 2015 both call for a second Hornet Tunnel to be built beneath the Union Pacific Railroad tracks west of campus. The new tunnel will be wide enough to accommodate autonomous shuttles operating between campus and the light rail station.
Lucas chose the Moraga Way route for Olli's test run because it is regularly traveled by students and others in wheelchairs. Ideally, he would have had Olli continue onto Sinclair Road and then Jed Smith Drive to the University Union, covering a much larger swath of campus. However, Jed Smith Drive was closed for construction of the Ernest E. Tschannen Science Complex during the springtime trials.
Sac State received three months' use of two electric Olli shuttles – the world's first 3D-printed, co-created driverless vehicles – after winning the inaugural Olli Fleet Challenge sponsored by the manufacturer, Local Motors.
Lucas had participated in the Sacramento Area Council of Governments (SACOG) Civic Labs with an eye on an autonomous vehicle trial. So he and SACOG entered the Olli Fleet Challenge, and won
"(Sac State's) success was forged in our Civic Lab incubator project, which helps public agencies look for innovative solutions to local and regional challenges through new and disruptive technologies," said James Corless, SACOG's executive director.
"An Olli fleet pilot project is a great outcome for Sacramento State and will help showcase the technologies to tackle the transportation challenges of the future."
SACOG paid Sac State's $88,000 cost to bring the shuttles to campus. UTAPS contributed an additional $12,000, as well as infrastructure and in-kind support.
Olli made its campus debut during a news conference hosted by University President Robert S. Nelsen. Visiting dignitaries who joined him for the first 5 mph rides up and down Moraga Way included Congresswoman Doris Matsui and Sacramento Mayor Darrell Steinberg.
"This is the exact right place to show the safety, efficiency, and effectiveness of this technology," Steinberg said.
Matsui said: "We have the future here on our campus, next generation moving forward, and we want them to … feel it what is possible and to understand it."
As a part of their field studies, 121 transportation engineering students in two of Professor Ghazan Khan's courses rode and evaluated the Olli shuttle. Among their impressions:
They would use alternative transportation if they were impaired because of drinking or taking medication.
They generally have faith in autonomous-vehicle technology but trust their own driving skills more.
If autonomous transportation becomes the norm, they would miss the joy of driving, would worry about safety onboard an Olli-like vehicle, and some were concerned that autonomous vehicle systems could be hacked.
Most don't ride public transportation even if they live near a bus or light rail stop.
"This highlights the 'last mile' issue that most public transportation agencies have and its impact on the utility of public transportation to users, hence the importance of solutions like Olli to fill that gap," Khan said.
"A good number of students said they would use an autonomous shuttle to connect with the 65th Street light rail station if that connection was made to campus."
Lucas, the campus transportation czar, said the Olli trial run was a success, but that room for improvement remains.
For example, the small number of riders (992 out of a campus population of more than 34,000) might reflect the manufacturers' requirement, based on liability concerns, that all passengers register and receive a QR code that allowed them to board. That rule might have prevented from riding many who wanted to experience the technology on impulse.
And, rather than circulate continuously between Amador and Yosemite halls, Olli often remained parked at boarding points until passengers approached. Finally, Olli had no wheelchair ramp until a few days before the end of the trial run.
"The intracampus circulation on Olli is not of interest to most people, other than those with an interest in transportation or a mobility limitation that requires assistance to get around campus," Lucas said. "For me, that was the core audience. For everyone else, it was 'I can walk there quicker than riding Olli.'
"In the end, our students were exposed to technology they hadn't seen at Sac State or even in the region," he said. "The students who aspire to become transportation engineers had the opportunity to touch, ride, and see autonomous technology in real life. It was all good from my perspective."