By Dixie Reid
Sacramento State President Robert S. Nelsen, beginning his fifth year as the University's leader, made a promise during his 2019 Fall Address: "We will make the world a better place, a place without harm, a place where everyone feels secure.
"We will do it because of you," he told the approximately 350 faculty, staff, students, and friends of the University who gathered Thursday, Aug. 22, in the University Ballroom.
---
Transcript of the Fall Address (as prepared)
---
Nelsen asked the audience to offer suggestions for how Sac State can help to transform Sacramento and the region and begin to fulfill the promise he made.
Nelsen said he believes that the transformation begins with students who graduate from Sac State and go into the world with a purpose "because they have been engaged in purposeful work while at the University."
Nelsen will share the audience's suggestions with the campus task force that is drafting a white paper in anticipation of writing a new strategic plan for Sac State. He said he will introduce the new plan, which replaces the current 2014-20 version, during his 2020 Fall Address.
The current plan was in place when Nelsen arrived in July 2015. Nelsen said it it offered worthy goals for the University – including to enhance student learning and to foster innovative teaching, scholarship, and research – but often fell short in providing a framework for realizing those goals.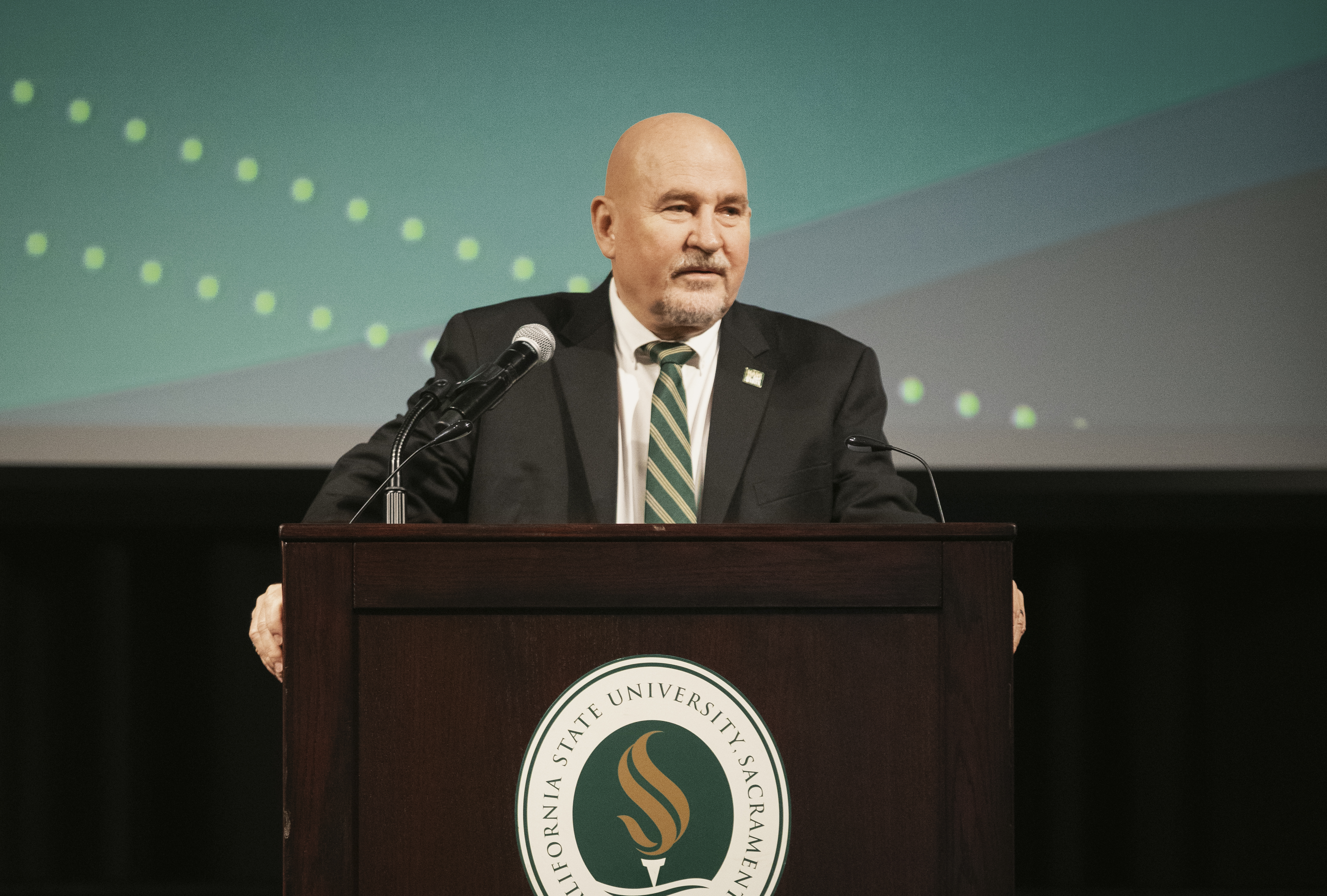 President Robert S. Nelsen shares his vision of what Sacramento State can be during his annual Fall Address to the campus community on Thursday, Aug. 22, 2019. (Sacramento State/Hrach Avetisyan) | Photo gallery
In lieu of a framework, Nelsen introduced five imperatives during his 2016 Fall Address: student success; diversity and inclusion; philanthropy; safety and well-being; and community engagement (which later became the Anchor University Initiative.)
During Thursday's address, Nelsen reported progress on some initiatives, including:
Sac State exceeded the six-year graduation rate goal of a 24 percent increase and "achieved a remarkable four-year rate increase of 128 percent," he said.
The two-year graduation rate for transfer students increased 87 percent; the four-year transfer rate rose 8 percent, less than the anticipated 12 percent.
Over the past year, 57 percent of Sac State graduates were employed in their career of choice.
Fundraising has increased 85 percent, to $26.2 million, with 36 percent more individual donors giving to Sacramento State.
"We are about access and equity. … But how do you put that equity into practice? How do you make it tangible?" Nelsen asked. "You move the reach of the University beyond J Street. That's what it means to be an anchor university.
"We must consciously and consistently dedicate ourselves to truly being the people's university, to transforming Sacramento by transforming our students."
Nelsen framed his speech, which ran nearly an hour, in the context of recent mass shootings in California and elsewhere.
The killings hit close to home for the Hornet Family. A staff member's grandfather was killed when a gunman targeting people of Mexican descent opened fire at an El Paso Walmart. Several members of the Hornet Family survived shootings at the Gilroy Garlic Festival, where another gunman targeted people of color.
Nelsen also noted the loss of Sacramento County Sheriff's Deputy Mark Stasyuk, a criminal justice major, and Sacramento Police Officer Tara O'Sullivan, a child development major and the first woman to graduate from Sac State's Law Enforcement Candidate Scholars (LECS) program. Both were killed in the line of duty.
"Whenever anyone asks me to defend the University and all that we do beyond preparing students for a paycheck," Nelsen said, "I always say that we are preserving and, more relevantly today, saving our democracy. In many ways, we are saving our democracy from the horrors … of racism, white supremacy, violence, hatred and, most of all, ignorance."
Nelsen added: "Just as importantly, we are saving the humanity on which our democracy not only stands but also relies."