By Cynthia Hubert
It was "years and years and years in the making," said Sacramento State Provost Steve Perez.
But from its planning to its christening, the Ernest E. Tschannen Science Complex was well worth the wait, Perez and others told hundreds of people Wednesday during grand opening ceremonies.
The complex, the first new academic building to be constructed on campus in more than a decade, was the center of a celebration that featured tours of its spectacular planetarium, speeches from community and state leaders, music from the Sac State marching band and even a machine belching bubbles into the air.
"What a happy day," declared Mayor Darrell Steinberg.
The complex, which opened for classes this fall, bears the name of the man whose $9 million gift helped propel the project. Tschannen attended Wednesday's ceremonies, along with other donors, faculty members, students, and dignitaries including Steinberg and California state Sen. Richard Pan.
With the five-story Science Complex and its attached planetarium behind them, speakers talked about the building's importance as a center of science education, and its relevance to the region and beyond.
"Science means hope," Steinberg said. "Science can mean reason in a chaotic world." Discoveries made at Sac State could foster breakthroughs in understanding critical issues such as climate change, he said.
"You are at the forefront of our city's renaissance," Steinberg told the crowd.
Yomira Palacios, a Sac State biology student on track to graduate in 2020, said her education at Sac State is helping to prepare her for a career as a genetic counselor. She said the new building, with its open design that encourages discussion and collaboration, will inspire students for years to come.
"When you see Yomira up here, you can see exactly why" the University pursued the project, said President Robert S. Nelsen. "We are here for our students."
Nelsen said the Science Complex "is a building of innovation," from its sustainable design and construction to the subjects faculty teaches.
"You finally have a building that you deserve," he said.
Lisa Hammersley, interim dean of the College of Natural Sciences and Mathematics, said the complex is a "game changer" that will help foster student success. Among other improvements, she noted, the new building features a second large science lab, doubling the number of students who can take courses they need to graduate in a timely manner.
Biology student Lamrot Tulu has been more than impressed.
"It's a whole lot nicer than Sequoia," previously the University's main science building, she said. "The technology, the equipment, is great. Everything is so new and bright."
Pan, a physician, recalled touring Sequoia Hall shortly after he was elected to the state Assembly in 2010.
"I wondered, 'How in the world do faculty members teach" in such a dated building, he said. "Now we have this amazing facility."
He promised to work to secure state funding for future Sac State projects.
"Hopefully, we will be able to work on that engineering building," he said.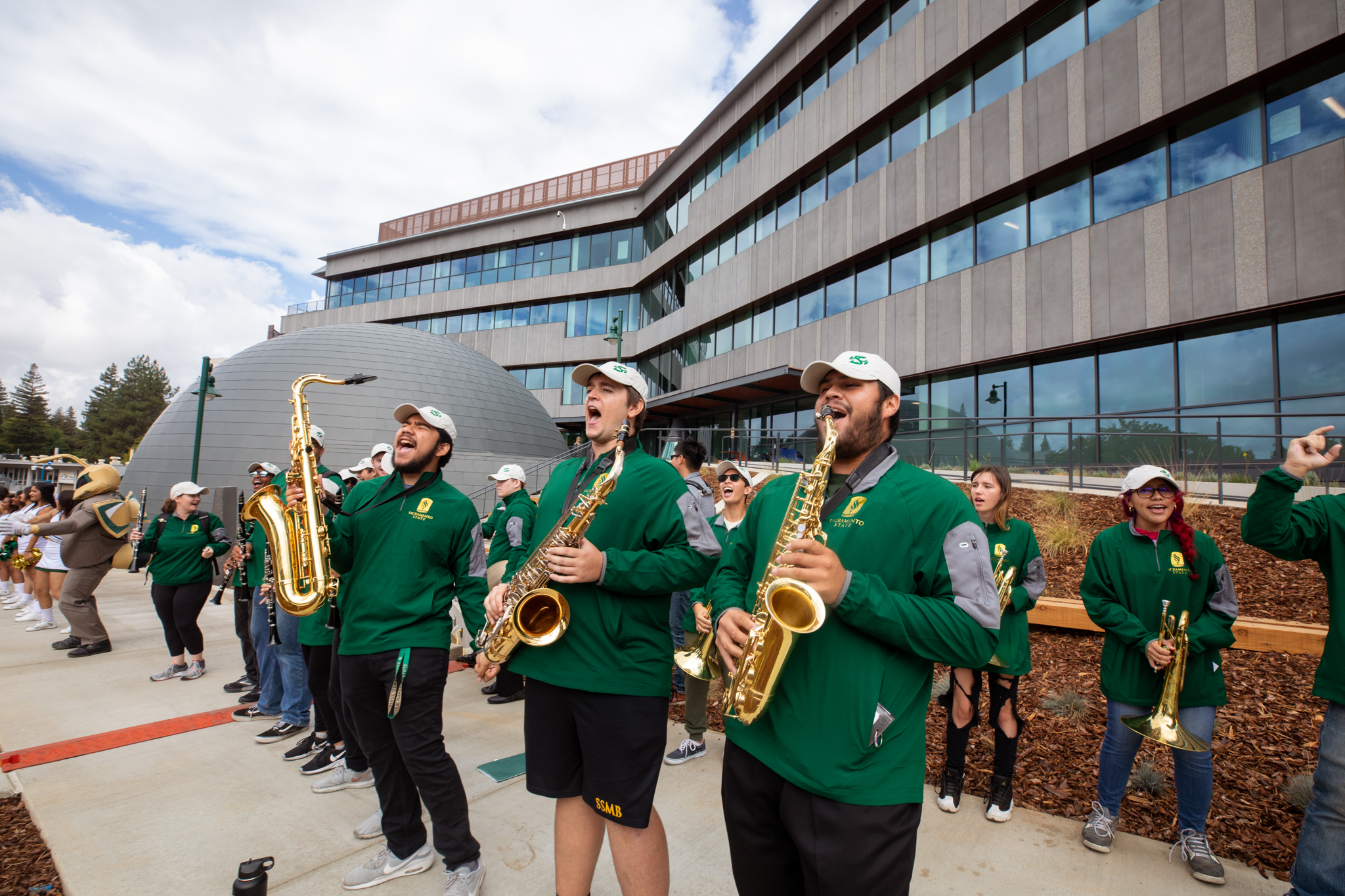 Members of the Sacramento State band, University mascot Herky, and members of the spirit team bring the noise during the grand opening of the Ernest E. Tschannen Science Complex on Wednesday, Sept. 18, 2019. (Sacramento State/Jessica Vernone)