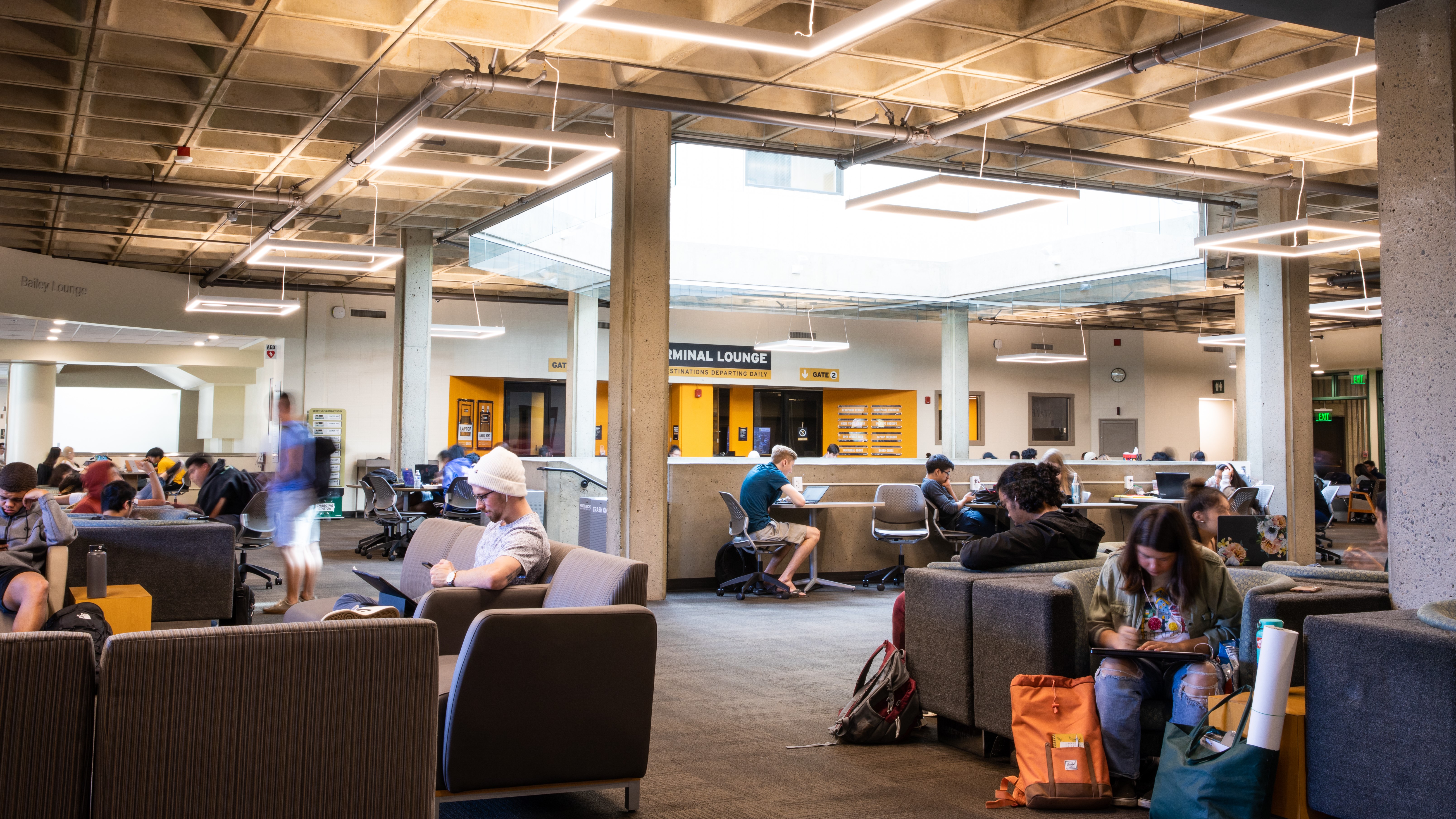 Competition for classes for incoming freshman students can be keen, but the University's new scheduling approach is expected to lower the stress level and help students on the road to timely graduation. (Sacramento State/Andrea Price)
By Cynthia Hubert
A scheduling innovation is expected to significantly help incoming Sacramento State freshman more easily enroll in classes they want and need.
The University soon will begin planning and recommending class schedules for those freshmen, based on surveys of their education priorities and areas of interest, as well as their responsibilities outside of college.
Called strategic scheduling, it is the latest in a series of moves designed to help students balance education, work, and family commitments while remaining on track for timely graduation.
"It's a better path toward achieving educational goals," said graduation "czar" James Dragna, Sac State's executive director for Graduation Initiatives and Student Success. "It really is a game changer."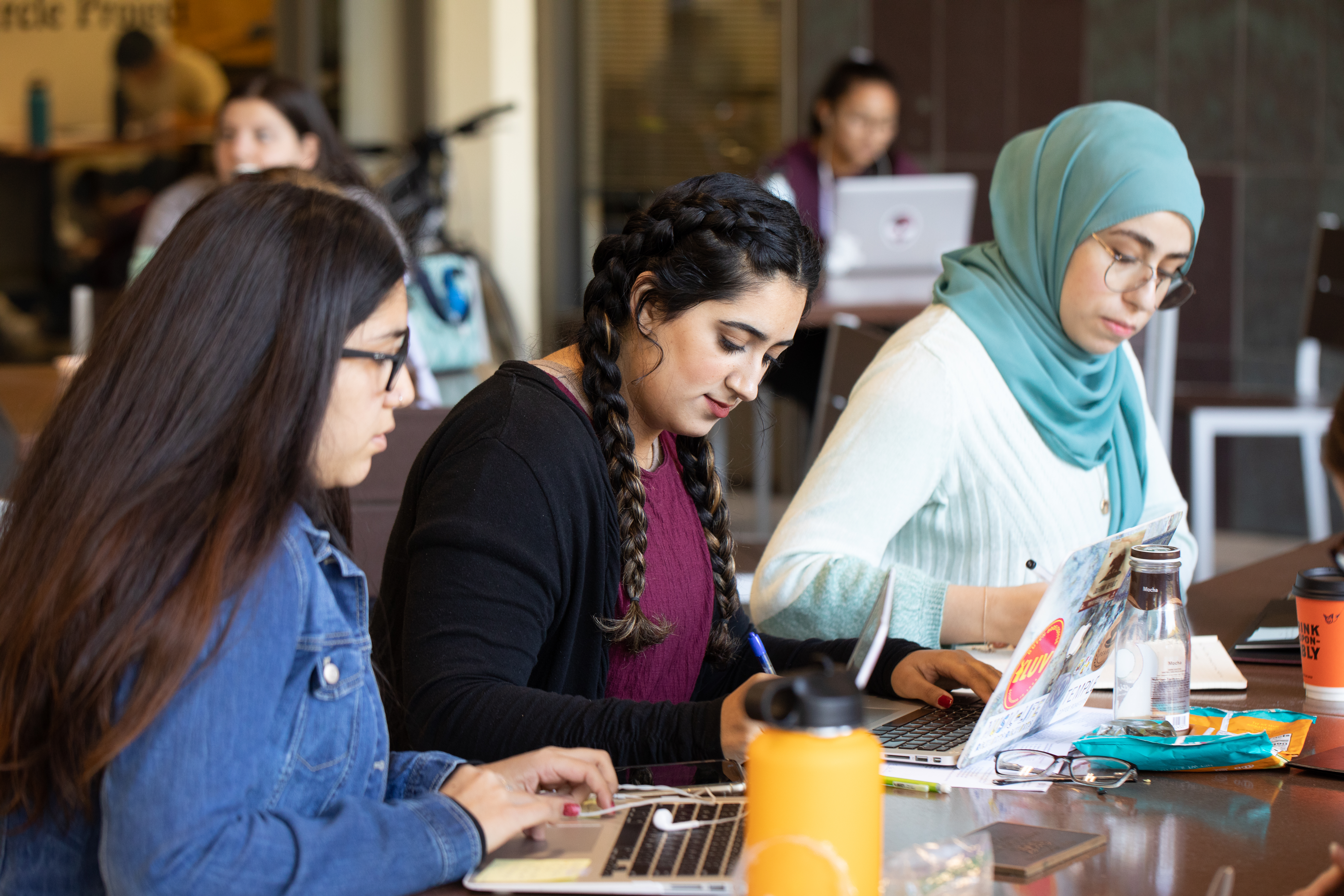 Students who don't opt out of Sac State's strategic scheduling program will automatically be assigned 14 or 15 units for their first freshman semester at the University. (Sacramento State/Andrea Price)
Students can opt out of strategic scheduling, but Dragna said he anticipates that few will do so because the new, fully automated approach is less stressful and more efficient. Freshmen will have their class schedules in hand well in advance of their first semester, he said.
The move also directly supports Sac State's "Finish in Four" program, the University's successful approach to California State University's (CSU) system-wide Graduation 2025 initiative. The goal is for students to take class loads that put them on pace to graduate in four years.
Through strategic scheduling, beginning in the Fall 2020 semester, freshmen enrolled at the University will be assigned recommended courses totaling 14 or 15 units to kick off their first semesters.
In the past, registration for classes often has been said to resemble a scene from "Hunger Games," Dragna said, referring to the chaos depicted in that movie.
"Whoever got to the station first got the classes they needed," he said. "Everyone else got what was left over."
Too many students ended up with classes that "were not necessarily the best ones for their first semester," he said.
Under the new approach, students no longer will build their schedules based primarily on course availability. Instead, schedules will emphasize "classes that students are supposed to take at the time they are supposed to take them to maximize learning" and place them on a trajectory toward graduation, Dragna said.
"That first year is the momentum year," he said. "We want students to take certain basic courses during their first year as building blocks for future classes."
Included in the freshman course schedules will be "exploratory" classes, similar to electives, that will allow students to delve into subjects outside of their majors, he said.
"For example, maybe an undeclared major is interested in taking an astronomy class," said Dragna. "That first year should have an exploratory component."
Course assignments are determined based on student survey results and input from faculty, including information about classes that are in highest demand, Dragna said. Students will be able to request changes in the recommended schedules, receiving assistance from advisors, who also will work with students who consider changing their majors.
The process should help manage overcrowding in certain courses and address bottlenecks that have hindered students from graduating on time.
"It's a time saver for students, and a stress reducer," Dragna said.
Steve Perez, provost and vice president for Academic Affairs, said the faculty's role in helping set schedules is a critical part of the process.
"Our faculty work tremendously hard to ensure the success of our students, and having our students in the classes our faculty believe best prepare them for their major and development makes that process much smoother," Perez said.
Students will have ready access to academic advisors during the process, expected to begin in March.
Sac State previously experimented with strategic scheduling in the College of Arts and Letters, Dragna said. The current university-wide plan "is packaged in a more personal way," allowing students to better schedule their courses around family obligations and work, he said.
"This truly is an effort to personalize schedules for students, and match their aspirations and interests to the learning process," Dragna said. "We're trying to ensure that they get courses during that first year that will allow them to better pursue degrees in their chosen fields.
"This way, students will be able to have a rich experience academically, and it will be organized around their individual interests and needs."
Strategic scheduling is yet another tool that Sac State is employing to support its effort to boost graduation rates, work that already has had a dramatic payoff.
The university's "Finish in Four" campaign has spurred an extraordinary 127 percent gain since 2016 in the number of students completing their course work in four years. The increase represents the greatest improvement in the CSU.
All Sac State students are benefiting from expanded resources such as additional faculty members, hundreds of new course selections, thousands of classroom seats, summer scholarships and counseling, and electronic platforms to plan classes and track progress, Dragna said.
Figures show that 20.4 percent of 2019 Sac State graduates earned their degrees in four years, compared to just 8.8 percent in 2016 when CSU launched its system-wide graduation initiative.
Sac State also leads the pack in improving two-year graduation rates for community college transfer students. Nearly 43 percent of transfer students earned their degrees in two years in 2019, compared to 27.1 percent in 2016. The 55 percent improvement was highest in the CSU system.
Dragna expects graduation rates to keep rising and said Sac State should "blow past" CSU's Graduation 2025 goals. Sac State already has exceeded the 38 percent CSU goal for transfer students. Its four-year goal for 2025 is 30 percent, but Dragna projects Sac State's number will be closer to 40 percent.
"We started all of this four years ago with the idea of encouraging students to 'Finish In Four' by taking 15 units a semester," Dragna said. In 2015, 27 percent of students expressed interest in taking 15 credit hours, he said; that interest level now is 80 percent.
"As a result of what those students have demonstrated, we can now make this a standard introduction to the University by automatically assigning 15 units," Dragna said.
"The beauty of it is that our whole culture has changed. People have bought into the idea of taking 15 credits, and they're succeeding."