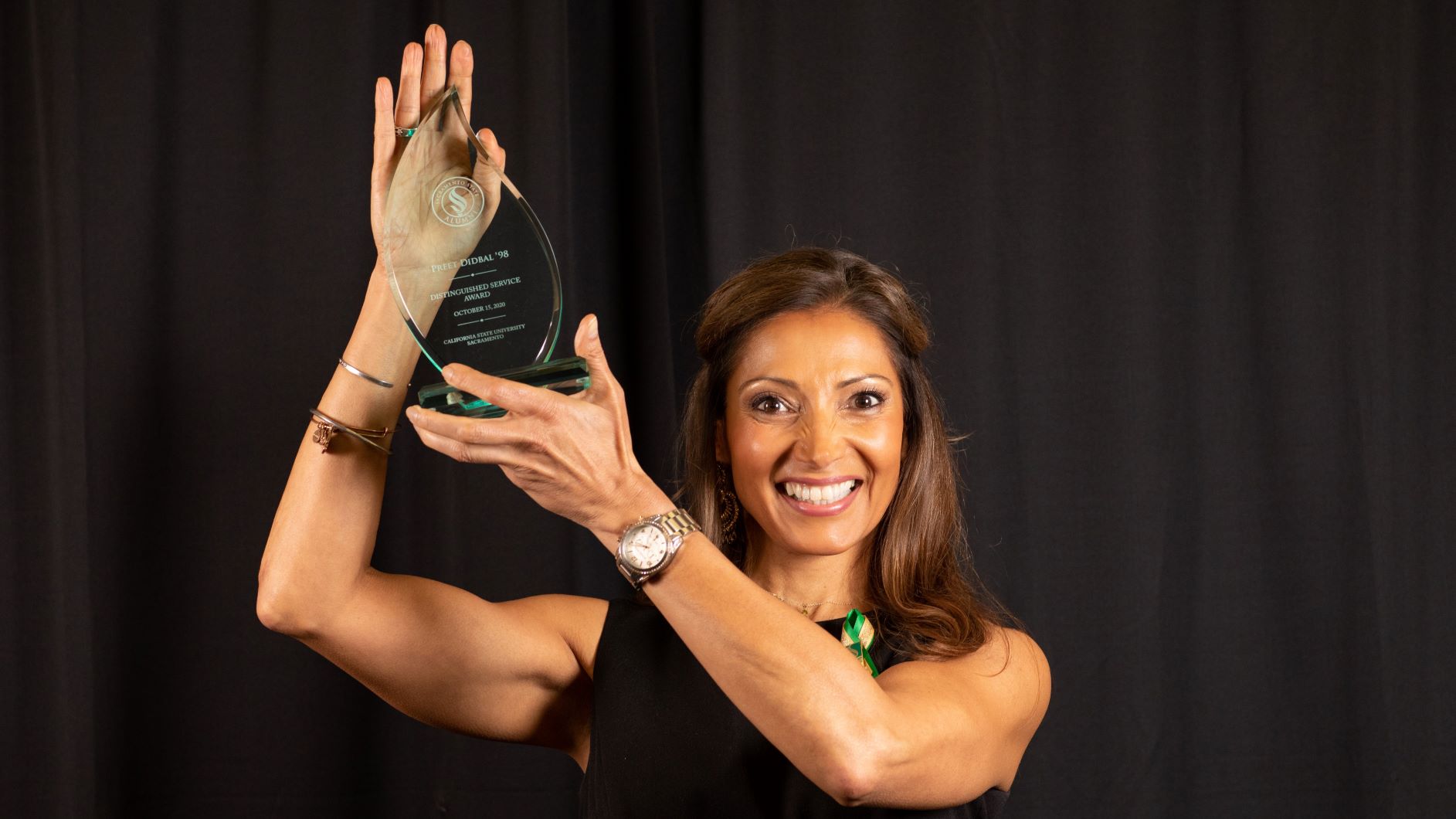 Preet Didbal
Distinguished Service Award
'98 (Physical Education)
First Sikh woman in the nation to serve as mayor; former mayor of Yuba City
---
By Anita Fitzhugh
When Preet Didbal won the mayoral election in her hometown of Yuba City, she made history as the nation's first female Sikh American mayor.
Didbal, who received a 2020 Distinguished Service Award from the Sacramento State Alumni Association, was sworn in as mayor of Yuba City in 2017 following nearly 20 years in the public sector in both elected and appointed positions.
"My journey has come full circle, and words can't even come close to the gratitude I'm feeling," said Didbal, whose path to public service did not come easy.
In the late 1960s, Didbal's parents emigrated from India to Yuba City, where they worked as farm laborers. Didbal spent many of her teenage years picking peaches alongside her parents to supplement the household income.
"Sharing our stories, no matter what they are, is courage that can make an impact in someone else's life."
"My parents' sacrifices mean something, if not everything to me," Didbal said. "And their teachings of 'just one foot in front of the other even if you fall' carried me."
But a sexual assault at age 19 changed the trajectory of her life and caused Didbal to pause the pursuit of her education. She spent the next few years recovering from the trauma before enrolling at Sacramento State in 1995.
"My time at Sac State was forever changing," said Didbal. "It was a profound step for me to return back to school after a five-year lapse in my education due to sexual assault. Returning to school was a step in my healing. I wanted to get back some of what was taken away from me."
Didbal, a first-generation college graduate, credits her time at Sac State for providing a new and focused outlook on life.
"The education I received gave me confidence to go out in the real world, face my demons, handle my business, cultivate friendships, find purpose in my work, lead with my heart and give meaning to those who feel there is none," she said.
Didbal went on to earn her master's degree in Public Administration and Health Services from the University of San Francisco.
She continues to challenge herself and inspire others. In 2015, she was honored at California's Third Congressional District's Women of the Year Awards, which recognize outstanding women in the community.
She is also the founder of Redefine and Empower, a consulting firm that helps adults and teens leverage their inner strengths to achieve true purpose and potential, and serves on numerous healthcare and workforce development committees.
In addition, Didbal is an adjunct Public Health professor at Sacramento State's College of Continuing Education, where she is working to create a giving circle focused on expanding scholarships for undergraduates.
"There is no such thing as failure, only a path of learning," Didbal said. "Sharing our stories, no matter what they are, is courage that can make an impact in someone else's life."
Each year since 1972, the Sacramento State Alumni Association has honored accomplished alumni and friends of the University with the Distinguished Alumni Awards (DAA). This year's honorees were recognized during a virtual ceremony on Oct. 15. For more information, visit the Alumni Association's Distinguished Alumni Awards page.