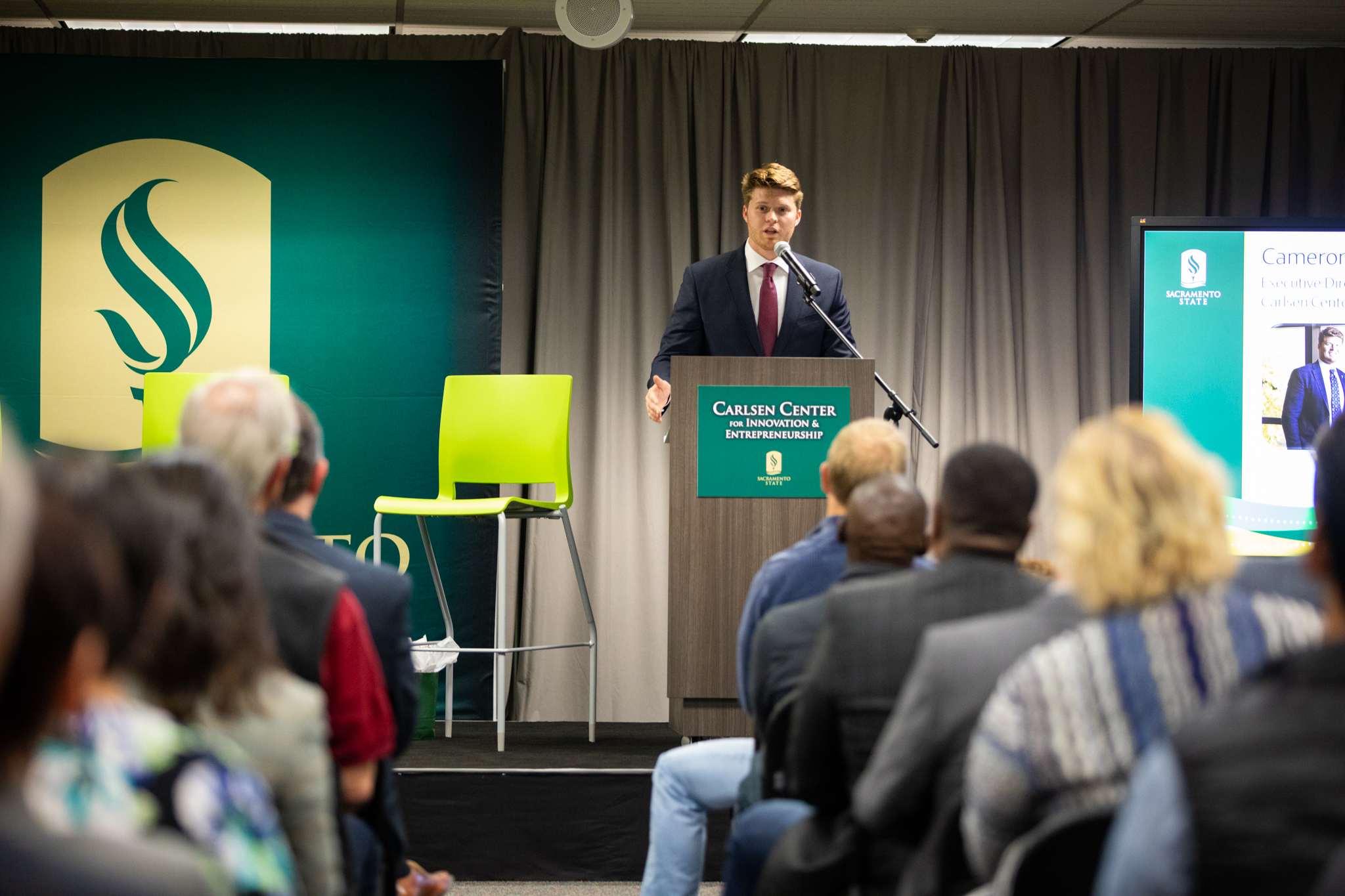 By Dixie Reid
Cameron Law's role as the community organizer for Global Entrepreneurship Week 2020 (GEW) – scheduled for Monday, Nov. 16, through Friday, Nov. 20 – puts Sacramento State squarely in the regional spotlight.
For this year's community-wide GEW, Law, executive director of Sac State's Carlsen Center for Innovation & Entrepreneurship, has lined up 22 compelling events, from a regional pitch competition to workshops led by internationally recognized speakers, and panel discussions with regional entrepreneurs and leaders.
All activities for GEW, presented by Western Health Advantage (WHA), are virtual and are free to attend.
"Global Entrepreneurship Week is happening at the right moment, and I look forward to being inspired by the creative and critical thinkers in our community."
"Especially as we cope with a pandemic that has cleared our campus of almost all in-person activity, Sacramento State needs innovation," University President Robert S. Nelsen said.
"Global Entrepreneurship Week is happening at the right moment, and I look forward to being inspired by the creative and critical thinkers in our community."
Worldwide, 9 million people across 170 countries will participate in more than 35,000 GEW events. Thousands of budding and established entrepreneurs in the Sacramento region, including hundreds of Sac State students, are expected to join in, organizers predict.
The Carlsen Center's website provides a calendar of local events and registration materials.
Here are some highlights:
Entrepreneurial State of the Union, 5-6:30 p.m. Monday, Nov. 16: Law joins Ian Hathaway, co-author of Startup Community Way, senior director of Techstars, and senior fellow at the Brookings Institution, for a fireside chat. Included is a panel discussion with regional leaders and entrepreneurs Anna Straus, co-founder and CEO of Sparck; Arlen Orchard, chair of the California Mobility Center; Mariah Lichtenstern, founding partner of DiverseCity Ventures and an Aspen Tech Policy Hub fellow; Mathew Magno, founder and CEO of Japa Inc.; and Ruth Yomtoubian, head of VSP Global Innovation Center.
"Testing Business Ideas" 2-3 p.m. Monday, Nov. 16: Workshop led by David Bland, co- author of "Testing Business Ideas" and CEO of Precoil.
"An Entrepreneurial Mindset: Love the Problem," 1-2 p.m. Tuesday, Nov. 17: Workshop led by Ash Maurya, creator of Lean Canvas and founder of LEANSTACK.
"FourthWave: Future Landscape of Women-led Innovation," 4-5 p.m. Wednesday, Nov. 18: Celebrating the 13 local female founders who recently completed their 17-week FourthWave accelerator experience.
Demonstration Day for the Carlsen Center's Spark Venture Competition, 4-6 p.m. Thursday, Nov. 19: The annual competition for business and social impact ventures offers prize money of $7,500 and $2,500 in each of two the tracks.
"Ask Me Anything," 5-6 p.m. Friday, Nov. 20: A presentation by Romaine Taylor, founder and CEO of EZ Vibe Meals & Catering, which serves healthy Jamaican cuisine. A Sacramento State graduate, he earned his bachelor's degree in Business: Entrepreneurship, International Business, Management & Marketing. Taylor is a Navy veteran, and Sac State's Veterans Success Center joins the Carlsen Center in presenting his talk.
As Sacramento's community organizer, or "ecosystem builder," Law created and led a committee of "key ecosystem actors" to plan GEW 2020.
"What I've tried to embody through my leadership is that the Carlsen Center is more than a physical space. It's a regional hub and a resource for connectivity in the region," he said.
The Carlsen Center was created in November 2017 when Dale Carlsen, '84 (Business Administration), founder of Sleep Train Mattress Centers, and his wife, Katy, gave Sacramento State $6 million for the interdisciplinary center that bears their name in University Library.
The center got a boost on opening day of GEW 2019, when WHA president and CEO Garry Maisel, '80 (Business Administration-Finance) presented Sac State with a gift of $1 million to ensure the event's future
Law, who arrived at Sac State in October 2019, was chosen to lead this year's GEW for the Sacramento region by the Global Entrepreneurship Network (GEN).
"Global Entrepreneurship Week is thrilled to have Cameron on board," said Ellen Bateman, GEN's director for U.S. Ecosystems. "His ability to bring together the community, coupled with his creative ideas and energy make the GEW Sacramento campaign one to watch."