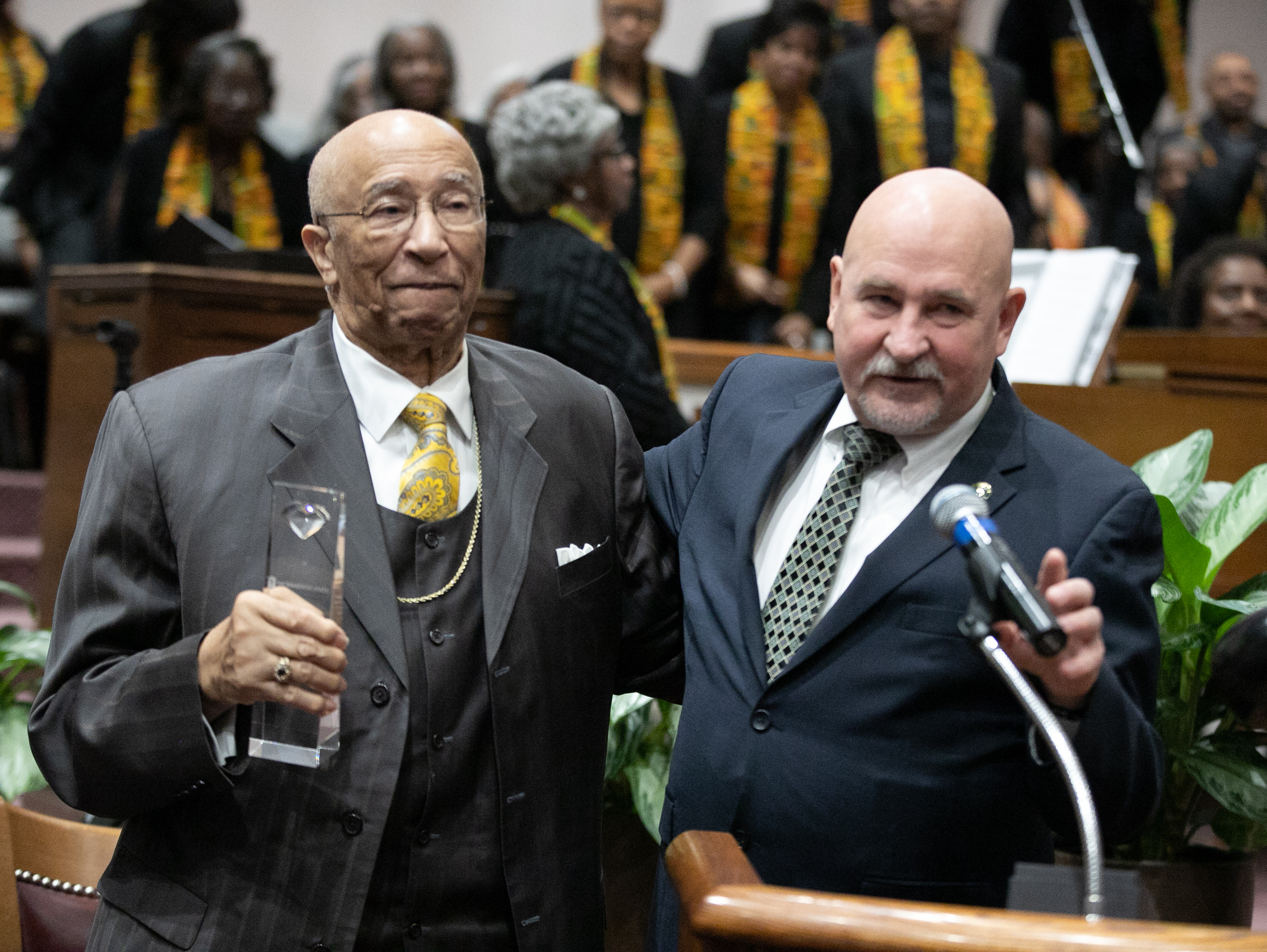 Ephraim Williams, left, senior pastor at St. Paul Missionary Baptist Church, shares the pulpit with Sacramento State President Robert S. Nelsen during Nelsen's appearance at the church on Feb. 16. (Sacramento State/Letrice N. Fowler)
By Cynthia Hubert
Sacramento State got a jump on its annual outreach activities to local African American congregations, as President Robert S. Nelsen visited St. Paul Missionary Baptist Church on Sunday, Feb. 16, to sing the praises of higher education.
Nelsen's visit followed Sac State's inaugural Super Saturday evening of basketball and fellowship, welcoming members of historically black churches from throughout the Sacramento region to campus to watch the men's Big Sky Conference game between Sac State and Northern Colorado.
Dr. Robert S. Nelsen speaks with a member of the St. Paul congregation after services on Feb. 16. (Sacramento State/Letrice N. Fowler)
That outreach preceded the official Feb. 23 Super Sunday, when University administrators will visit some of the area's black churches to extoll the benefits of college education, connect with congregants, and encourage worshippers and their families to consider attending Sac State.
Super Sunday activities are part of outreach from universities throughout the CSU system meant to increase the rate of African American students enrolling in and graduating from the system. Super Sunday falls in the middle of Black History Month, which Sac State is celebrating with a series of events and gatherings.
"CSU Super Sunday is a powerful way to share the importance of higher education with the community and to provide the resources essential to education and life success," said Marcellene Watson-Derbigny, associate vice president for Student Retention and Academic Success. "The opportunity to engage with prospective students, their families, and the community is meaningful and makes a true impact."
Fewer than 6 percent of Sac State students are African American, statistics show, compared to an overall population of 13 percent in Sacramento. African American students also graduate at lower rates than white students, an achievement gap that Sac State is vigorously trying to reduce with various educational equity and other programs.
At St. Paul church on Sunday, Senior Pastor Ephraim Williams called Nelsen "a brother," one who is sincere in his efforts to recruit and retain black students.
"He's committed to ensuring that Sac State students graduate and have jobs waiting for them when they finish school," Williams told the large congregation.
Nelsen spoke about Sac State's improving graduation rates, which the University has achieved as a result of expanded resources such as additional faculty members, hundreds of new course selections, thousands of classroom seats, summer scholarships and counseling, and electronic platforms to plan classes and track progress.
Rates are improving among all categories of students, including Pell Grant recipients and those who are the first in their families to attend college.
"It's happening because our high schools are preparing our students, and you as parents and grandparents are making sure they are ready," Nelsen said. "We'll always be there with open arms for you, your children and your grandchildren."
Attending the service was Eric Williamson, who recently graduated from Sac State graduate with a criminal justice degree and said he hopes to attend law school. The University, he said, is a welcoming place for all.
The University's Super Sunday efforts are "very important and very effective," Williamson said. "Sac State needs to keep doing it and look for other areas around Sacramento that could benefit."
Following church, Nelsen and other Sac State representatives spoke with prospective students and their families and offered information about student aid, the admissions process and other college-related topics. Among churches where similar activities are planned for this Sunday's outreach are Antioch Progressive Baptist Church, Genesis Church, Center of Praise Ministries, Shiloh Baptist Church, and O Logos Alive.
As the University continues to celebrate Black History Month, Sac State will be hosting Black Expo 2020, a cultural fair and marketplace described in event literature as the "pivotal point for information and resources for the African American community and other communities as well." The event is scheduled for Saturday, Feb. 29, and Sunday, March 1, on campus.