Disability-rights advocate Haben Girma shows the audience gathered for her presentation on Feb. 25 the device that helps her communicate. Girma appeared at the University as part of the Green and Gold Speaker series. (Sacramento State/Jessica Vernone)
By Cynthia Hubert
Haben Girma surfs and salsa dances. She scaled an iceberg in Alaska. She graduated from Harvard Law School, and wrote a memoir that became a bestseller.
She also is deaf and blind.
Girma has defied the low expectations that many have for people who are disabled and has focused her life on championing equal opportunities for them.
On Tuesday, the internationally renowned disability-rights advocate brought her remarkable story to the Sacramento State campus.
She called on her audience to help dismantle barriers that prevent people with disabilities from fully engaging in the world.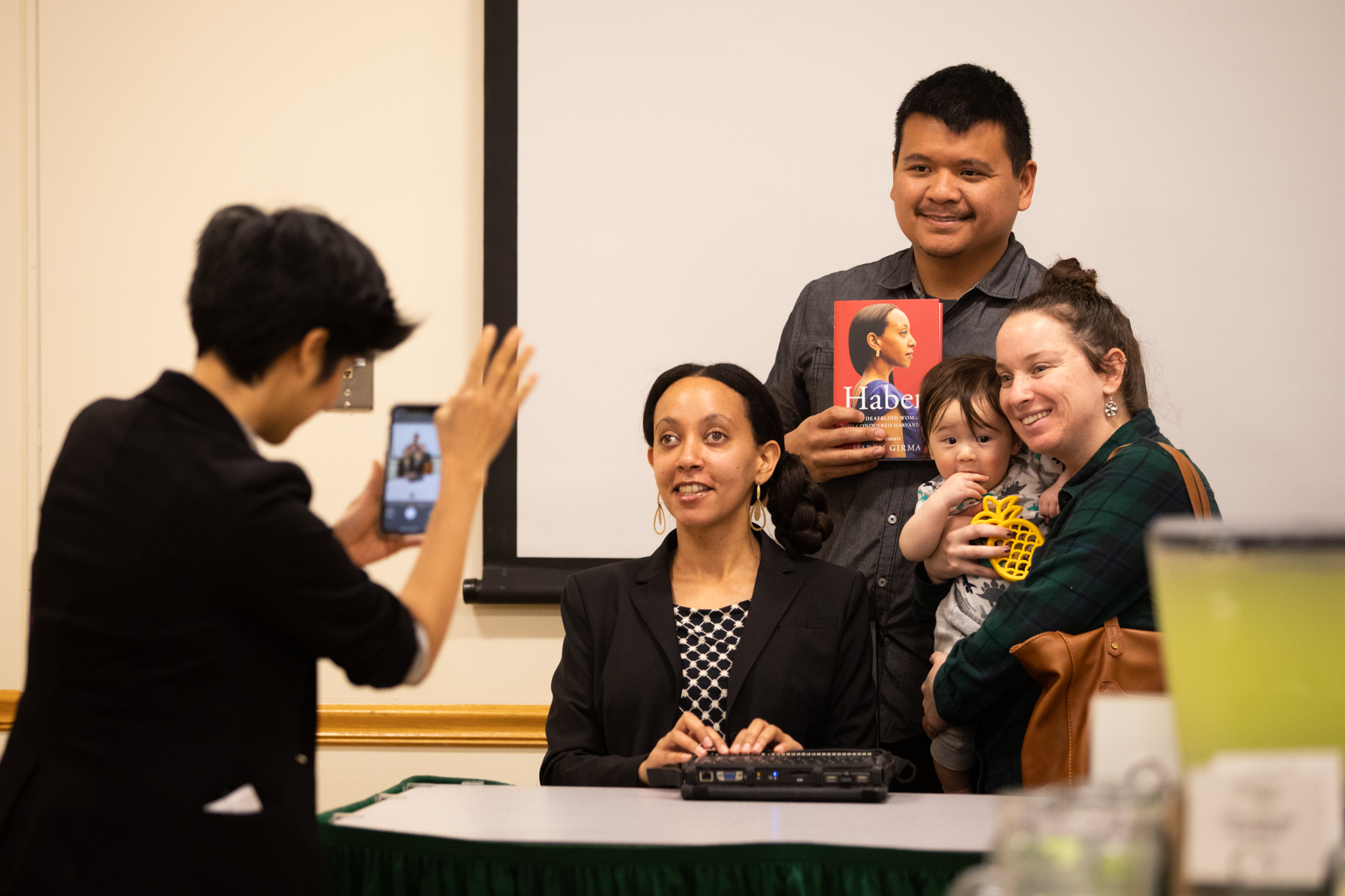 Members of the Bocalan family gather near Haben Girma, seated, as their picture is taken on Feb. 25. (Sacramento State/Jessica Vernone)
"Let's create a community that celebrates disability pride," said Girma, whose appearance was part of the University's Green and Gold Speaker series. The series features scholars, artists, writers and others whose work reflects the University's commitment to fostering a welcoming environment.
The daughter of East African refugees, Girma was born without sight or hearing. She received her early education in the Bay Area, and graduated with honors from Lewis & Clark College in Oregon. In 2013, she became the first deafblind person to graduate from Harvard Law School.
Girma used Braille versions of textbooks and other written materials, along with other alternative learning tools, to navigate college. She learned to dance by using her "tactile intelligence," feeling the beat of the music through the hands and shoulders of her partners. Using a technology called VoiceOver, controlled through a simple set of gestures, she can communicate with her smart phone.
"Society tries to force limits on me, and I'm constantly testing those limits," she said.
Talking to Girma in person involves typing into a wireless keyboard connected to a Braille computer that she holds in her lap, a setup that she developed with the help of a friend. She speaks her responses.
Following graduation from Harvard, Girma worked as a lawyer at the nonprofit Disability Rights Advocates in Berkeley. There, she helped win a groundbreaking case against Scribd, a digital lending library. The courts affirmed that online businesses such as Scribd must comply with the Americans With Disabilities Act (ADA), which prohibits discrimination against disabled people in all areas of public life.
Girma credits the ADA with helping pave the way toward her education and accomplishments. In 2015, she received accolades from President Obama at a White House ceremony marking the ADA's 25th anniversary.
These days, Girma focuses on accessibility and diversity training, consulting and professional speaking. She emphasizes that innovations designed to make life easier for disabled people also help society at large. For example, she said, street and sidewalk "curb cuts" originally were designed for wheelchair users but also assist parents pushing strollers and travelers with rolling suitcases.
"She's brilliant," said Beth Lesen, Sac State's associate vice president for Student Affairs and dean of students. "She is an international expert on adaptive technology. Her expertise has been sought by more than one president of the United States, and our students deserve access to that kind of brilliance.
"Besides being an openly disabled powerhouse of a disability rights advocate," Lesen said, "she is also a woman of color who has accomplished remarkable things in this world and is still very much on the rise."
Girma's message of inclusion made her a perfect choice for Sac State's Green and Gold Speaker series, said Mary Lee Vance, director of Sac State's Services for Students with Disabilities, one of the event's sponsors.
"She's a very articulate and thoughtful speaker, and her message is all about universal access and inclusiveness," Vance said.
Girma appeared in Sacramento with her service dog, Mylo, who has traveled globally with her. After Girma spoke, she encouraged audience members to ask questions by approaching the stage and typing into her adaptive computer.
She urged her listeners to reject an "ableist" culture that assumes disabled people are inferior to others.
"The dominant narrative is that we are a burden to society," she said. "I choose to define disability as an opportunity for innovation."