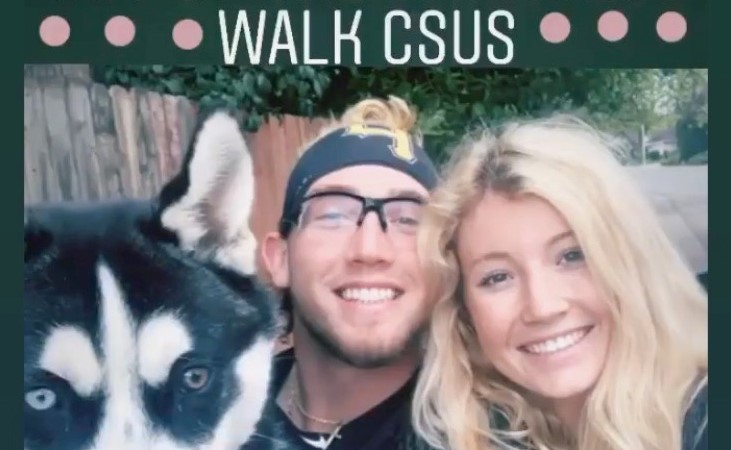 Kayla Subbert, right, and friends were among participants who helped raise thousands of dollars during this year's Out of the Darkness Campus Walk, which had a significant online component. (Instagram image)
By Cynthia Hubert
Hundreds of people took part in Sacramento State's online Out of the Darkness Campus Walk on Thursday, April 9, connecting virtually with others across the city to support mental health awareness and suicide prevention.
With donations still coming in, the event had raised $16,000 by Monday, a significant portion of the goal of $20,000 set for Sac State this year.
This year's walk was unique because of concerns about spreading the coronavirus. For the first time, participants walked individually rather than gather on campus with others. They walked their chosen routes, distancing themselves from one another as they strolled with friends and relatives, carrying signs and expressing sentiments about the issue and its impact on their lives. They shared moments from their walks through social media.
Sarah Falk, left, hit the trail in support of Sac State's suicide-prevention efforts. (Instagram image)
Lara Falkenstein, health educator in Sac State's Student Health and Counseling Services, said she was pleased with the event, especially considering how quickly and dramatically organizers had alter plans in light of the coronavirus and its impact on the campus and beyond.
"It went great," Falkenstein said. "We had lots of people watching, sharing, interacting."
---
From KCRA: Annual Sac State suicide-prevention walk goes virtual
---
More than 800 people registered to participate in the event, she said, and more than 1,200 people "liked" its Instagram page. Three pushed a "Suicide Prevention Lifeline" button on the page.
A video featuring President Robert S. Nelsen received more than 1,700 views as of Friday. Nelsen and his wife Jody, whose son Seth committed suicide in 2001 at age 25, were among the walkers.
Donations can still be made on the University's American Foundation for Suicide Prevention page in support of the AFSP's education and prevention programs. The Sac State fundraising goal was established before the virus forced businesses and schools to close and most people to stay inside their homes. Donations can be made through June 30.
According to Active Minds, one of the sponsors of the Out of the Darkness walks, suicide is the second-most common cause of death among college students, claiming more than 1,100 lives each year. Yet half of students who have suicidal thoughts never seek help, the group's data show.
Sac State's event has been the largest of any campus in the country in recent years, and drew more than 1,200 participants in 2019. Walkers marched through campus carrying signs, talking about hope for people who suffer from mental illness, and offering memories of loved ones lost to suicide.
This year's participants had access to an online Resource Fair, listened to speakers, watched videos, and followed along as other walkers took to the streets while safely keeping a distance of at least six feet. They held signs and told their stories, just as they would have done if the event were taking place on campus. Photos and videos were shared in real time.
"There were messages that said, 'I'm here for you,' and 'I'll help you get through the hard days,'" Falkenstein said. The walk's theme was "Standing Together, Never Alone."
Falkenstein said her team had some concerns about whether the online walk would resonate with people.
"I was really nervous, wondering if people were going to show up virtually," she said. "But it was amazing. I would absolutely call it a success."
Falkenstein said she hopes to have a party sometime in the future to celebrate, "if we are all able to come together."
"We want to thank everyone who participated and again share our messages," she said.