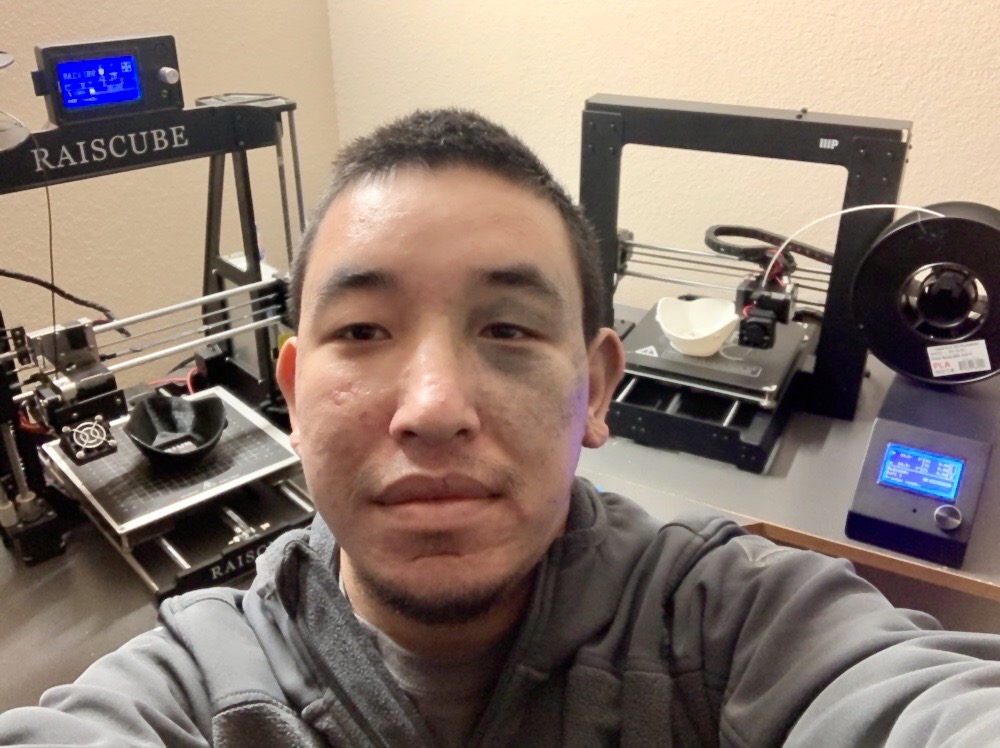 Lapka Sherpa, one of the nine mechanical engineering students who spent their spring break creating protective masks for use in the fight against the coronavirus, stands in front of the equipment he used. (Photo courtesy of Lapka Sherpa)
By Dixie Reid
Dozens of Sacramento area healthcare workers on the front lines of the coronavirus pandemic will be safer, thanks to nine Sacramento State Mechanical Engineering (ME) students. During their five-day spring break, the students manufactured and delivered 83 3D-printed protective masks to Mercy hospitals.
"Across the United States, we face a critical shortage of personal protective equipment for our healthcare workers who are trying to save lives," said Jill Walsh, a doctor at Mercy San Juan hospital and vice president of Mercy Medical Group's board of directors. "This has been a wonderful collaboration with Sacramento State."
Unassembled completed masks are made ready for delivery to Mercy hospitals in Sacramento. (Photo courtesy of Sacramento State Mechanical Engineering department)
The reusable plastic masks will be put into use if and when the hospitals deplete their medical-grade stock. The 3D-printed masks can be cleaned between uses and outfitted with removable HVAC filters for further safety.
Phil Olding, a senior ME major, has been printing in 3D for the past five years. His older brother, who is engaged to Walsh's daughter, approached him with the idea of manufacturing the masks.
"He was upset with the lack of protective masks at the hospital and asked if I could 3D-print some," Olding says. "I said, 'If it can be done, I will do it.' "
Olding immediately approached Akihiko Kumagai, professor and chair of the ME department, and Lorenzo Smith, dean of College of Engineering & Computer Science, for permission to pursue the project. Then he enlisted fellow ME students, some of whom have their own printers. Other students checked out printers from the campus 3D lab to use at home.
Olding was joined by these other ME students, who worked individually making masks: Cameron Wright, Brett Roche, David Henderson, Kenzie Campbell, Vincent Brown, Lakpa Sherpa, Jeremy Nuyens, and Zachary Karapinar.
They downloaded free software for Montana Masks on their desktop Wanhao Duplicator i3 Plus printers. The printing process is called Fused Deposition Modeling, which produced the masks directly from the computer-aided design model using layers of feedstock plastic filament extruded through a nozzle.
"The ability of our students to contribute to the community is central to our definition of student success," Smith said. "Their selfless partnership with our friends in the medical community is living proof that our college is leading the way in advancing student success.
Clockwise from top left, Kenzie Campbell, Phil Olding, Jeremy Nuyens, and Lapka Sherpa were among students who created protective masks with 3D print technology. (Special to Sacramento State)
"I am incredibly proud of our students who are so eager to provide behind-the-scenes help in fighting the COVID-19 virus."
Manufacturing a single 3D-printed mask with polylactic-acid filament can take up to five hours, but the cost for such an important piece of safety equipment is minimal. Materials cost about $2 per mask and some of the filament was what Sac State had on hand.
Mercy has offered to reimburse the University for the materials. Kumagai said he will use that money to resupply materials for the 3D lab.
"This is a small example of what Sac State can do for the community during this difficult time and how our students are motivated to help," Kumagai said.
Olding said he was happy to have spent his week away from distance-learning studies to possibly save lives.
"I know how desperate the need is, and I want to help," he says.