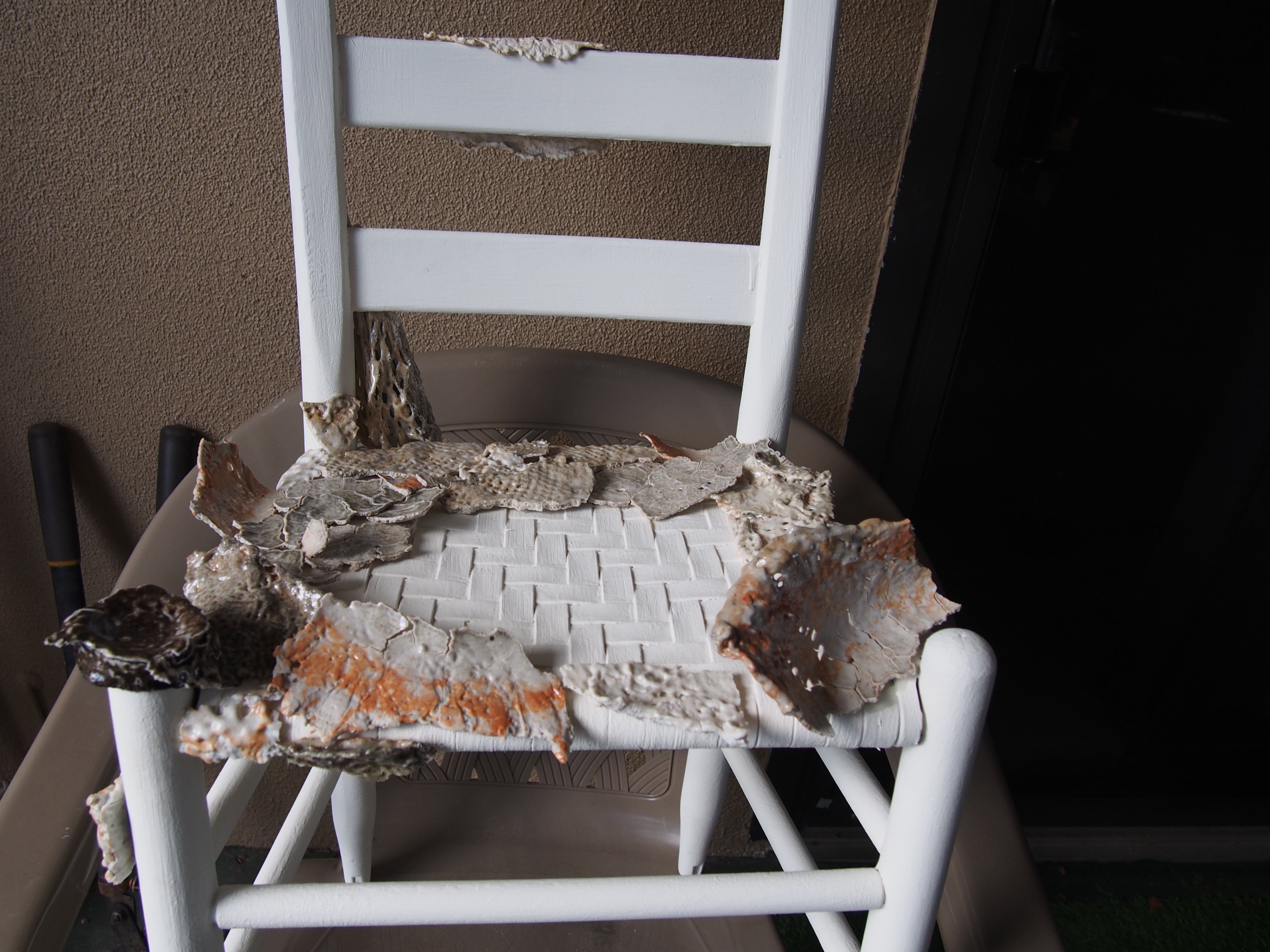 The Master's in Studio Art program is finalizing details for virtual exhibitions of student-created art, which during a normal semester would be shown in a gallery for in-person viewing. (Photo courtesy of Kat Rios)
By Ahmed V. Ortiz
Spring held the promise of an exciting first for this year's Master's in Studio Art (MSA) graduates at Sacramento State, whose work annually culminates with an on-campus exhibit in the University Library Gallery Annex.
The show was to be featured in both the main gallery and the annex May 1-15. Then COVID-19 and shelter-in-place struck stateside, canceling the gallery show and creating a huge challenge of how to exhibit the students' work at all.
Kelly Lindner, the University's curator and coordinator for Art Galleries and Collections, has been scrambling to bring together a virtual exhibit for the MSA students as well as for students whose works were slated to appear in the Senior Show at the Robert Else Gallery.
Although details still are being ironed out, both will proceed as virtual exhibitions. The Senior Show will feature five to seven pieces and statements by each artist, Lindner said. The master's students' exhibition also will be virtual, curated by Tavarus Blackmon of the Axis Gallery in downtown Sacramento. A printed catalogue also will be produced. Lindner said she hopes a website to host the shows will be live by the end of May but that, in the dizzying environment, "It feels like I am continually devising contingency plans for every project."
Holly Smith, with a piece she created last spring, is one of the students in the Master's of Studio Art program whose work will be shown virtually. (Photo courtesy of Aleks Avramova )
Students have borne various challenges. Common ones are finding space to work and getting access to materials, for which many students rely on campus resources.
For MSA student Holly Smith, who paints in oils on large surfaces, clearing suitable space to complete her current projects in the Dixon home she shares with her partner and two children is impossible. The scale of the pieces she planned for the gallery exhibit were based on the space she was to be allocated in the gallery and ranged from 3½-by-8 feet to 12-by-12 feet. Their progress is frozen in time in the University's Art Sculpture Lab, where they will stay until a semblance of normalcy returns. In the meantime, she and other students are left to use works from last semester for the virtual exhibit.
"It's really been disappointing and kind of sad," Smith said of the loss of the vital relationship between artist and artwork.
Like Smith, fellow MSA student Kat Rios said she has disconnected from her work for now. The configuration of the home she owns with her mother, uncle and sister doesn't facilitate display of her pieces, which focus on memory. She can, however, create a workspace, though it will require some cleaning and reorganizing.
Rios had been planning her gallery display since just after the MSA advancement candidacy show in November and looked forward to how her pieces would play off work by other artists. At home, she's concentrating on finishing her thesis, which will undergo an online review by Professor Andrew Connelly. Students have been instructed to photograph what works they can for their final projects to be judged, but much of the focus will be on pieces candidates were able to complete in fall.
"I'm still developing my craft," she said. She begins to expound before pausing and letting out a heavy sigh. "It's not, like, extremely devastating. I know that, eventually, when everything calms down … I will get reconnected to my work."
Aleks Avramova is fortunate in that her family's condo has a garage where she can work on her oil paintings, which are done on large wooden panels. The caveat is that she can work in the garage only when a car isn't parked there. A homeowners' association rule calling for vehicles to be parked in the garage limits her time.
"I have to find some open spot in the lot and then set up shop, and then by the end of the day I have to collapse everything and bring my car back inside," she said, chuckling. Setup and teardown each take about 30 minutes. She also usually leaves her paintings to dry flat for days but is unable to do so given her constraints. COVID-19 has forced her to "do a little chemistry," figuring out ways to make the solvents dry faster so as not to create vertical drag in her pieces.
Smith said the welcome possibility of a physical show in early fall or spring with the next cohort was being discussed. Though grateful for the efforts of so many to create an online venue for her and other students' work, she said a virtual exhibit just isn't the same.
"I think it's impossible to have the same kind of experience," she said. "It's really easy to just click through and not take the time to feel or think or even talk to someone about the work.
"I don't want all the work that I've been doing to not be experienced in a gallery setting where people can take time with it."
Avramova also acknowledges sadness over what is lost but finds something gained in working from home.
"It's preparing me for life after the master's program," she said. "You will be confronted with challenges all the time."