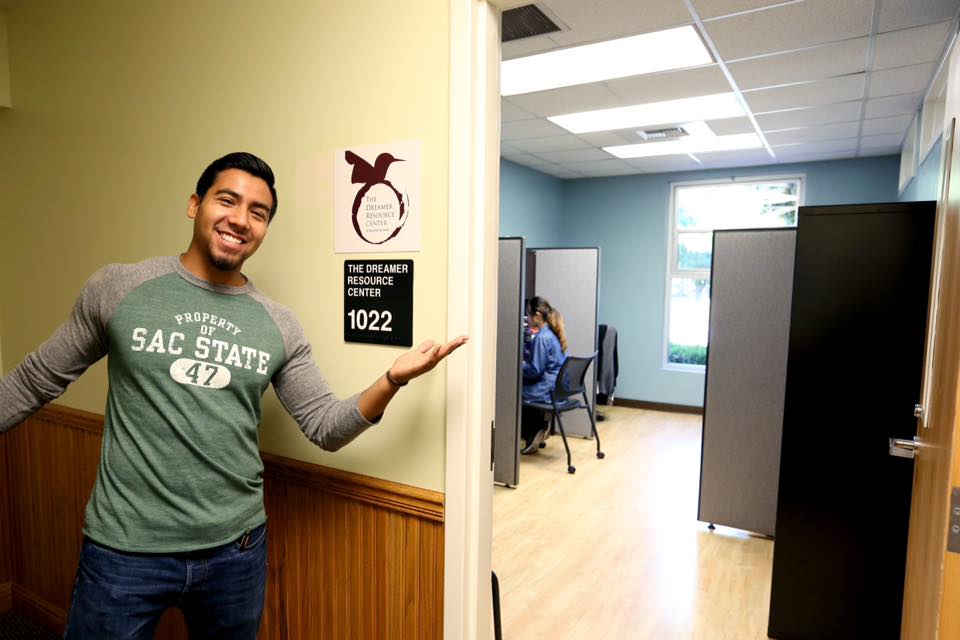 The Dreamer Resource Center has been a valuable asset for many people at Sacramento State, including former student Gustavo Garcia-Rojas, especially during uncertainty over the status of DACA. (Dreamer Resource Center photo)
By Cynthia Hubert
Sacramento State "Dreamers" and the faculty members who serve them applauded the United States Supreme Court's decision on Thursday to reject the Trump administration's effort to end the DACA protections that allow them to live, study and work in this country.
The court ruled that the program, Deferred Action for Childhood Arrivals, which protects undocumented young immigrants brought to the country as children – "Dreamers" – from being deported, cannot be immediately terminated. DACA's long-term future, however, remains uncertain, vulnerable to potential new efforts by the Trump administration to overturn it.
Related video: President Robert S. Nelsen assures Dreamers of Sac State support
Related information: Dr. Nelsen's SacSend statement on DACA ruling; CSU Chancellor Timothy White's statement on DACA ruling
Other resources: Visit the Dreamer Resource Center
The high court's ruling nonetheless is a welcome relief for hundreds of Sacramento State students worried about their ability to work and advance their career goals, said Viridiana Diaz, the University's associate vice president for Strategic Diversity Initiatives.
The ruling fulfilled a birthday wish for Viridiana Diaz, the University's associate vice president for Strategic Diversity Initiatives.
"I had a birthday yesterday, and this was my wish," Diaz said. "I woke up this morning to the good news.
"Our students and all of us have been disappointed so many times, so we were preparing for the worst-case scenario," she said. "We cannot fully relax, but the immediate threat is off the table."
Had the court terminated DACA, people under its protection would have been faced with losing entitlement to work once the program expired, and possibly being deported.
DACA has covered more than a million undocumented residents in the United States since its was established by order of President Obama in 2012.
Under the program, undocumented immigrants who came to the country before age 16 and who meet other strict criteria have been protected from deportation proceedings and are eligible to work and study in the country. DACA does not, however, provide a clear path to citizenship.
Hundreds of Sac State students, along with hundreds of thousands of DACA recipients nationwide, have been on edge this summer as they awaited the Supreme Court's ruling, wondering if they would be allowed to stay in the United States to pursue their education and careers.
Universities across the country, including the CSU's 23 campuses, have long pledged their support for DACA students.
"I am deeply, deeply moved today by the Supreme Court's decision," Sacramento State President Robert S. Nelsen said. "I am so relieved that our DACA recipients can exhale a little after 2½ years of cruel uncertainty. Enjoy this day, DREAMers. You deserve it."
Nelsen and Rep. Doris Matsui issued a joint statement applauding the court's ruling and reaffirming their strong support for DACA recipients.
Sac State, with an estimated 700 to 900 undocumented students, is among 165 universities and colleges in the U.S. that signed onto a legal brief supporting DACA recipients.
Andres Guerra, an attorney who advises Sac State students and their families on immigration issues, said his clients have been increasingly uneasy in recent months as the Supreme Court decision loomed, with many legal experts predicting a dire outcome for the program.
"They were wondering, 'Am I still going to be able to work? Will I still qualify for financial aid? Is ICE going to come to my door?' " Guerra said.
The court ruled that the Trump administration's challenge to DACA was "arbitrary and capricious," and failed to meet the legal standard for terminating the program.
"That doesn't mean that DACA is protected forever," Guerra said. "But, for now, its future is in place. This is a victory for immigrants in the here and now. This is a good day."
Erik Ramirez, coordinator of Sac State's Dreamer Resource Center, which provides undocumented students with academic, legal and emotional support, said he was "ecstatic" about the ruling.
"The decision is very, very fresh, so we aren't sure what comes next," Ramirez said. "But we do know that, for now, our students can breathe a sigh of relief."
Ramirez is a DACA recipient who will enter a graduate program at Sac State this fall.
"My first thought is always for the students I'm working with," he said. "But I'm starting a career in student affairs, so of course I wondered, if the ruling was negative, how that might affect my life and career. Today I am ecstatic on multiple levels."
The Dreamer Resource Center advises educators, students and their families about options for pursuing college despite their undocumented status. The center offers workshops, policy briefings, panel discussions and more, and also provides direct services to affected students.
Nelsen urged students and others to contact the center for guidance and support as legal experts sort out the implications of the Supreme Court's decision.
The center will host a virtual event on the subject 1-3 p.m. Friday, June 26. An immigration attorney will explain what the ruling means, offer recommendations for next steps, and answer questions regarding DACA.