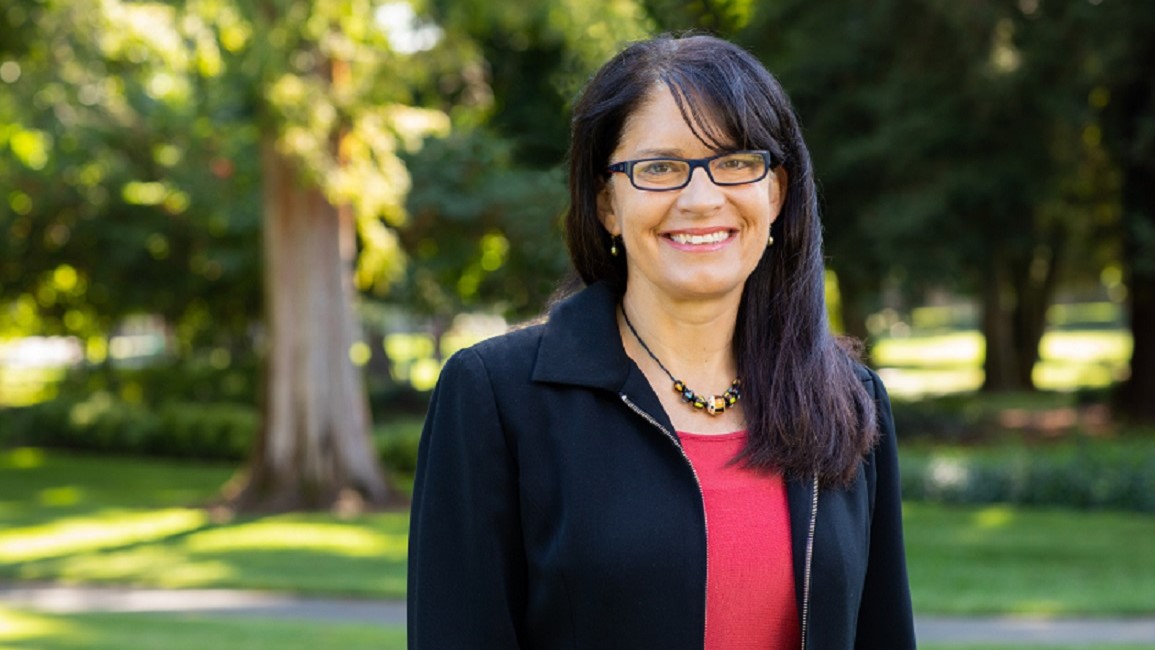 Professor of Biology Kelly McDonald's dedication to her students and innovative ideas for helping them succeed have earned her a 2020-21 California State University Faculty Innovation & Leadership Award. (Sacramento State file)
By Cynthia Hubert
Kelly McDonald took an unconventional path to her science career.
She spent her first three years in college studying the performing arts, with an emphasis on dance.
When injuries and surgery disrupted her plans, she switched her focus to biochemistry.
"I had a lot of catching up to do," McDonald said. "I had to learn a whole new language, a new way of looking at things. It was very intimidating."
She thinks about those early struggles, she said, when she interacts with science students at Sacramento State, where she is a Professor of Biology and director of the University's Center for Science and Math Success.
"I try to remember those feelings because I want to help students who are experiencing the same things," she said.
McDonald's dedication to her students and her novel ideas for helping them succeed helped earn her a 2020-21 California State University Faculty Innovation & Leadership Award. The award comes with a $5,000 cash prize for McDonald and $10,000 toward her academic department for professional activities. B. Dana Kivel, professor of Parks, Recreation and Tourism Administration and head of the Community Engagement Center, also was honored.
One of McDonald's key focuses in recent years has been the Sustainable Interdisciplinary Research to Inspire Undergraduate Success project, or SIRIUS, which helps undergraduate science students gain important research experience in the field.
McDonald and her colleagues recently won a $2.7 million grant from the National Science Foundation to continue and expand the project, which focuses on human impacts on Northern California waterways. SIRIUS II will include 10 academic disciplines at Sac State and the four Los Rios community colleges.
In nominating her for the FILA award, Biology Professor Enid Gonzalez-Orta said McDonald has unbridled commitment and enthusiasm for students, particularly those who are underrepresented in the sciences. Her other nominators, including a group of graduate students, called her an exceptional educator and advisor.
She "genuinely and authentically wants to improve the lives of students," Gonzalez-Orta said. "The beautiful part is that she has changed the lives of so many students already, and her work sets the foundation for many more students to succeed in the future."
McDonald, a Nashville native who earned her graduate degrees from the University of Florida, joined the Sac State faculty in 2009. Her passion is science education research, and she is particularly interested in finding ways to help students of all backgrounds and cultures succeed. She studies the effects of trauma on learning, knowledge that she is using to help students navigate virtual studies, isolation and other effects of the COVID-19 pandemic. Those stressors and others can impact learning and academic success.
Her research has been widely published and she has won numerous grants and awards, including several National Science Foundation grants and Sac State's Outstanding University Service and Outstanding Community Service awards. She is a member of several statewide and national organizations focusing on inclusive and innovative teaching.
McDonald said her career has been inspired in part by her parents, both of whom were educators and activists for underserved communities. Her late father Maury was a school principal and administrator. Her mother Patricia is a retired child psychologist.
"Many of our students face academic challenges or lack opportunities early on," she said. "Even though they are perfectly capable, have the drive and have the interest, they are discouraged or impacted" by financial, cultural and other barriers. "So they get weeded out of foundational STEM courses," she said.
"We must have interventions, policies and programs that allow them to succeed. We need to create a learning environment where all students feel a sense of belonging and have a voice."
Prior to SIRIUS, a limited number of undergraduate Sac State students in the Biological Sciences got research experience in faculty programs, she pointed out. Now all of them have the opportunity to engage in authentic research. Participants are able to work on a project that has important regional implications while gaining the experience and confidence they need to pursue careers in science, McDonald said.
The FILA award, she said, will help further her efforts to help scholars pursue their dreams.
"It's been an incredibly supportive environment," McDonald said of the Biology department. "I am so grateful to my students and my colleagues for considering me for this award and for taking the time to nominate me. I am truly honored."