By Cynthia Hubert
Two powerful speakers will highlight an extraordinary virtual gathering of the Sacramento State community this month as the University seeks to confront issues of racism and injustice that continue to roil the country.
The Fall 2020 Convocation takes place 1-5:30 p.m. Tuesday, Sept. 29. Its theme is "Advancing Our Commitment to Antiracism."
The event will feature keynote speakers Ibram X. Kendi, author of the national bestseller How to Be an Antiracist, and Shaun Harper, director of the University of Southern California's Race and Equity Center. It also will include 20 breakout sessions showcasing the insights of dozens of students, scholars, and community organizers on issues around racial injustice and bias. Space is limited for the online event.
More information about the event and registration can be found on the Convocation web page. Registration ends at 11:59 p.m. Sunday, Sept. 27.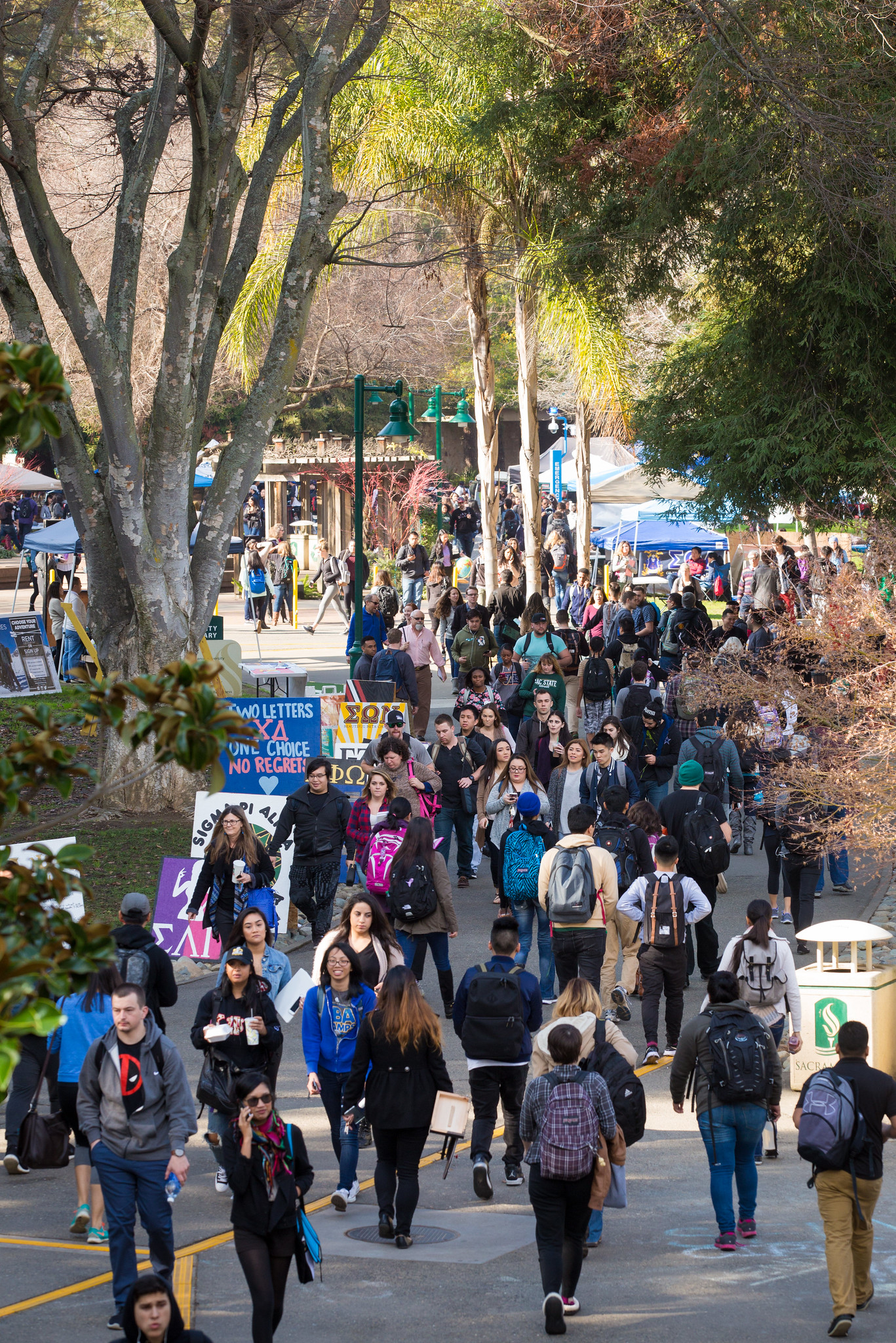 Issues surrounding race and social justice, on Sac State's diverse campus and elsewhere, will be the focus of the Sacramento State Convocation, called for Sept. 29. (Sacramento State/Andrea Price)
President Robert S. Nelsen said Sac State is renewing its commitment to combat racism and bias in the light of widespread concerns about racial injustice and demands for reform. The Convocation is part of that initiative.
"The Convocation is a teaching moment, a moment when we pause from traditional teaching and teach in a new way," he said. "We are coming together to teach and to affirm that Black Lives Matter. Let's come together as a teaching university, and let's teach each other and the world what it means to be antiracist."
All members of the campus community are encouraged to participate in the event, and the Sac State administration is recommending that no classes, meetings or other University events be held on the afternoon of the Convocation.
"I see this Convocation as an important point where we will actively engage with and learn from one another." - Diana Tate Vermeire
The gathering "is an opportunity to hear from national experts on antiracism and the impact of structural and systemic racism in higher ed," said Diana Tate Vermeire, vice president for Inclusive Excellence and Sac State's diversity officer.
"It is also an important opportunity for our community to hear and learn from our own students, faculty and staff about how racism impacts our campus and the actions Sacramento State can take now and in the future to create the transformational change we want to see."
The Convocation will open with a conversation with Kendi, who is considered one of America's foremost voices on the history of racism and efforts to confront it. He is founding director of the Boston University Center for Antiracist Research.
Kendi has authored several award-winning and bestselling books on the subject, including The Black Campus Movement and How to Be an Antiracist. He earned his doctoral degree in African American Studies from Temple University and was awarded the prestigious Guggenheim Fellowship in 2019.
Harper researches race, gender and other dimensions of equity. He has published more than 100 articles in journals and other academic publications, and received more than $13 million in research grants. Johns Hopkins University Press is publishing his 13th book, Race Matters in College.
USC's Race and Equity Center works with professionals in educational institutions, private organizations and elsewhere to help develop and achieve equity goals and avoid and recover from racial crises. Its mission is to "illuminate, disrupt and dismantle racism in all its forms," according to its website.
Harper is the principal researcher for the National Assessment of Collegiate Campus Climates, a survey designed to gauge racial climate at colleges. Sac State participated in the survey in 2018-19.
In addition to the keynote speeches, the Convocation will offer breakout sessions that explore subjects including: the intersection of race and disability; creating a safe campus for undocumented students; racism and antiracism in education; and the intersection of race, mental health and COVID-19.
Participants can sign up for individual sessions during registration.
Campus leaders said the Convocation is just one of many efforts that Sac State is pursuing to ensure that the campus is welcoming to all.
"I see this Convocation as an important point where we will actively engage with and learn from one another," Vermeire said. It offers a chance, she said, to "illuminate the impacts of long-existing challenges, while identifying both actions and changes that need to occur now and in the future."