Entertainer, educator, advocate and 'living legend' Melissa Muganzo uses her talents to empower others
June 30, 2022
Melissa Muganzo MA '13 (Higher Education Leadership) calls herself "the living legend."
If that seems overly bold or even brash, a few minutes with Muganzo may change one's mind, either through the apparent authenticity that grounds her mega-watt energy, or the simple fact that it may just be accurate. Or, it might be that what you think is, ultimately, irrelevant.
"I don't have to be 90 years old to be a legend. I don't have to be dead to be a legend. I can be a legend at 9. I can be a legend at 15. I can be a legend at 23," Muganzo said. "I am actively living in purpose, on purpose, activating all the power that's within me.
"That's legendary. I have so much more legendary stuff to show people, but I'm going to own and get myself my flowers right now."
Muganzo has delivered that message of empowerment to young people – especially young people of color – during more than a decade as an educator, entertainer, and advocate.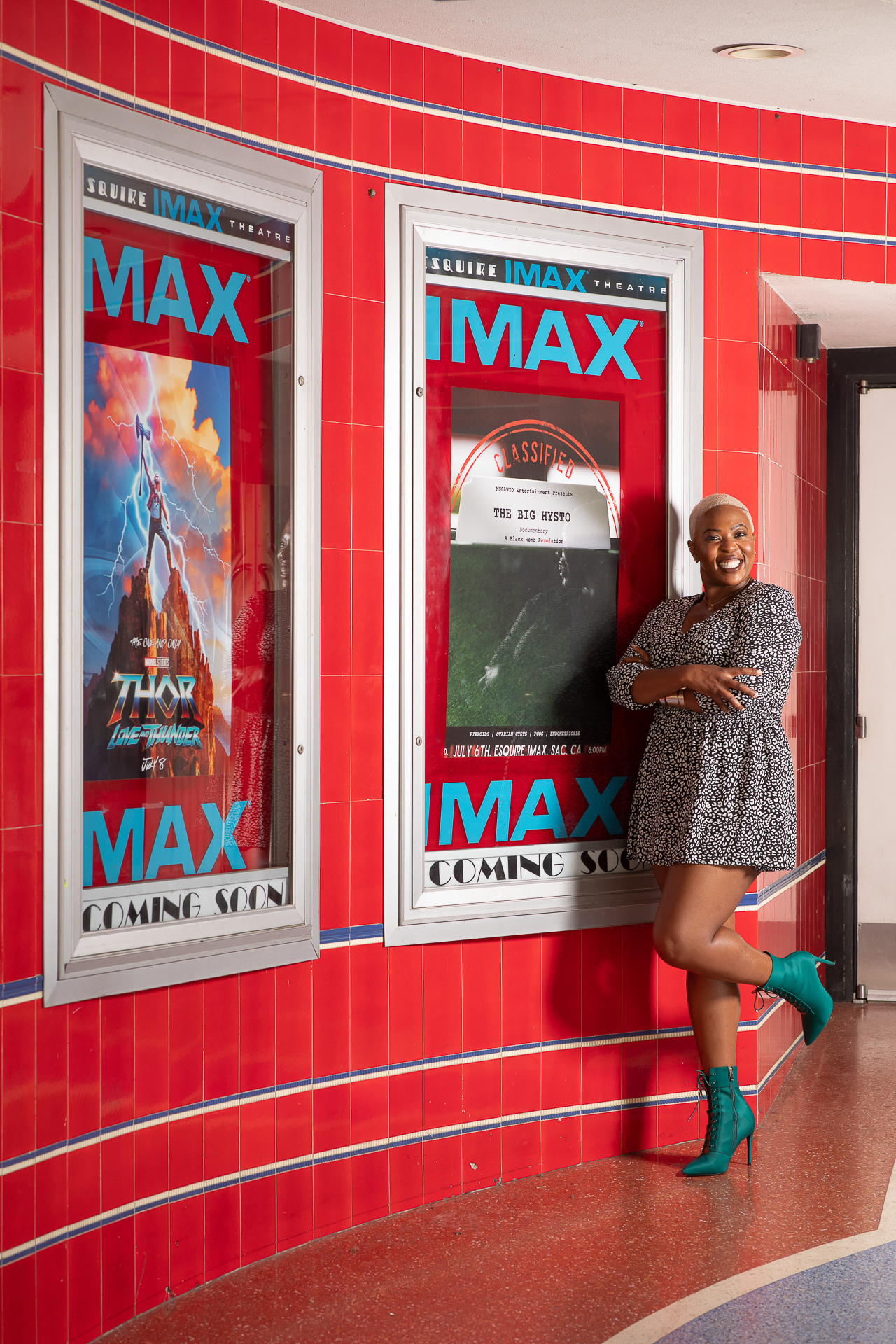 She earned her master's in Higher Education Leadership at Sacramento State and worked in various capacities on campus, including as coordinator of the PRIDE Center. In 2018, she started Muganzo Entertainment, Sacramento's first Black and queer entertainment company.
She's "getting her flowers" elsewhere as well. Earlier in June, she was a grand marshal for the Sacramento Pride Parade. July brings the premiere of her documentary "The Big Hysto: A Black Womb Revolution," which explores racial and other bias in the medical system.
"A lot of people feel like somebody has to give you a title of legend," she said. "Why would you give somebody that power? You have to believe you are incredible yourself. You have to walk in your purpose yourself. Everybody else is going to be late to the party."
Since her youth, Muganzo has sung, danced, and acted. Her mother was part of a choral group that performed on TV and radio, showing Muganzo that performing arts could be a career. When she was 8, her mother asked her to sing and hold a note. She could, and immediately was put into a church singing program.
"Since then, that first feeling on stage, I was like, I want more of this," she said.
At 13, she began choreographing for a traveling dance group with her friends, and in high school was captain of the cheer team. She enrolled at UC Davis, struggling initially before finding a passion for activism on behalf of students of color and eventually earning her undergraduate degree in community and regional development.
Still not ready to make the plunge into a full-time career as a performer, Muganzo was looking for her next steps when she learned about Sac State's Higher Education Leadership program.
"When I found out there was a graduate program at Sacramento State that was based in student affairs in higher education, where I can basically do all this stuff, have a salary, and help out new incoming students to be strong in their identity, I was like, 'I'm in,' " she said.
She credits Sac State for helping her learn to think critically about systems of higher education and providing a professional home for her work to support and empower students. During her seven years on staff, she worked as an admissions counselor, housing manager, academic counselor, and, lastly, as PRIDE Center coordinator.
"I don't have to be 90 years old to be a legend. I don't have to be dead to be a legend. I can be a legend at 9. I can be a legend at 15. I can be a legend at 23. I am actively living in purpose, on purpose, activating all the power that's within me." -- Melissa Muganzo
Muganzo said the job with the PRIDE Center brought her career full circle from her time at UC Davis, where she became involved with the cultural centers there and realized the powerful role they play in providing students a place to explore, discuss, and celebrate their identity.
At Sac State, she became committed to helping graduating seniors navigate the transition from college to career, creating a senior-year experience program and a scholarship for college seniors to help pay for things such as GRE fees or travel to a grad school interview.
Muganzo also kept one toe in the entertainment world, acting, choreographing, and dancing on the side. In 2021, she took the plunge to become a full-time performer. Through Muganzo Entertainment, she sings, acts, dances, choreographs, and appears as a public speaker, among other activities. Her ongoing collaboration with Sac State included teaching an Afro hip-hop dance class earlier this year.
She takes pride in having founded the first Black and queer production company in Sacramento.
"We're still struggling to see Black trans people in serious roles on TV," she said. "We're still struggling to see nonbinary families and relationships on TV. We're still struggling with police brutality against Black folks, let alone Black trans folks.
"When I say I'm the first Black queer entertainment company in Sacramento, that's activating all of the people that are just like me to say there is an entertainment space for you, and it's going to be in the capital of California."
Her film, "The Big Hysto," draws on her personal experience. She suffered from cystic acne, uncontrollable weight gain, and heavy menstrual bleeding, assuming they were a normal part of being a woman until a Black nurse pulled her aside and told her she had fibroids. The nurse also told Muganzo that doctors didn't share that information with her because she is Black.
Learning more about Black and other women whose medical issues were ignored, misdiagnosed, or downplayed inspired her to make the film, which premieres July 6 at Esquire IMAX Theatre in downtown Sacramento. It features 15 women sharing their experiences and difficulties navigating the health care system.
"I decided to take my company and all of my access and my agency and say we're going to create this documentary, and we're going to have a casting call with real-time people so it's not history, it's present day," Muganzo said. "People that are still having families, that are experiencing real-life racism, sexism, homophobia in the hospital present day."
During a recent presentation, Muganzo was asked to recount a failure that became a blessing. She responded that she should have gone to acting school but instead took a detour to graduate school, where she learned all the tools she needed to put her passion into action.
"I'm just a fan of what Sac State has done in my life," she says now. "That's not a detour at all. That is legacy work. That is mind-blowing work."