The WELL expansion offers more space, services for growing Sac State student population
October 11, 2021
With Fall 2021 enrollment at a record 31,588 students, all of them eligible to use The WELL, completion of the health and wellness facility's $34 million expansion comes at the perfect time.
The WELL's makeover is significant and "the list of upgrades and new amenities is long," said Bill Olmsted, The WELL's executive director.
The work expanded the then-existing 230,446-square-foot facility to 260,263 square feet, adding about 18,000 square feet for fitness and recreation, and about 11,000 square feet for health services. More than 26,000 square feet of the existing space was renovated.
The University officially cut the ribbon on the expanded facility Oct. 12, with guided tours following the ceremony.
"The bottom line is this: The expansion project is the product of listening to our members and taking their feedback to heart," Olmsted said. "It's the culmination of many years of planning and looking at how our students want to interact with this facility, both now and in the future."
Olmstead characterized the popular venue as being physically, mentally and socially "transformative."
"It definitely was worth the time and resources to make this project happen," he said. "There is no better investment than the health and well-being of our students."
Financing for the expansion came from student fees and reserves, from both Union WELL Inc., and Student Health and Counseling Services.
All students are eligible to use The WELL, which is funded through student fees, and 78% of students generally activate their account.
Part of the expansion was done to accommodate that usage, including boosting the number of lockers to 750, more than double the previous capacity.
New locker rooms are anything but old-school traditional. For example, the first-floor Locker Hub is a glass-walled, all-gender facility with seven private changing rooms.
Other new amenities include two group fitness studios with a soundproof dividing wall and lighting tied into the sound system. There also is a dedicated spin studio, additional strength and free-weights spaces, and a lounge.
(Story continues below graphic)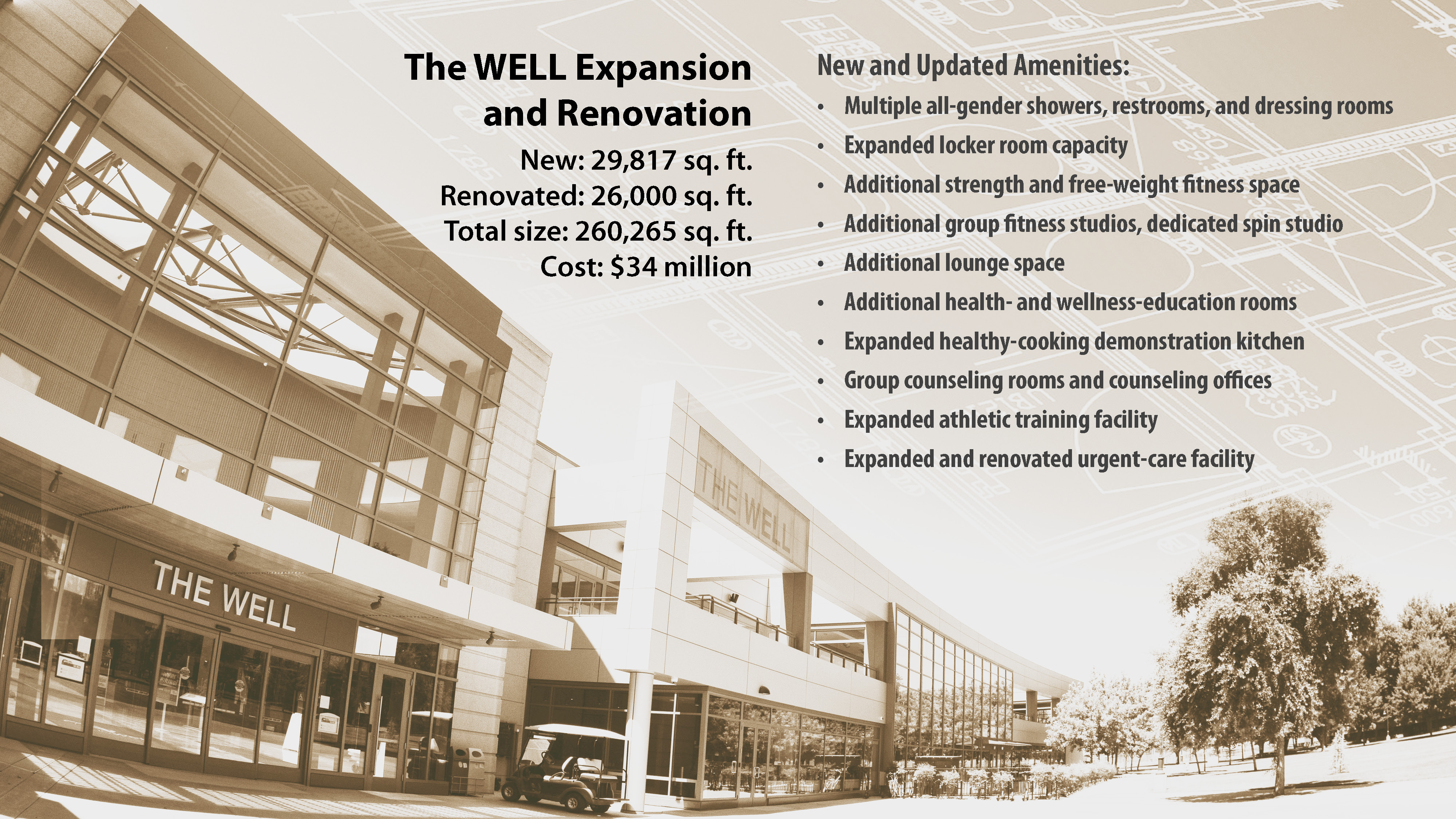 Added to Student Health and Counseling Services (SHCS), opposite the fitness side of the building, were two urgent-care counseling spaces, the confidential advocate's office, new exam rooms, and an athletic-training facility that supports all students, including participants in campus club and recreational sports. Counseling offices, group-therapy rooms, and meeting rooms are part of the new layout.
"The expansion and renovation will allow us to serve more students more effectively and to provide new services," said Joy Stewart-James, SHCS associate vice president.
"The Health and Wellness Promotion department has grown over the years, with more than 50 students participating in our Peer Health Educator programs," she said. "The renovation also allowed us to expand the cooking demo kitchen, provide student office spaces, and workshop meeting areas."
"It definitely was worth the time and resources to make this project happen. There is no better investment than the health and well-being of our students." - Bill Olmsted, executive director of Union WELL Inc.
The Student Health Services Pharmacy now offers vaccines and flu shots by appointment and provides a vending machine filled with retail items to meet after-hour needs.
Stewart-James said she expects to add student dental services by Spring 2022.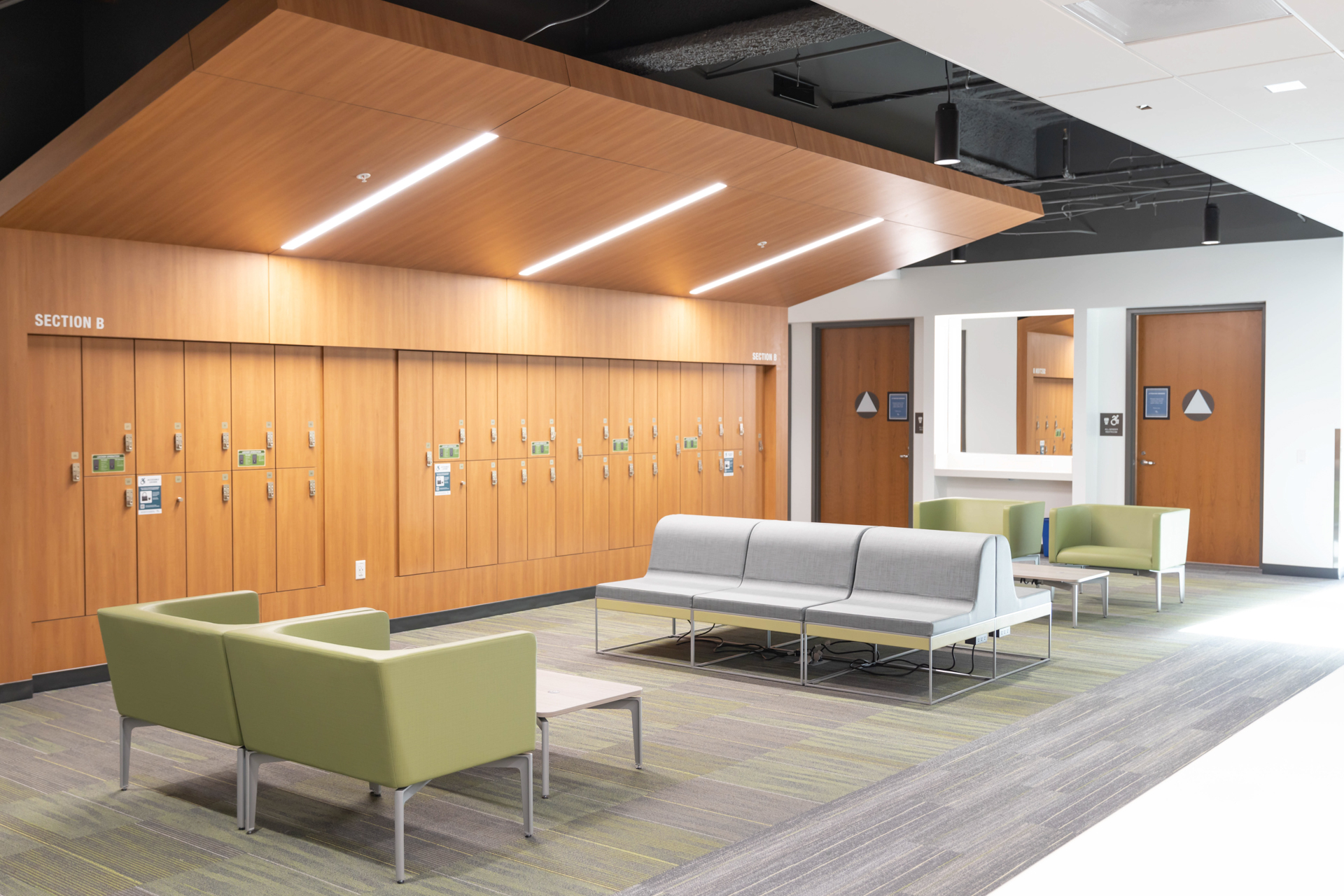 The COVID-19 campus shutdown allowed renovation and construction work to accelerate, and the project was completed more than three months ahead of schedule.
The WELL's opening in 2010 "definitely changed student life at Sac State," providing previously unavailable recreation access and opportunities on campus, Olmsted said.
In the 11 years since, the student population has grown by several thousand, and more students are activating their WELL membership, he said. That increased use put more pressure on the facility, leading to crowded conditions and lines of members waiting to access state-of-the-art fitness equipment.
"We spent time collecting feedback and conducting focus groups to understand the greatest needs of the students and campus community at large," said Kate Smith, director of The WELL. "This process allowed us to rethink our universal design application by creating all-gender spaces in a safe and welcoming environment."
Deborah Bruffett, a graduate student in Anthropology, has seen firsthand The WELL's transformation, both as a member and through her job as a student manager for SHCS's Healthy Relationships. She regularly utilizes the facility's services.
"I've gotten my COVID-19 vaccinations, flu shots, and prescriptions filled while on campus," she said. "The pandemic has taken a toll on my mental and physical well-being, but discovering that the fitness classes were both in-person and online played a part in getting me back to my old self."
Accessibility and inclusion were critical considerations throughout the design process, resulting in wider doorways, larger benches, door-automation features, and the elimination of barriers on all pathways.
"The overall commitment to an integrated approach to health and wellness remained a cornerstone in all decisions that were made," Smith said.