Long interested in earthquakes, Engineering professor now helps keep dams safe from temblors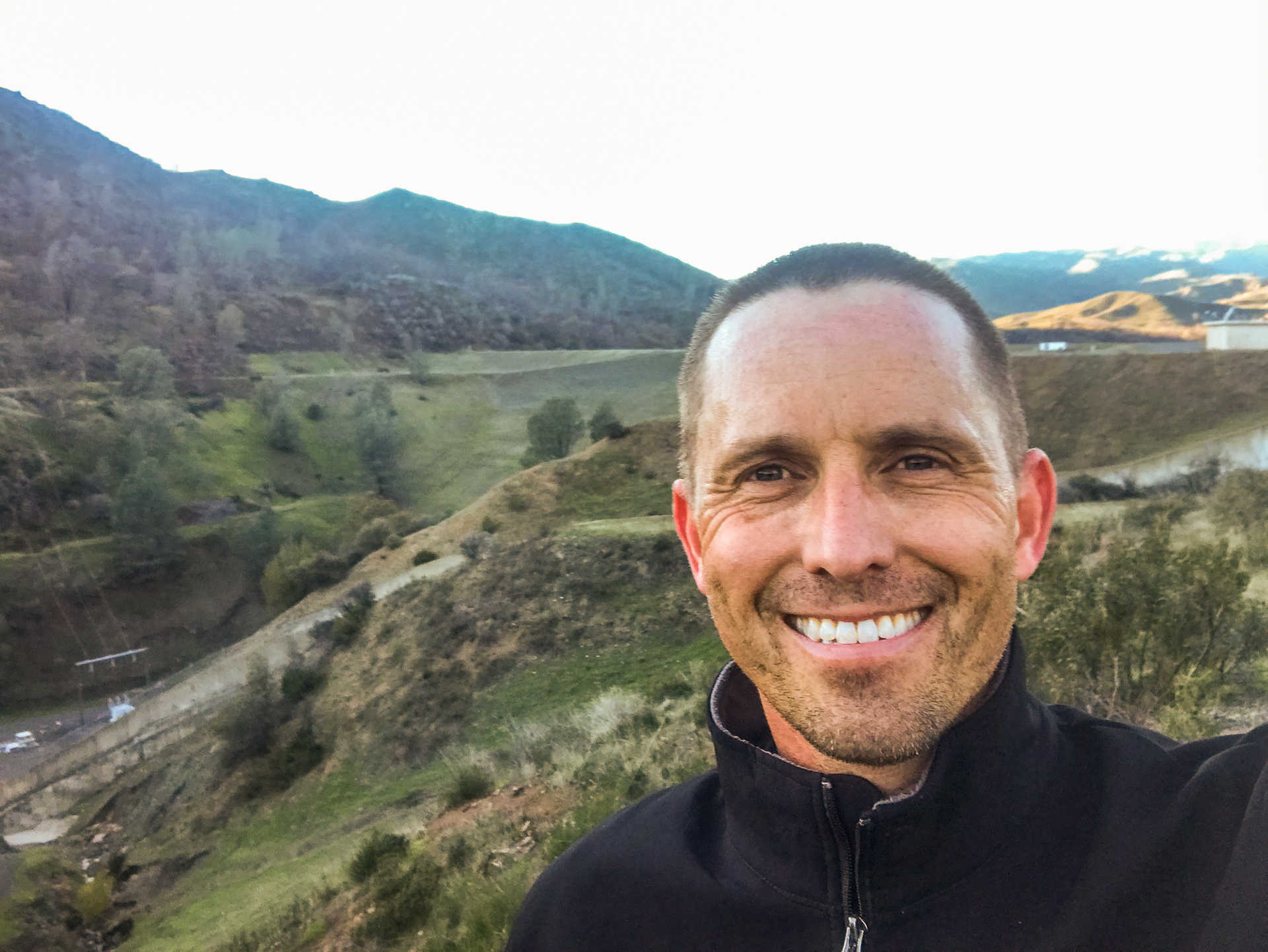 December 21, 2021
Long before he became an associate professor of Civil Engineering and an expert on the effects of earthquakes on dams, Richard "Richie" Armstrong was a young man in Canada, dreaming about California.  
Each summer, his schoolteacher parents loaded up the family, bikes, and surfboards in a yellow 1970s GMC motorhome and, towing a yellow Geo Metro, made the 2,000-mile trek from Winnipeg, Manitoba, to San Diego. There, they spent two months enjoying and exploring Southern California. During the family's summer sojourns, Armstrong and his father would drive throughout the region, looking for evidence of the 800-mile-long San Andreas fault.  
"That's where I first heard about earthquakes," said Armstrong, who now studies the impact of such events on dams. 
He said concern exists about possible earthquake damage to many of the hundreds of Northern California dams holding back water near active faults. They bear watching. 
"Dam owners, safety officials, and other interested parties utilize the best science and engineering available," he said, "to assess the likelihood of future earthquake damage and the consequences to the performance of the facilities after the earthquake." 
Armstrong has yet to experience a large temblor firsthand, despite having lived in California for nearly 20 years.  
His wife woke him at their home in Woodland during the 2014 South Napa earthquake, but too late for him to feel the strongest shaking. 
Armstrong lived in Manitoba when the 6.9 magnitude Loma Prieta earthquake struck the Bay Area on Oct. 17, 1989.  
Like millions of baseball fans, he was awaiting the start of Game 3 of the World Series – the Oakland A's vs. the San Francisco Giants, at Candlestick Park – when he saw the devastation begin to unfold on live TV. 
It was the region's strongest quake since the 1906 San Francisco earthquake, and its epicenter was about 56 miles south of the city. 
Armstrong's first formal study of earthquakes was at the University of Manitoba, where he earned a bachelor's degree in Civil Engineering in 2003.  
"I always wanted to get back to California," he said. "I was intrigued with civil engineering issues in regard to California, and I knew earthquakes were of importance here." 
He earned a master's degree in Civil and Environmental Engineering from Stanford University, in 2005, and a doctorate in the same discipline from UC Davis, in 2010. 
The field that enthralled him during his studies was numerical simulation, which uses software to anticipate how dams and other structures will react during earthquakes. 
"I always wanted to get back to California. I was intrigued with civil engineering issues in regard to California, and I knew earthquakes were of importance here." - Richie Armstrong, associate professor of Civil Engineering
In 2009, needing to support his growing family as he completed his doctorate, Armstrong worked for the Division of Safety of Dams, a regulatory commission within the state's Department of Water Resources. He evaluated the stability of embankment dams and the relationship between earthen dam deformations and earthquakes.
Most of California's 1,400 dams are earthen embankments in areas of high seismicity. Among the exceptions are the 770-foot-high Oroville Dam, which is made of rock and soil, and Folsom Dam, which is a concrete-gravity dam flanked by earthen wing dams and dikes. Monticello Dam, which created Lake Berryessa, is a concrete arch dam. 
The earthen embankment dams can move and "heal" themselves during an earthquake, said Armstrong, a longtime member of the earthquake committee for the U.S. Society of Dams. 
"In the 1906 earthquake, a dam along the San Andreas fault sheared," he said. "Had it been concrete, it would have failed and water would have gone through, but because it was self-healing, it was able to continue to function." 
Armstrong also said that a growing body of scientific knowledge and understanding plays a role in ensuring dam safety – and reacting quickly. 
"As the science and engineering improves, considerations at or downstream of the dam change, dams are re-evaluated to ensure the performance needs are still met," he said. "Dams throughout the state are also routinely inspected to ensure that performance meets standards. 
"In the event of an actual earthquake, near real-time tools are utilized at many facilities to help dam owners and other parties assess the needs to immediately inspect the facility following the earthquake and make any subsequent emergency decisions." 
The most daunting threat to a Northern California dam – and communities below it – came in February 2017 when ceaseless storms and high water in the lake it held back threatened and badly damaged Oroville Dam. That event, however, was caused by what Armstrong called "hydrological loading" – basically, too much water – and was unrelated to seismicity. 
In addition to his classroom work at Sacramento State, where he has taught undergraduate and graduate courses in mechanics, computer programming, and earthquake engineering since 2015, Armstrong also teaches numerical simulation to clients worldwide. 
"I first started studying dams while at UC Davis," said Armstrong, who lives in Woodland with his wife, Bethany, and their four sons.  
"What I find so rewarding is that each dam has its own story," he said. "They're huge structures. There's history. They're complex. They're all so different, and they're necessary for the population of California. That fascinates me."