Format changes, but Super Sunday's outreach for Black higher education remains
February 26, 2021
The COVID-19 pandemic forced Sacramento State's annual Super Sunday recruiting event to pivot to an online format this year, but enthusiasm for connecting with future Hornets through Black churches in the area remains high.
During Super Sunday 2021, on Feb. 28, the University's administration reaffirmed the value of higher education in virtual sessions to members of participating churches in the Sacramento region.
The theme of this year's event was  "Accessibility, Affordability and Social Mobility."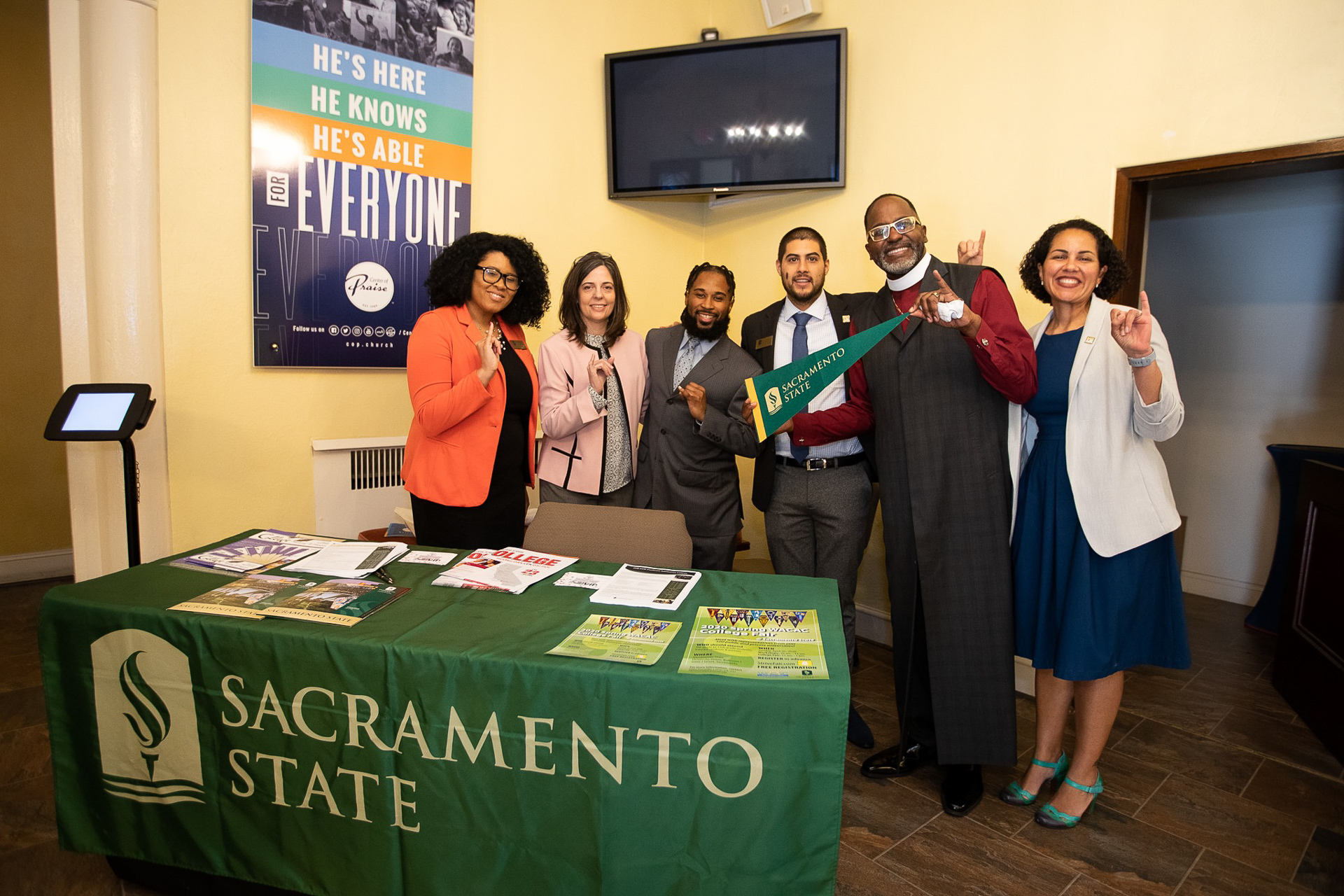 During previous Super Sundays, University administrators attended services at some of the area's historically Black churches and talked with congregants about the benefits of college education and the value of attending Sac State.
This year, following current COVID-19 safety guidelines, the meetings were conducted via the Zoom online platform.
The event began with welcoming messages and an overview. Super Sunday featured breakout sessions for participants to gather information and ask questions about financial aid, admissions, and student support programs, including the Martin Luther King Jr. Center and the Educational Opportunity Program.
"Super Sunday was a great experience," said Marcellene Watson-Derbigny, associate vice president for Student Retention and Academic Success. "The event secured delegates from across the city who were able to acquire information about college, how to finance the collegiate experience, and how to support the journey" toward earning a degree.
Super Sunday activities are part of outreach from universities throughout the CSU designed to increase the admission and graduation rates of African American students.
Less than 6% of Sac State students are African American, statistics show, compared to an overall population of 13% in Sacramento.
In recent years, four-year graduation rates at Sac State have improved across the board, including for African Americans, Hispanics, first-generation college students and those eligible for federal Pell grants. The entire CSU system continues to work toward closing "equity gaps" and improving graduation rates for all students.
Despite the lack of face-to-face contact during this year's Super Sunday, Sac State administrators are redoubling efforts to attract and provide resources to students of color.
Among the Sacramento-area churches participating this year are O Logos Alive, Calvary Christian Center, St. Paul Baptist, Center of Praise Ministries, Antioch Progressive, Shiloh Baptist, and Temple AME Zion.
The event "is a great opportunity to spread the word about the value of higher education among our regional congregations," Watson-Derbigny said, adding that Super Sunday "helps to amplify the importance of higher education and the many ways it transforms lives and leads to the fulfillment of lifelong dreams."
Sac State celebrated  Black History Month in February. More information can be found on the University's Black History Month web page.
VIDEO: President Robert S. Nelsen reaches out on Super Sunday 2021
Media Resources
Faculty/Staff Resources