Dean's Award – HHS: Scholar who worried she wouldn't finish high school graduating as one of Sac State's top students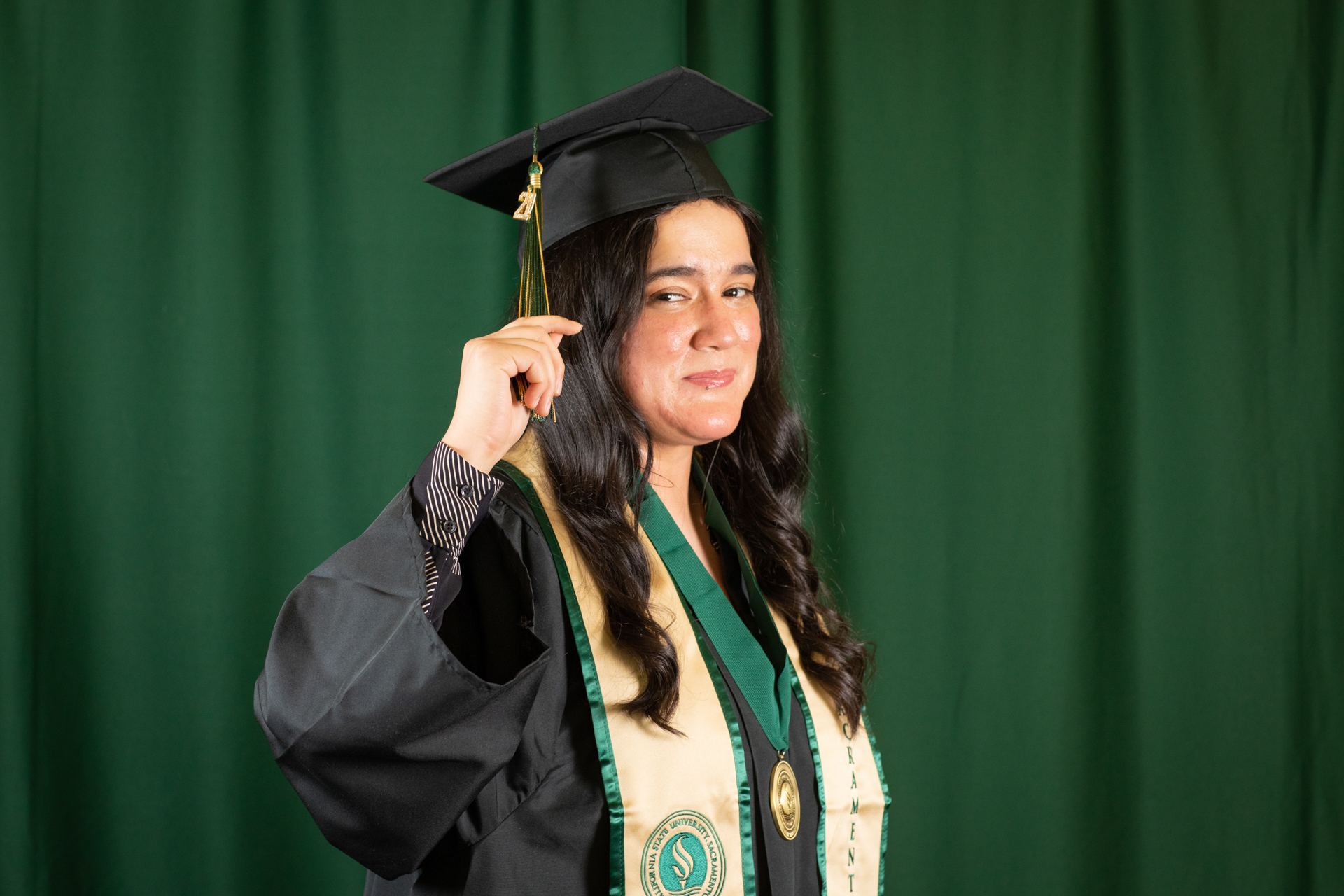 May 12, 2021
Janai Belmonte struggled academically for most of her young life.
She was diagnosed with dyslexia, which hampers her ability to read, and auditory processing disorder, which interferes with the way her brain recognizes and interprets sound, particularly speech.
Her Mexican-born parents spoke little English, and she grappled with learning a new language once she started school.
Name: Janai Belmonte

Hometown: Live Oak

Degree: BS, Recreation and Parks Management, emphasis on Community Recreation

Why Sac State: "I visited other campuses, but when I came to Sacramento State, I fell in love with it. I fell in love with the (University) Library and all the places there where students can study. I love how bright the campus is. It has a vibe. It feels like home."

Interim Dean Mary Maguire says: "Janai is a high-achieving student and an example of all the things we hope our HHS graduates will be. She is curious and has a quest to learn, she perseveres against adversity with humility, and she has a big heart."
"As a child, I was happy and wanted to learn, but I was bullied by my classmates," Belmonte said. "I cried through my anger. I felt like I wasn't good enough.
"During my early school years, people told my parents that I would never be 'normal' due to my disabilities and that I would never graduate from high school."
Belmonte did graduate from high school, and now she is graduating from Sacramento State magna cum laude as one of the top students in her class and the Dean's Award winner for the College of Health and Human Services (HHS).
As she moved through elementary, middle and high school, Belmonte continued to struggle, but with speech therapy and special education classes began to find her academic footing. Her grades and confidence steadily improved, and she graduated from Live Oak High School in 2007.
She went on to attend Yuba College, where she earned an associate degree in Arts and Humanities, before transferring to Sacramento State for the Spring 2018 semester.
"I felt invincible," she said. "I knew that I had the perseverance to do well. Here, I discovered the wonderful Recreation Administration major."
Belmonte is forthright about her disabilities. Early in her time at Sac State, she approached one of her instructors for guidance. Kathy Martinez, a lecturer in the Department of Recreation, Parks, and Tourism Administration, suggested Belmonte seek out campus support services such as the HHS Student Success Center, the Peer and Academic Resource Center, the Reading and Writing Center, and the Recreation Majors Association student club.
"And I told her that she could meet with me to go over her assignments before they were due," Martinez said. "With the support she received from the campus services and meeting regularly with me, Janai excelled in her courses and was on the Dean's Honor list every semester since Spring 2019."
With her newfound confidence, Belmonte became a tireless volunteer for organizations such as Able Riders Therapeutic Horseback Riding, which supports children with disabilities, and the California Crush Wheelchair Rugby Tournament.
She was a regular fixture at campus events such as the annual 5K Fun Run and as a member of the Hornet Events Activities Team. She recently completed an internship with the Mission Oaks Recreation and Parks District.
"Janai was 'all in' from the moment she began our program, with a tenaciousness not to just complete the work but to really understand it," said Lisa J. Jorgensen-Easterla, professor of Recreation, Parks, and Tourism Administration.
"She got involved in everything to connect with her peers, to our major, and to the profession."
Martinez echoed her colleague's praise of Belmonte. "She is one of the hardest-working students I've had the pleasure to work with. Despite having so many educational obstacles, she is achieving her dream of a college education."
Belmonte hopes to return to Sac State one day to work on a master's degree in Recreation Administration.
In the meantime, she plans do dedicate her energies to helping other people.
"I want to do for others what was done for me. I am going to do my best to support the community and to share the fact that nothing is wrong with being different," she said.
Media Resources
Faculty/Staff Resources