Sac State researchers join effort to help more Stockton students attend, graduate from college
May 04, 2021
Sacramento State researchers have become a key part of an initiative to increase the number of Stockton students who attend and graduate from college.
Only about 17% of the city's residents older than 25 have a bachelor's degree or higher, compared to 33% in Sacramento and 32% nationwide, U.S. Census data show.
The Stockton Scholars program, which former Mayor Michael Tubbs created in 2018 as part of the city's broader College Promise Initiative, aims to dramatically increase that number by offering scholarships to every graduate of the public school system who pursues higher education.
The Sac State researchers will study the program's impact on students, identify its strengths and potential improvements, and come up with a plan to increase support for the College Promise Initiative.
"As a University that is committed to improving the well-being of communities in the region, we feel strongly that part of this work is to make sure that college is accessible to everyone."
In addition to scholarships, Stockton Scholars also offers support services including college access and persistence conferences, student ambassador programs, personal and professional mentoring, and more.
"We want to invest in the youth of Stockton and address the educational crisis" in the city, said Stockton Scholars Director Janae Aptaker. The underlying goal is to "create a college culture" in the area, in part by hosting events and campaigns that emphasize the importance of higher education, she said.
Academic research is a critical part of the Stockton Scholars program's long-term future, Aptaker said.
"We had a significant process to identify a research partner, and we chose Sac State for a reason," she said, noting that the University team has a deep professional and personal interest in Stockton and its youth.
The team consists of Alma Itzé Flores, an assistant professor in the College of Education who researches  Chicana/Latina first-generation college students; Nancy Hunate-Tzintzun, an Ethnic Studies instructor who was raised in Stockton and has worked as a community organizer in the city; and Heidy Sarabia, an associate professor of Sociology whose research includes immigrant adaptation in the United States.
All three women were first-generation college students who benefited from support programs similar to Stockton Scholars and whose research skills provide them with a strong foundation for leading the study, the professors said.
"As a Chicana, immigrant and first-generation college student, I know firsthand how challenging it is to navigate the college application process," Flores said.
Years ago, as a prospective student in the University of California system, "I was overwhelmed and stressed" about the paperwork, she said. "Most of my white, middle-class peers had done campus visits, decided on majors, and had financial aid figured out." Flores said her experience was "daunting, to say the least."
"This is the experience of many students that come from historically marginalized and underserved communities," she said.
The three Sac State researchers consider their alliance with Stockton Scholars to be "personal," Flores said.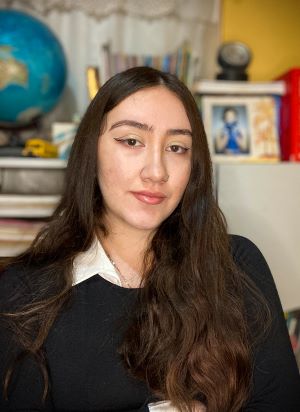 "We see ourselves reflected in the students they serve," she said. "It is the leading reason why we are so excited to be working with an organization that works to demystify the college application process and is committed to nurturing a college-going culture citywide."
The partnership comes with a $30,000 seed grant from the Harry and Jeanette Weinberg Foundation, which the research team intends to supplement with funding from other sources.
The researchers will probe, through surveys and focus groups, how Stockton Scholars affects the educational aspirations of students, how it helps nurture a "college culture" with students and families, and how it informs students' choices about college.
Flores said the work aligns well with Sac State's efforts to be an "anchor university" in Sacramento and across the Central Valley.
"As a University that is committed to improving the well-being of communities in the region, we feel strongly that part of this work is to make sure that college is accessible to everyone," Flores said.
"We know that through our research and collaboration with Stockton Scholars we can work to make sure that students in our surrounding community feel empowered to apply to college and consider Sac State an option."
Chiara Hernandez, a freshman at Sac State, credits Stockton Scholars with helping her pursue her dream of attending college.
"My parents knew I wanted to go to college, and they have been super supportive," she said. "But when you're first-generation, it's really hard. You don't have anyone to look up to or help you with the process. But I wanted to go, and to make myself an example to my younger siblings."
Stockton Scholars helped her fill out admissions and financial aid applications and provided a $1,000 scholarship.
Without the help, "I would still have tried to pursue higher education, but it would have been a lot harder," Hernandez said.
"I feel very grateful," she said. "I would encourage every senior going to high school in Stockton to apply for Stockton Scholars."
More information can be found on the Stockton Scholars website.
Media Resources
Faculty/Staff Resources