2020 President's Medal honoree Marielle Tsukamoto's legacy hinges on heritage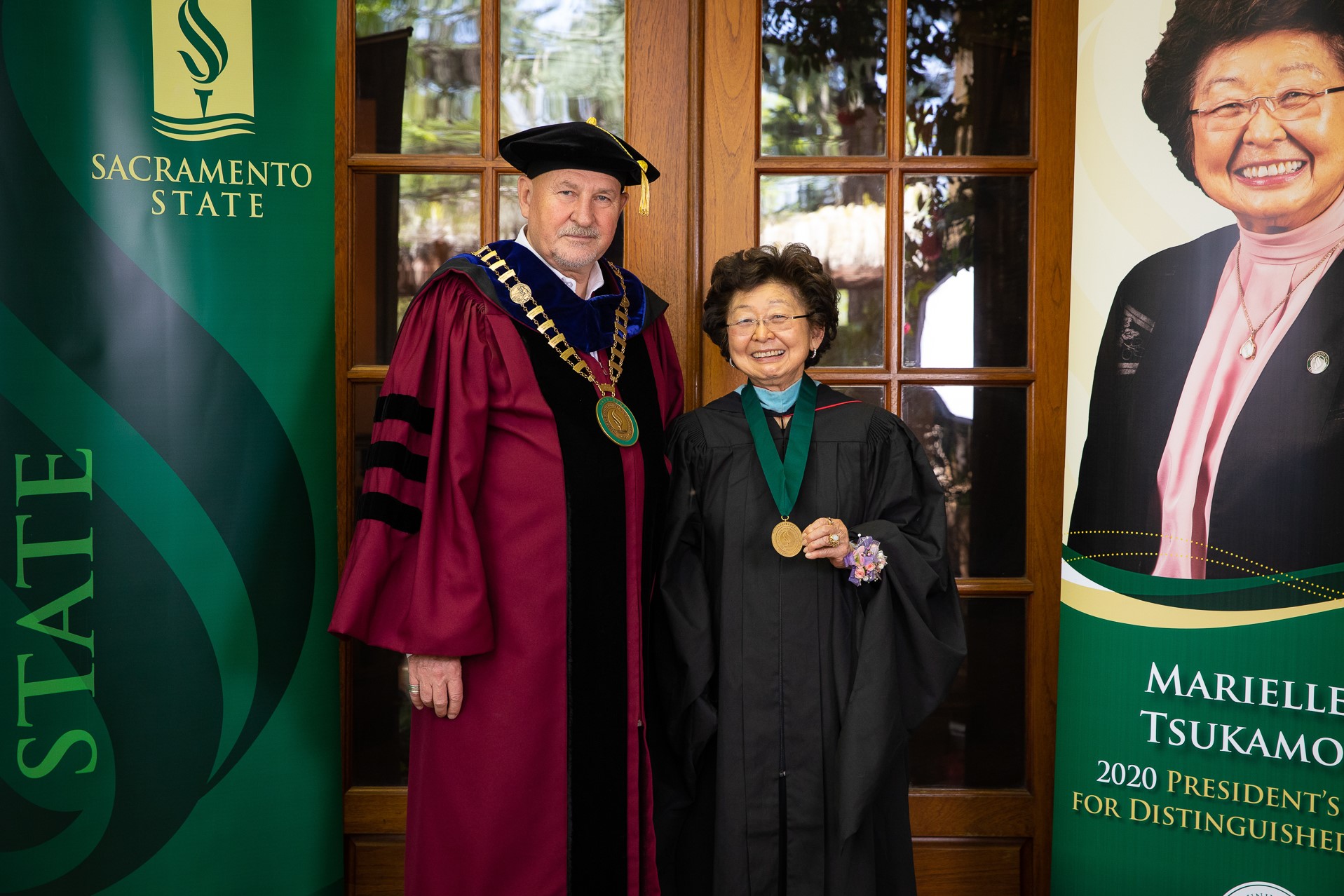 July 08, 2021
Marielle B. Tsukamoto remembers the morning in 1942 when she and her family were taken from their Florin home and incarcerated for three years in Japanese internment camps. 
This experience as a young child sparked an enduring passion for justice that set Tsukamoto on a path of distinction as an educator, community leader and civil rights activist.  
Tsukamoto is past president of the Florin Japanese American Citizens League, one of the oldest and most active local community organizations involved in teaching cross-cultural understanding and promoting civil rights of all people.
A lifelong educator, Tsukamoto served as principal of C.W. Dillard Elementary in Elk Grove Unified School District and as a vice principal at other schools, including Mary Tsukamoto Elementary, the school named after her mother.  
Her outstanding service to society and the public good earned Tsukamoto the 2020 President's Medal for Distinguished Service.  
"This honor is very touching and special to me because it was presented by President Robert Nelsen," she said. "I have witnessed the positive changes he has made on the campus and so admire his leadership, dedication and commitment to serve each and every student who comes to Sac State.  
"Sac State also serves the community as an educational institution as well as a central location for events, conferences and a place for information and discussion. It makes Sacramento a university city." 
Sacramento State's Japanese American Archival Collection was created in 1994 with a gift of photographs, artifacts, and documents from Tsukamoto's mother, who encouraged others in the local Japanese American community to donate their internment-era memorabilia to the University.  
Tsukamoto has volunteered for the Elk Grove Regional Scholarship Foundation, the Elk Grove Multicultural Festival and the Time of Remembrance educational program, an annual event that began in Elk Grove and now is held at the California Museum in Sacramento.  
Tsukamoto attended Sacramento State in 1956 before graduating from University of the Pacific.
Media Resources
Faculty/Staff Resources