Distinguished Alumni: Former HHS Dean Fred Baldini built impressive legacy at Sac State
September 02, 2021
If Fred Baldini ever writes his life story, he'll call it The 100-Yard Journey.
That's the distance from the intramural fields behind Yosemite Hall, where he met his future wife, Robin, while playing in a fraternity softball game, to Solano Hall, where he spent the last nine of his 31 years at Sacramento State as the dean of the College of Health and Human Services (HHS).
Baldini is the 2021 recipient of a Distinguished Service Award from the Sacramento State Alumni Association.
"If Fred is 'Made at Sac State,' he also holds the honor of being able to claim 'I Made Sac State,' as his fingerprints are all over the HHS landscape," interim HHS Dean Mary Maguire said in nominating Baldini for the award.
"Fred led efforts to develop new programs, including the Physical Therapy and Audiology doctorates, a master of Public Health, and a Health Service bachelor's degree. He also reimagined Folsom Hall. … His contributions will impact students for decades."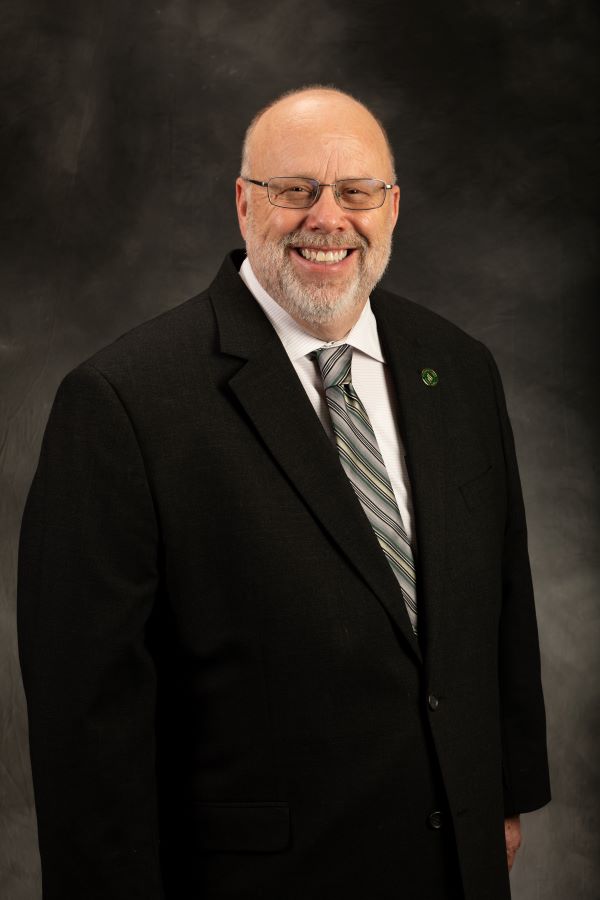 Baldini served the University first as a Kinesiology professor and three-term department chair before becoming HHS associate dean and, finally, in 2010, dean of Sac State's largest college.
HHS boasts more than 6,900 students majoring in Criminal Justice, Nursing, Physical Therapy, Social Work, Health Science, Public Health, Communication Sciences and Disorders, Kinesiology, and Recreation, Parks and Tourism Administration.
"I'm thankful and proud to be selected for the DAA," Baldini said. "I'm humbled. I think I did some good things and made a difference at Sac State."
Baldini grew up in Battle Mountain, Nevada, where his family ran a hardware store and lumber yard, catering to the area's ranchers and gold miners.
He came to the University in 1979 as a transfer student from Porterville College, where he played football and baseball. He had been accepted to UCLA, but one day he and his community college friends were driving through Sacramento on Highway 50, heading to the snowy Sierra to ski, when he noticed the exit for Sacramento State.
"I knew nothing about Sac State or even Sacramento, but I decided to apply based on that sign," Baldini said.
He earned his bachelor and master's degrees in Kinesiology at Sac State then received a doctorate in Exercise Science from Arizona State. He began his career at Sac State as a one-year Kinesiology hire before becoming an associated professor.
He served as HHS dean for nine years before leaving Sac State in 2019 to become provost and vice president for Academic Affairs at Samuel Merritt University.
Perhaps the most visible sign of his leadership is Folsom Hall, an academic building on the southeast edge of campus that has become a hub for the health professions.
"A friend said that when you're a dean, you get one big thing, and Folsom Hall is my one big thing," Baldini said. "I didn't make it happen. It was a team effort in so many ways.
"Sac State bought the CalSTRS building on Folsom Boulevard, and no one was really jumping at the chance to use it, so HHS became a player. We took all of the health professions – existing programs, new programs, research, community clinics, and interprofessional education – and put them together in state-of-the-art facilities. I'm proud of the programs and the impact they're having on education, research, and community service."
While a faculty member, Baldini served on the planning committee for Solano Hall, which became the home of HHS and where many programs remain. He also taught the first cohort of Physical Therapy students in 1995.
When he arrived at the University for the Fall 1979 semester, he found a "sleepy, little campus" with around 12,000 students.
"It wasn't anything like today. In those days, students would go to school and leave. Sacramento State had some impact on the region, but it wasn't talked about," he said.
"Sac State is recognized in the community now in ways that it wasn't then. People are more aware of Sac State and proud to be a part of it. They understand its value more than ever. That's the kind of impact we have."