After devastating fires, Sac State professor and her students help Bushy Lake rise from the ashes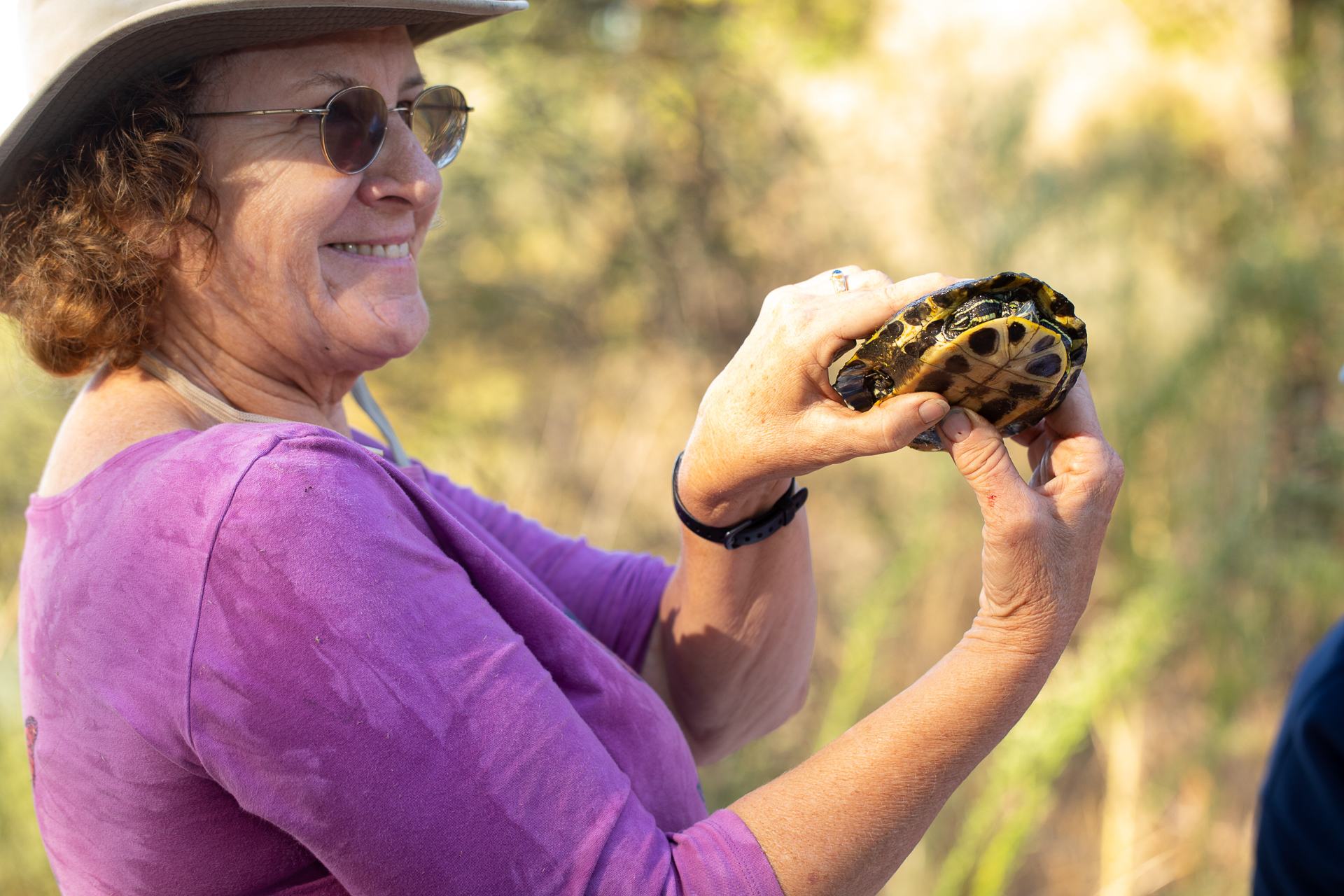 October 18, 2022
Standing on a secluded patch of ground along the American River, Environmental Sciences Professor Michelle Stevens watched two of her students paddle toward her in a canoe that held precious cargo.
From their boat on Bushy Lake, the young researchers lifted two cylindrical netted traps to shore.
"We've got a northwestern pond turtle!" one of them said.
It was exactly what Stevens wanted to hear. It was evidence that, even after devastating fires last summer in the area, at least some of the turtles were thriving. The Sacramento State professor and her students, with the help of a $5,000 Anchor Grant from the University, are working to make sure the creatures are around for generations.
The Bushy Lake project is one of 15 receiving grants this year from the University initiative, which funds efforts that promise to "have a lasting impact on our community" through education, environmental work, mentoring, counseling and other factors, said Nathan Dietrich, Sac State's associate vice president for Public Affairs and Advocacy.
Since 2015, Stevens and her students have been working to restore wetland and riparian acreage at Bushy Lake to help save the threatened turtles, whose numbers are declining because of habitat destruction and invasive species that compete with them for food and nesting areas. 
Bushy Lake, which spans 20 acres in an abandoned oxbow of the American River near Cal Expo, is a vital habitat for the pond turtle. The area represents a vital refuge for the species along the river, Stevens said.
"Everyone loves these turtles. But based on what I'm seeing, I'm worried about their population," she said.
Northwestern pond turtles are a "species of special concern" in California, and are under consideration for listing under the federal Endangered Species Act.
Besides monitoring the activities of turtles at Bushy Lake, Stevens and her Sac State crews have been putting down plants that are culturally important to Native Californians, watering by hand, pulling invasive weeds, cleaning up trash, and documenting wildlife in the area. Bushy Lake is home to a wide array of animals, including river otters, beavers, coyotes, bobcats, and at least 139 bird species.
The Sac State team partners with Sacramento County on the project, and has received significant funding from the California Wildlife Conservation Board. In the future, researchers intend to develop campaigns to educate the public about Bushy Lake's history and environmental importance, and plan to guide future ecological maintenance of the area.  
Through their work at Bushy Lake, dozens of students have gained critical experience in the field, as well as the satisfaction of knowing that they are serving the public and contributing to the health of an important ecosystem.
Graduate student Lexi von Ehrenkrook plans to focus on the area for her master's thesis on environmental conservation and restoration.
"From an ecological point of view, it's a great habitat," she said. "We have a resident population of pond turtles, and we are seeing evidence of reproduction," making the area ideal for research.
In more than two years of trapping, Stevens and her students have identified seven distinct northwestern pond turtles. They have found more than 300 invasive red-eared slider turtles, which have been introduced by pet owners who abandon them in lakes and rivers.
The team releases all turtles after measuring and weighing them, then cutting a tiny notch in their shells to mark them as having been captured. Stevens refuses to euthanize the invaders, but occasionally offers them to teachers as education tools, and to responsible pet owners.
"I won't give them to anyone who might release them," she said.
In June 2021, a fire roared through the Bushy Lake area, reducing to ashes years of Stevens and her students' work. Since then, they have been busy clearing burned areas and re-planting native vegetation. Besides the Anchor Grant, Stevens also received a $10,000 Sac State President's Circle grant to help rebuild the area.
On a recent Sunday, however, her team's focus was on turtles.
For hours, they pulled traps baited with halibut and installed in Bushy Lake the previous day. They examined, weighed, and measured dozens of turtles, documenting their findings on elaborate charts. Only one of the turtles was of the threatened northwestern pond species.
"Put everything away, we've got to focus!" Stevens said as she held the turtle, whose markings are distinctly different from those of the sliders. At a folding table, she and the students placed the turtle on a kitchen scale, measured the length and width of its shell, and determined its approximate age based on rings on its underside.
"This one's a boy!" Stevens declared. "He's a recapture. He's our newest western pond turtle." The team quickly returned the turtle to the location where it was caught.
Gunner Michaelson, who graduated from Sac State in 2020, was among those documenting the team's findings.
"This experience has given me so many things I can take into a future job space," Michaelson said. "Collecting data, managing data, creating reports, leading small teams. It's invaluable."
Dereck Goodwin, another recent Sac State graduate, said the project honors his Native American ancestors and their reverence for land and animals.
Goodwin helped give the team its informal name.
"We're Team Awanata," he said. In the language of the Miwok people, the word means turtle.
Media Resources
Faculty/Staff Resources