Multiyear Wide Open Walls mural project showcases Sac State's efforts to become an antiracist and inclusive campus
October 25, 2022
A walk along the south side of Sacramento State's Santa Clara Hall will give the phrase "seeing is believing" a whole new meaning for the next 12 months.
A group of artists has transformed the engineering building's plain, empty walls into a work of art as part of a multi-year partnership with Wide Open Walls (WOW), Sacramento's annual citywide mural festival. Eight muralists each painted a section of the building's wall with images evoking the University's Antiracism and Inclusive Campus Plan (AICP).
The focus of the murals for year one is "Believing," with upcoming years' art pieces focusing on "Becoming" and "Being."
An on-campus mural is one of the AICP's goals, said Mia Settles-Tidwell, vice president for Inclusive Excellence and University diversity officer. As Sac State implements the AICP over the next several years, the evolving mural will highlight the University's progress toward meeting those goals.
"We know that any work around racism, inclusion and belonging is a journey," Settles-Tidwell said. "There's not one of us who created racism that are living today. We've all inherited the isms. We've inherited the phobias. And we're all situated differently to address that. So, we wanted the mural to take us on a journey."
The murals will be preserved with images and videos before they're replaced with designs by new artists.
"This year's mural theme of 'Believing' symbolizes the journey that we are all on as we follow our North Star towards building a more equitable and inclusive Hornet community," said Leha Hawkins, Inclusive Excellence communications and programs specialist.
Painting began Saturday, Oct. 15, and muralists were given about a week to complete their work. Six muralists chosen by Sac State were each assigned a 7-by-30-foot wall panel. A seventh muralist, Beth Consetta Rubel, was chosen by WOW and painted a larger wall panel, measuring approximately 14-by-44 feet. Rubel was joined by her team Liliana Rodriguez, Brooke Correa, and Walter Anderson.
Finally, Wood "Tsumnu" Rowe Farguheson balanced duties as site manager with his role as the eighth muralist. Farguheson's panel is located in the center and will remain intact over the course of the project. It ties the theme's three focal points — Believing, Being, Becoming — together with messaging about the project's purpose.
"What I personally like from art and would like to happen is people walk down here and be inspired," Farguheson said. "They're here to go to school as well as learn and open up that brain sponge, so as they walk down here, they can see colors, shapes, designs, and ideas and be inspired to think differently."
Sac State alumnus and muralist Erik Oliver said he wanted to participate to share his story as an immigrant.
"I want to be able to say something in my art," said Oliver, who came to the U.S. from Mexico at the age of 12. "I had to learn the language and it was a different kind of transition and a new experience for me, which came with a lot of unexpected challenges, and I want to be able to share that through my art."
Luis Garcia, an assistant professor of Art who teaches a class on "barrio art," contributed a mural that integrates his students' work and highlights historical activists. He said he hopes people will think about the ways in which immigrants have improved the world around them, even when they were brought to the U.S. against their will.
"The idea behind this mural was to create a civil rights leaders wall, who at one point in their own trajectory fought for creating a more humanistic environment for specific communities," Garcia said.
Sac State student and artist Emma Montalbano said her mural is about progression.
"This is a really diverse campus, there's a lot of different people," Montalbano said. "I especially want a lot of people to be able to see themselves in the mural and see themselves represented in the student body and the work that the school is doing."
Artists used outdoor acrylic paint and relied on technology to project outlines onto the wall. Each received a $1,000 stipend from WOW, which included $500 for supplies.
Sac State artists applied by submitting a mural proposal and a short essay explaining how their artwork would convey the "Believing" focus.
The other artists taking part in this year's mural project include Phillip Altstatt, an alumnus and staff member who produces the Beyond J podcast, and current students Jane Simeon and Anastasia "Annie" Sullivan, whose mural includes contributions from members of the campus community.
The muralists come from a broad spectrum of ethnic and cultural backgrounds, including one Asian American artist, three Latinx artists, one Native American artist, two Black artists, and one white artist.
Carol Nicknig, marketing and communications specialist in University Communications and event organizer, said a total of 30 artists applied. Selections were based on a set of criteria and chosen by a 10-person committee that included David Sobon, CEO, founder, and board chair of WOW.
Among other benefits, working with Sac State helps WOW discover artists that could be a part of its citywide events, Sobon said.
"We have always tried to be the most diverse mural festival in the country, and we've succeeded," he said. "It has to be based on talent, but diversity is critically important. I want to be as inclusive as possible and I think we've done a good job doing that."
Sobon said he hopes that the project not only makes Sac State's campus more beautiful, but helps more artists gain exposure, which can lead to more opportunities.
"One of the things that I love about this project is it's not permanent," he said. "The big one (by Rubel) might last 3-5 years, the other ones, we're going to replace every year to give other students, other alumni, other members of the Sac State family, an opportunity to basically paint what they want, paint what they feel."
An "Unveiling and Meet the Artists" event was held Monday, Oct. 24, at Santa Clara Hall. Artists sold merchandise before and after the unveiling event, and gave remarks along with members of the campus community.
Past WOW artwork that can be viewed at Sac State includes 2018's "Sacramento" mural on Shasta Hall as well as 2019 murals at Brighton Hall, the Studio Theatre, and Lassen Hall.
Learn more about all of the artists as well as Sac State's Wide Open Walls partnership on the University website.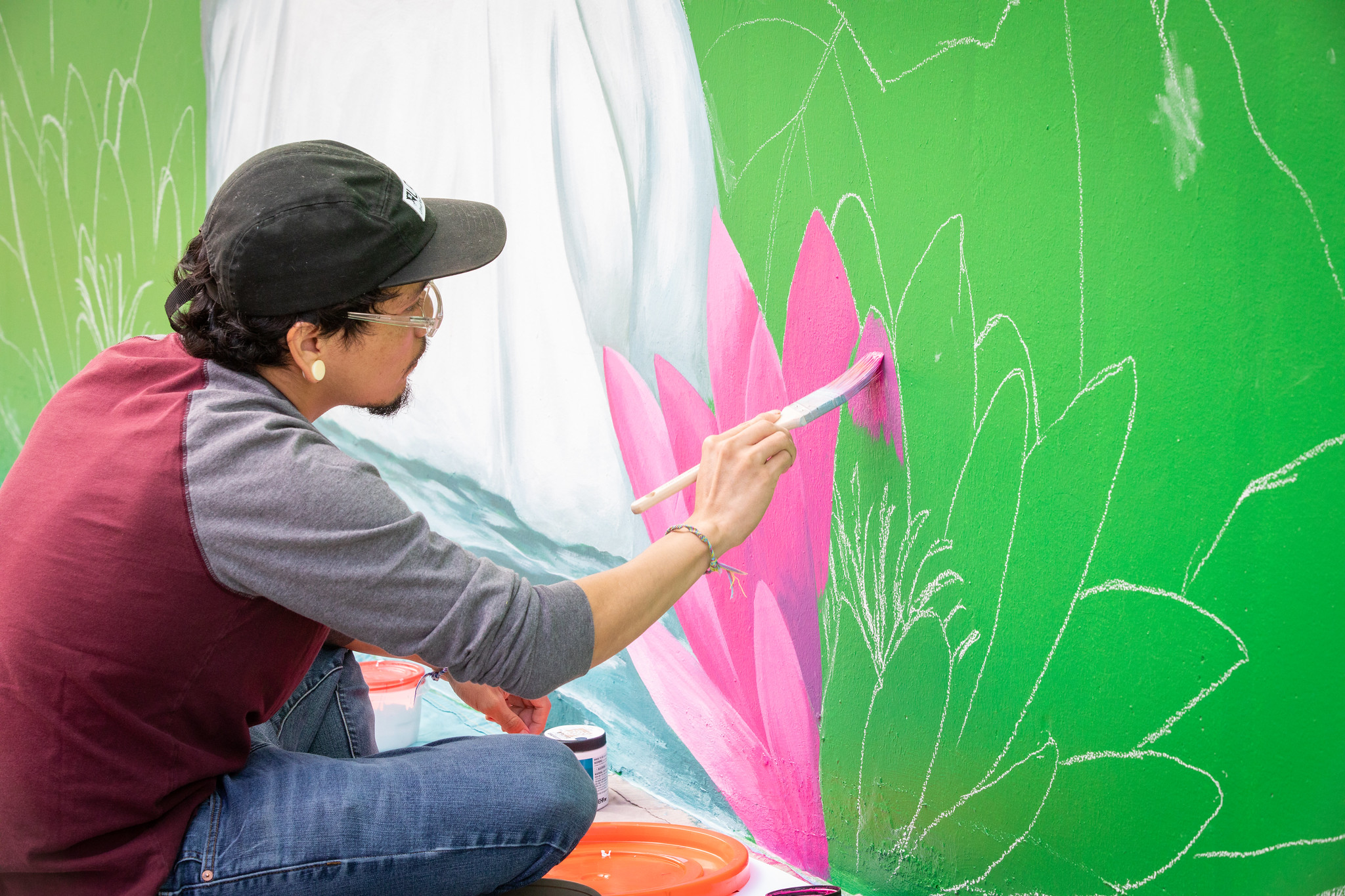 Media Resources
Faculty/Staff Resources