Students use spring break to tackle restorative projects in the community and on campus
March 25, 2022
About 120 Sacramento State students spent their spring vacations giving back to the community, volunteering in the Del Paso Heights neighborhood and on campus as part of the annual Alternative Spring Break. 
The March 21-25 event was organized through the Community Engagement Center's (CEC) Volunteer Ambassador and Student Volunteer Leaders program, a one-year commitment that provides students with skills necessary to work with community partners and gain valuable leadership experience.
"The reason I picked this program was for myself to gain experience in organizing and facilitating these events, and to provide opportunities for other people who want to volunteer," said Jermel Taylor, a Student Volunteer Leader participant who helped organize Alternative Spring Break.
"By providing these opportunities and giving them resources and assets, it's easier for students to attain that skill they are looking for," Taylor said. 
In the University Arboretum, Emily Potts, assistant professor of Interior Architecture, spearheaded a project to manually deconstruct the Solar Nest House, built in 2015 as a sustainable building for the Solar Decathlon competition.
"I felt pretty strongly that we needed to create a new story for the Solar Nest and that it was important to see the project through," Potts said.
Students are learning a lot about how a building goes together by taking it apart and salvaging as much of the wood, windows, and decking as possible, she said.
"Interior Architecture students also are estimating how much embodied carbon the building had and how much is going to be diverted through reuse of material donated to Habitat for Humanity and other projects," said Potts, whose team already has made two backpack racks for Washington Elementary School using railing posts and wood.
The green alternative to a traditional bulldozer demolition proved to be restorative for students and faculty.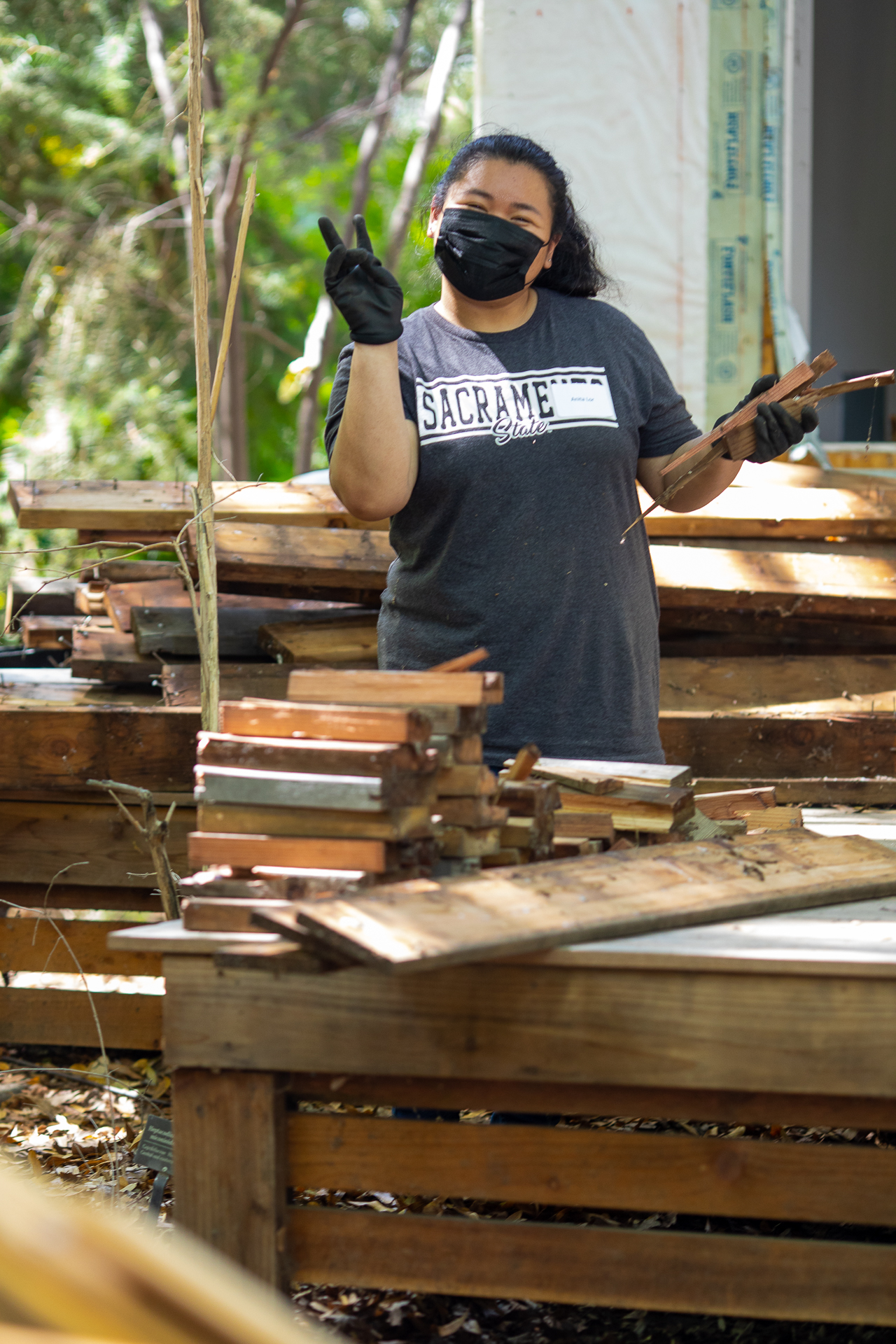 "It's healing to have people here, and this is a very timely project coming out of Zoom teaching and all the students being on Zoom so much," Potts said. "I just thought we needed to get outside. The energy of the students is amazing."
In the Del Paso Heights neighborhood, student volunteers completed several projects, including replacing the fence for a family home, partnering with the Del Paso Heights Grower Alliance to build healthy and sustainable gardens, and building a play porch for children.
"Especially after almost two years of COVID, a lot of people don't really know people, so this is a great way to get involved, meet other students, and connect with faculty members," said Roya Zaki, a senior Student Volunteer Leader participant.
Sac State students have participated in Alternative Spring Break since 2007 through volunteer activities such as picking up trash along the American River Parkway, helping people in Sonoma and Napa counties recover from the devastating 2017 fires, working on campus sustainability projects, and gathering fruit from neighborhood yards for Harvest Sacramento.
The CEC recently organized the Day of Service on March 12, which attracted more than 200 volunteers for a variety of community service projects for the Boys & Girls Club, Soil Born Farms, Shriners Hospitals for Children, and on campus.
The center is celebrating 25 years of service at Sacramento State and will hold its third annual Community Engagement Showcase on April 21 in the University Union Lobby Suite featuring events, projects, and partnerships that bridge the University with local communities.
***
Interested in supporting the Community Engagement Center? See your giving options here.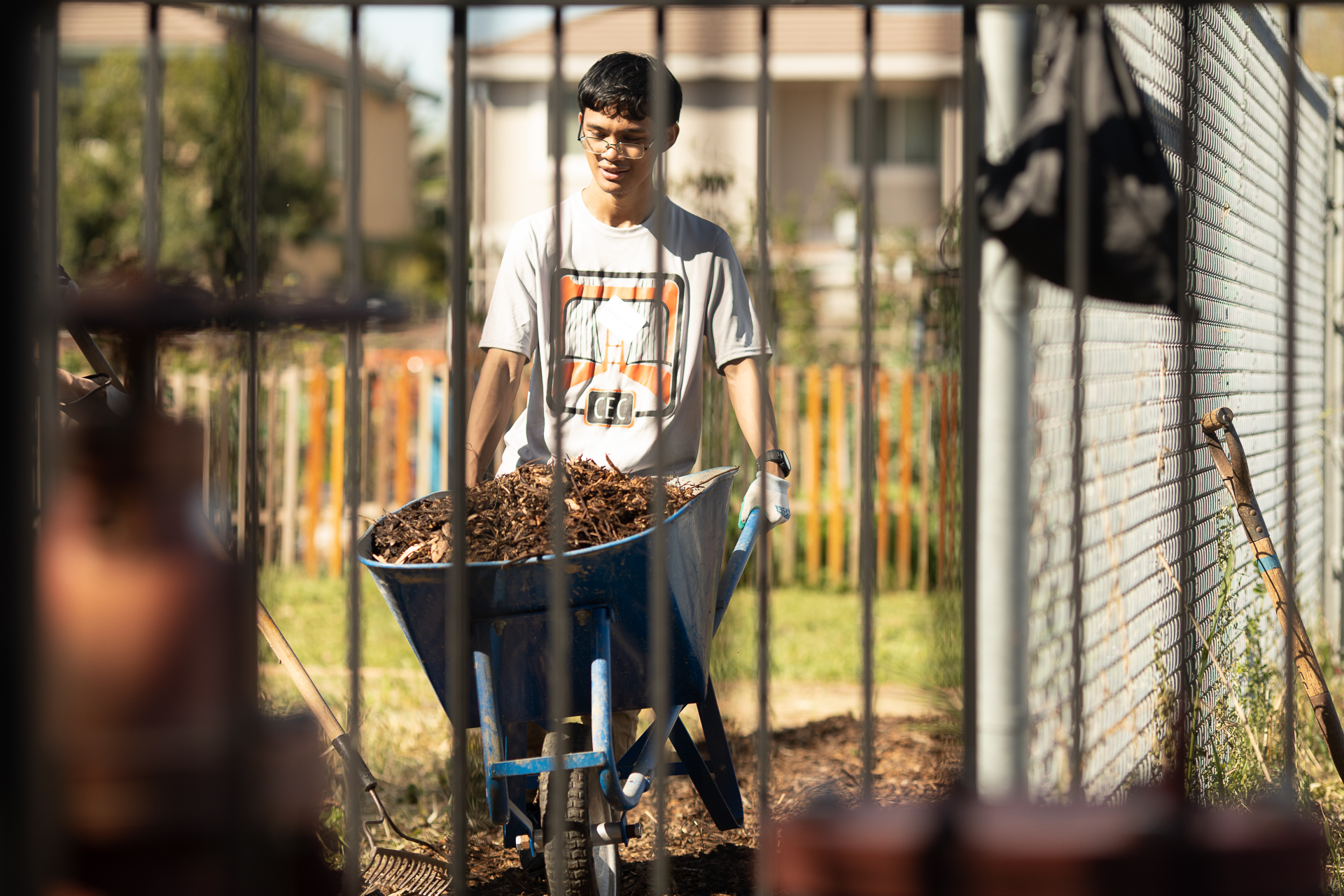 Video: Why we participate in Alternative Spring Break