Hundreds of K-12 students visit Sac State to see — and touch — what makes it special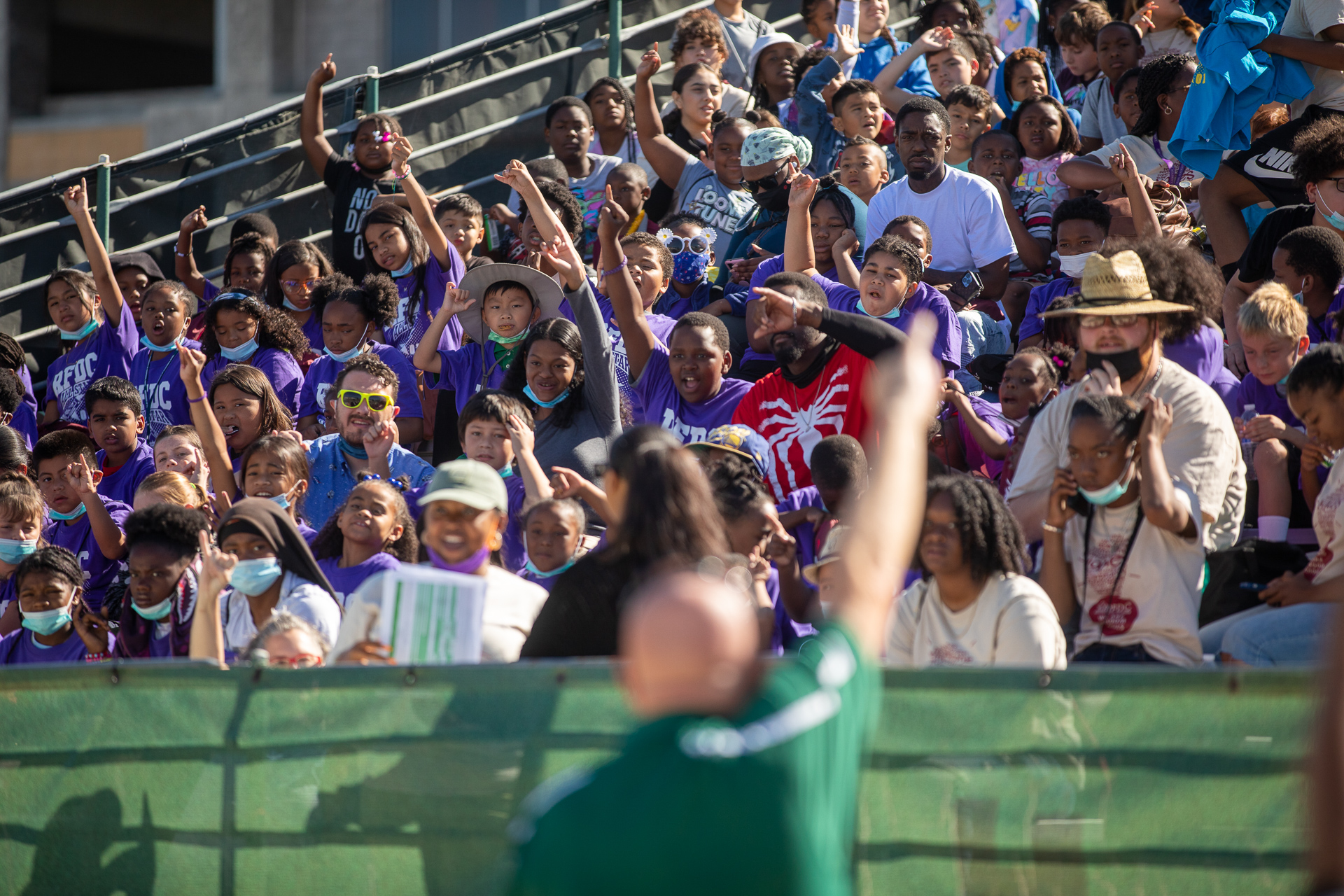 July 19, 2022
Anystie Islas said she was scared.
In a room full of skeletons, live reptiles and a hairy spider the size of a grown person's fist, who could blame her?
Ultimately, the 8-year-old's grin told a different story.
"It was fun," she said. "I'm not scared anymore."
Anystie was one of about 600 children from the Roberts Family Development Center Freedom School who converged on Sac State Friday, July 15, to see some of what it has to offer, from kayaking at the Aquatic Center, to learning about the University's diversity, to petting snakes at the Vertebrate Museum and touring The WELL, an important campus amenity.
"The field trip is an opportunity to expose our kids to the culture of a four-year institution located in our city," RFDC Chief Executive Officer Derrell Roberts said. "We want them to know about the resources that are available to them within Sacramento.
"We're trying to show our kids that this is a place for you, this is an opportunity for you to succeed."
The visit opened with Harambee, a morning rally at Hornet Stadium. Harambee is Swahili for "all pull together" and consists of call-and-response chants.
Sacramento State President Robert S. Nelsen greeted the students as they arrived and spoke during the morning rally.
"How many of you are going to go to college? Everybody better raise their hands, OK?" Nelsen said. "We want you to go to college. You can go to UC Davis, you can go to Berkeley. You can go anywhere."
"If you're smart, you'll come to Sac State, but you can go anywhere because you are our future. You're the one who makes a difference."
Roberts and his wife, Tina, opened RFDC in 2001 to serve kindergarten through 12th-grade students and their families in the greater Sacramento area. Services include academic support and enrichment, parent education and engagement, and community involvement and advocacy.
RFDC serves more than 500 students at schools in high-risk neighborhoods.
In addition to after-school activities, RFDC has been a Children's Defense Fund Freedom School for eight years, operating a literacy-based summer learning experience. Students participate in STEM activities, arts, sports, and cultural exploration, and they read specially selected books with diverse characters.
The summer program includes field trips to museums and local universities. At Sac State, the hundreds of students spread out to experience a range of University venues and offerings, including a scavenger hunt on the Main Quad and Sac State Planetarium show.
Several groups visited the Vertebrate Museum in Sequoia Hall, which houses a collection of more than 2,500 mammals and 3,700 birds. There were also living specimens, including Venus flytraps, a tarantula named Walnut, and giant hissing cockroaches.
Students could even pet a couple of live snakes and Sam, the bearded dragon.
"You get to touch and see lots of things," Anystie Islas, the 8-year-old, said. "I've never touched nothing here before, like the snakes or the lizard. It felt spikey and rough."
Some of the older students learned to kayak and tried stand-up paddling at the Sac State Aquatic Center.
While waiting for her turn in a kayak, Grant High School senior Cherish Jackson, 16, talked with friends and stayed cool in the searing heat by dipping her feet in the water.
Jackson, who has been a part of Freedom School since she was 11, made sure she'd be back this year.
"Every year, I look forward to coming back, because I've made a lot of connections with people, and I have a lot of great memories," Jackson said. "Even just sitting here with our legs in the water, taking the moment in, feels very peaceful.
"It's probably going to be one of my favorite field trips."
Participating students came from Taylor Street, Robla, and Leataata Floyd elementary schools as well as Martin Luther King, Jr. Technology Academy and Grant High School.
Sac State Health Sciences major Treshawn Weatherspoon, 28, volunteered to be a tour guide after the Black Student Union approached him.
"I'm from the Del Paso Heights community, and a lot of these kids come from my community," said Weatherspoon, who is a member of Phi Beta Sigma, an African American fraternity on campus.
"It's important that we have people here who look like me. It makes it a more welcoming and inviting experience for the kids. Now these children know there are people who look like them at Sac State."
Roberts said many of the Freedom School educators and mentors are Sac State students who participated in RFDC activities as children, including third-year Mathematics major Anthony Orozco.
"I was a 'trouble head' at first," Orozco, 19, said.
But he was good at math, and Roberts persuaded him to give RFDC a chance.
"I feel like that was my complete 180," Orozco said. "They gave me hope. They gave me a shot to change my life."
On Friday, he led a group of teens around campus.
"Being here on a college campus shows the scholars that things can change around," Orozco said. "I wasn't the smartest. I wasn't the brightest. But definitely going on a college campus tour showed me what I could become."