Substitute Teacher Fair, residency programs highlight Sac State's innovative efforts to address educator shortages
September 28, 2022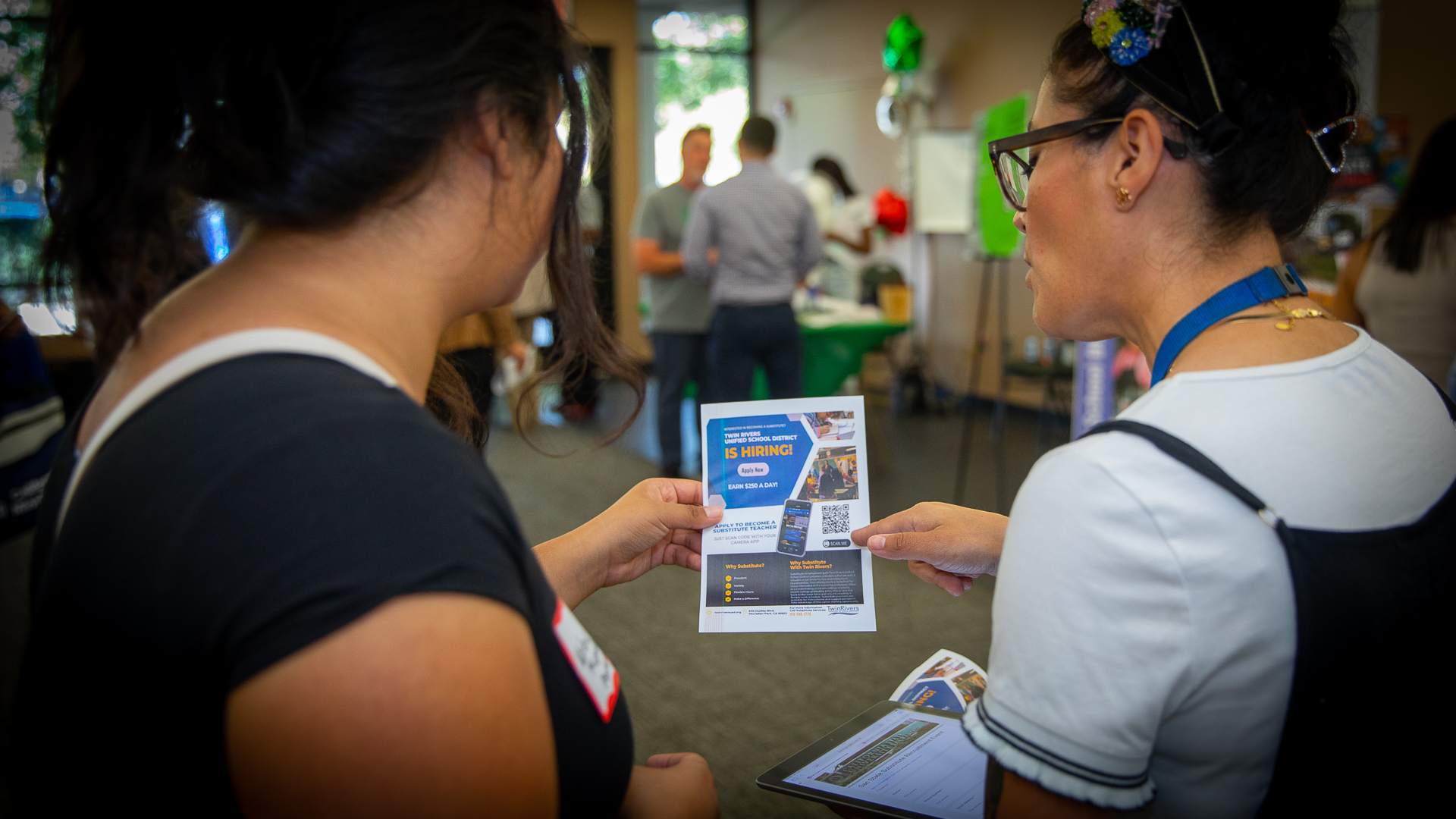 As with many industries in the fallout of the COVID-19 pandemic, staff shortages have greatly affected schools across the nation.
And though a pressing need for teachers long predates COVID-19, retirements and resignations, many accelerated by the pandemic, have led to an even greater need for educators.
"We experienced that before the pandemic, but I think now, many teachers that were close to retirement that maybe thought they were (going to) go a couple more years have decided not to," said Tiffany Smith-Simmons, director of talent management for Sacramento City Unified School District.
Substitute teacher shortages have added to the crisis by making it difficult for full-time teachers to take time off. This has impacted school responses to absences caused by new COVID strains as well as educators' ability to pursue professional development, said Pia Wong, associate dean for Research and Engagement in Sacramento State's College of Education (COE).
These challenges have led to or exacerbated burnout, causing educators to leave the field, Wong said.
Acutely aware of the issue and its growing impact, Sacramento State, a key source of education and training for the region's teaching ranks, is working to create solutions. The COE's second annual Substitute Teacher Fair is one example of how it is addressing the shortage.
"I think it's mostly to have a little release valve for our partners," Wong said of the event. "There were terrible stories last year of schools where kids were having to sit in the gym because (their) school had three to eight classrooms with no teachers in them."
The Sept. 23 fair at the Harper Alumni Center invited recent graduates and senior students to connect with local school districts. Wong said 362 students across various majors registered for the two-hour event.
"You can see by this turnout, this is such a huge thing for us," said David Robertson, director of Human Resources and Labor Relations for Twin Rivers Unified School District, one of 11 districts and partners that participated in the fair. "Having more people, especially these undergraduates that are close to graduating … be prospective substitutes for us in our school district, that is great."
In addition to offering paying work, substitute teaching can influence participants to further pursue teaching careers, said Wong, the fair's organizer.
"We do have the potential, if we do this better and better each year, of giving more people a paid experience and career exploration," Wong said. "And then if we're smart, we'll snap 'em up and get them on the track that they want to get on."
The Substitute Teacher Fair also is another way for Sac State to support the community.
"Connected to this is Sac State's anchor institution," said Jenna Porter, COE Teaching Credentials department chair, referring to Sac State's engagement and impact on the city and region. "We're really trying to work with all of our district partners to help them out."
Wong said last year's event was held out of desperation to fill jobs. This year, her goal is for the college to follow up more with participants and help them get through the process smoothly.
"(Our local districts are) very grateful because they actually can hire our students and recent graduates and fill positions in their schools," said Sasha Sidorkin, COE dean. "So, we're very happy to help."
Valeria Miranda, who recently earned her bachelor's degree in Psychology after transferring to Sac State from Yuba College, attended the fair hoping to get extra help with her application.
"I did a little bit of the process with Sacramento City Unified, and it's overwhelming," Miranda said. "There's a lot of paperwork, there's a lot of fingerprints, and a lot of it is waiting."
Miranda, who has worked as a tutor and recently participated in the Pathways Fellows research program, said she hopes to become a substitute teacher to gain more experience in working with children and to have an income while working toward becoming a school psychologist.
In addition to the Substitute Teacher Fair, the College of Education recently received state funding to establish and support teacher residency programs.
"A teacher residency program is a very particular kind of program that's been shown via research to both attract more diverse people into teaching and also improve their retention in the profession," Wong said.
As opposed to a traditional approach, where a student teacher typically moves from classroom to classroom to work with several teachers, a residency is a one-year placement in the same classroom, allowing student teachers to gain a richer understanding of how things play out over a complete school year, Wong said.
California last year announced a multi-state partnership with the U.S. Department of Education under a call to action from U.S. Secretary of Education Miguel Cardona, dedicating $350 million from the 2021-22 state budget to Teacher Residency grants.
Sac State's COE worked to secure some of those funds and, along with school district partners, has received hundreds of thousands of dollars to support the programs and pay student teachers. With these grants, student teachers are able to earn what is intended to be a livable wage ranging from $20,000-$25,000 for a residency year, Wong said.
"It makes it so that they're not giving up a year, and paying for that year," she said.
Sac State's teaching credential programs have seen fairly steady enrollment in recent years, Wong said. The college is working on additional residency programs and offers several professional learning programs for full-time teachers, which helps with retention.
The residency programs are promising, Wong said, because they support collaboration between school districts and universities in establishing what a new teacher should know and be able to do.
"That dialogue is very important," Wong said.
For Miranda, the teacher shortage is nothing new. She said that when she was growing up, it was apparent that something was wrong, especially when teachers would go on strike.
"Teachers do a lot outside of the classroom," Miranda said. "Even just being a tutor-mentor was a lot, in the summer for high schoolers, because you have to do all this extra time and everything else."
Miranda said the solution to teacher shortages starts with treating teachers better.
"I just think we need to better appreciate our teachers," Miranda said.
Along with its work on behalf of graduates and senior students, Sac State is ranked No. 5 Best Undergraduate Teaching for Regional West Universities by U.S. News & World Report.
Media Resources
Faculty/Staff Resources