Hundreds of Sac State students receive meal kits and healthy food tips during inaugural Hornet Harvest Gathering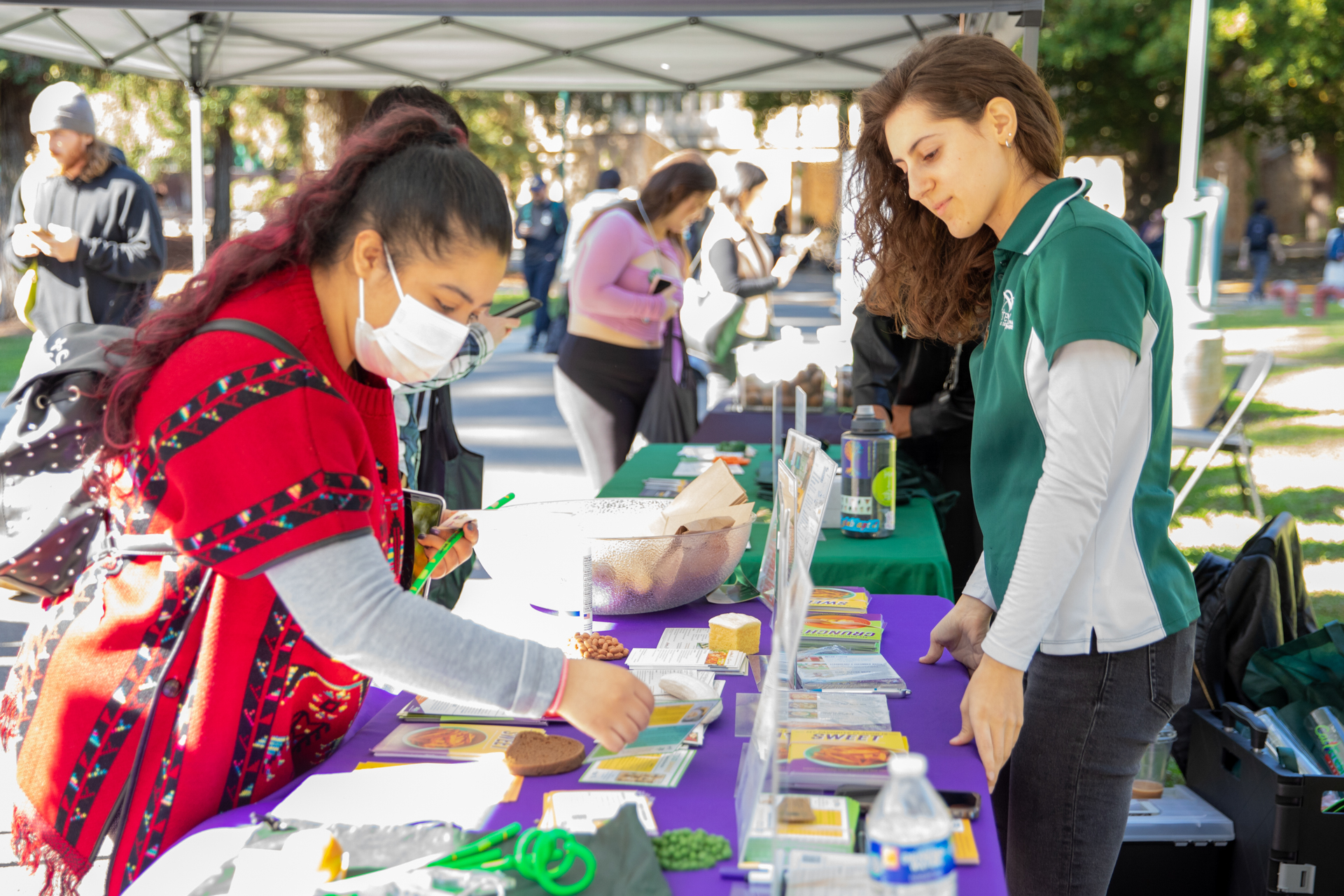 November 08, 2023
Hundreds of bags of food and healthy meal tips were distributed to students during Sacramento State's inaugural Hornet Harvest Gathering on Nov. 8, an event sponsored by  Aramark Regional to combat food insecurity on campus.
Aramark is the University's food services vendor. Earlier this year, it was approved to participate in CalFresh, the state's monthly food benefits program for low-income individuals and families.
"We realized the need," Aramark Regional dietician Jenna Brott said. "We wanted to raise awareness and do our part to support students on campus."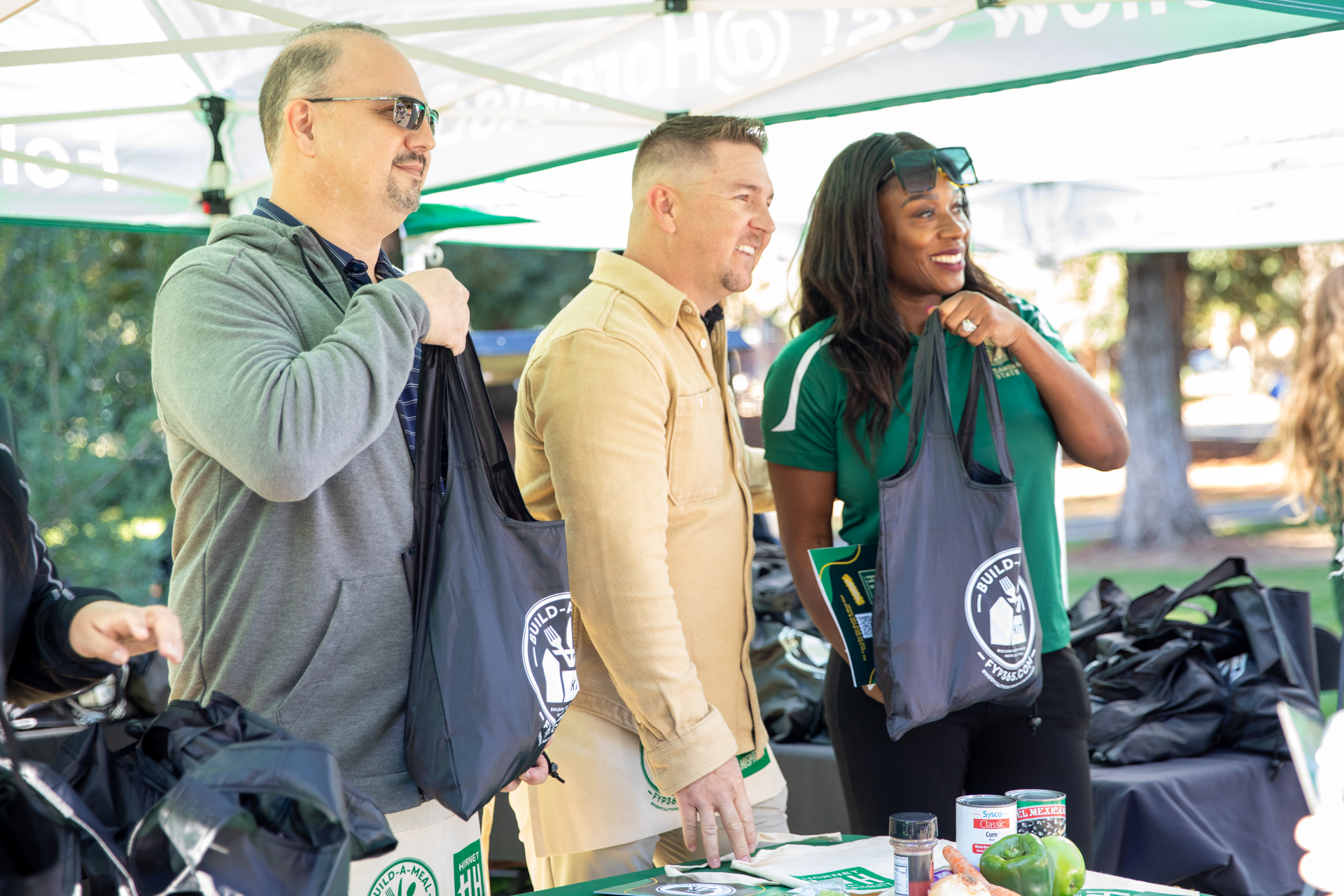 Nearly half of Sacramento State's students qualify for financial aid.
Last year, about 100 students a day were lining up outside the Associated Students Inc. (ASI) Food Pantry to fill reusable grocery bags with fresh produce, food staples, ready-to-eat meals, healthy snacks, and toiletries.
It marked a sharp increase from the previous year, when the ASI Food Pantry served 8,700 students, or an average of 167 weekly.
Today, roughly 40% of Sac State undergraduate students face food insecurity, ASI Food Pantry manager Sommer Hayes said.
"With over 31,000 students on the Sac State campus, approximately one in 20 students utilize the ASI Food Pantry," Hayes said.
Students received build-a-meal kits with rice, beans, canned vegetables, and fresh produce, which were handed out in the Library Quad from 11:30 a.m. to 1 p.m.
Diana Hernandez, who is among the first in her family to attend college, said it is a struggle to pay for food and gas while balancing a full load of classes. She lives with her parents and two siblings, and money is tight because both are out of work.
"Their workplace shut down for renovations, so it's always hard to balance the budget," said Hernandez, who picked up one of the meal kits. "Honestly, I think this event is very beneficial. It shows me how the school is aware of our issues and does things to try and solve those issues."
The kits also included booklets, filled with a variety of recipes to turn the ingredients into nutritious meals, as well as links to chef demonstration videos and campus resources.
Nutrition Professor Seunghee Wie said a key component to battling food insecurity is teaching people how to cook properly.
"Many studies now show that food insecurity is associated with not having cooking skills," Wie said. "Even though we give out free ingredients, people don't know what to do with them. So without teaching basic cooking skills, handing out food is not going to resolve food insecurity issues."
CalFresh, ASI Food Pantry, Crisis Assistance and Resource Education Support (CARES), Sac State Sustainability, and the Nutrition, Food and Dietetics Program also were present at the event to offer students information and resources.
Idara Essien-Wood, wife of Sac State President Luke Wood, helped direct students to the Hornet Harvest booth and distributed booklets.
"It's so meaningful for me, knowing the struggles that Luke has talked about and how he would go around and collect change from the floor just to eat," Essien-Wood said. "Programs like this help make it easier for students. … I'm just really happy to see this on campus."
Story continues below image.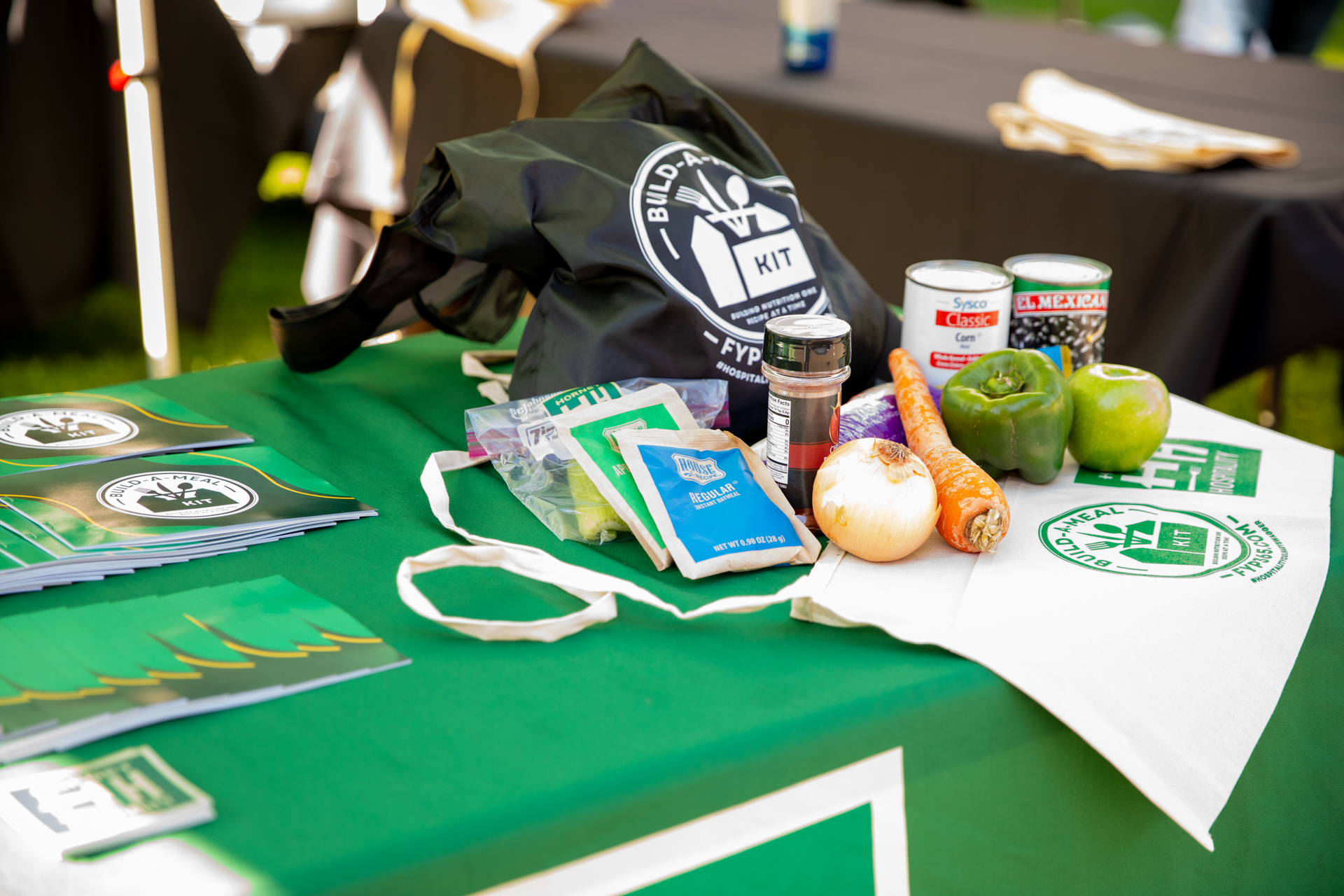 Other University departments are doing their part to fight food insecurity.
Traditionally, ASI distributes Thanksgiving food baskets to students and families in need during the holiday season. This year, however, instead of soliciting food items for the baskets, the Food Pantry is asking for monetary donations that will go toward buying turkeys and Thanksgiving dinner trimmings.
The ASI Food Pantry is accepting donations of any amount through Nov. 17.
In addition, the Community Engagement Center has partnered with River City Food Bank to distribute food to people in need on Nov. 17-18 and 21. Thirty students, staff and faculty have volunteered to help people select and transport food items from 10 a.m. to 2 p.m. at the food bank.
Media Resources
Faculty/Staff Resources