New Sac State Business dean to focus on accessibility, community
February 24, 2023
Jean-Francois Coget is a Parisian by birth, and spent much of his childhood living in Luxembourg. He even spent a year as a naval attaché at the French Embassy in Portugal.
But Coget, Sac State's new College of Business dean, has a developed a strong connection to the Golden State, beginning from his time in Southern California pursuing his doctorate.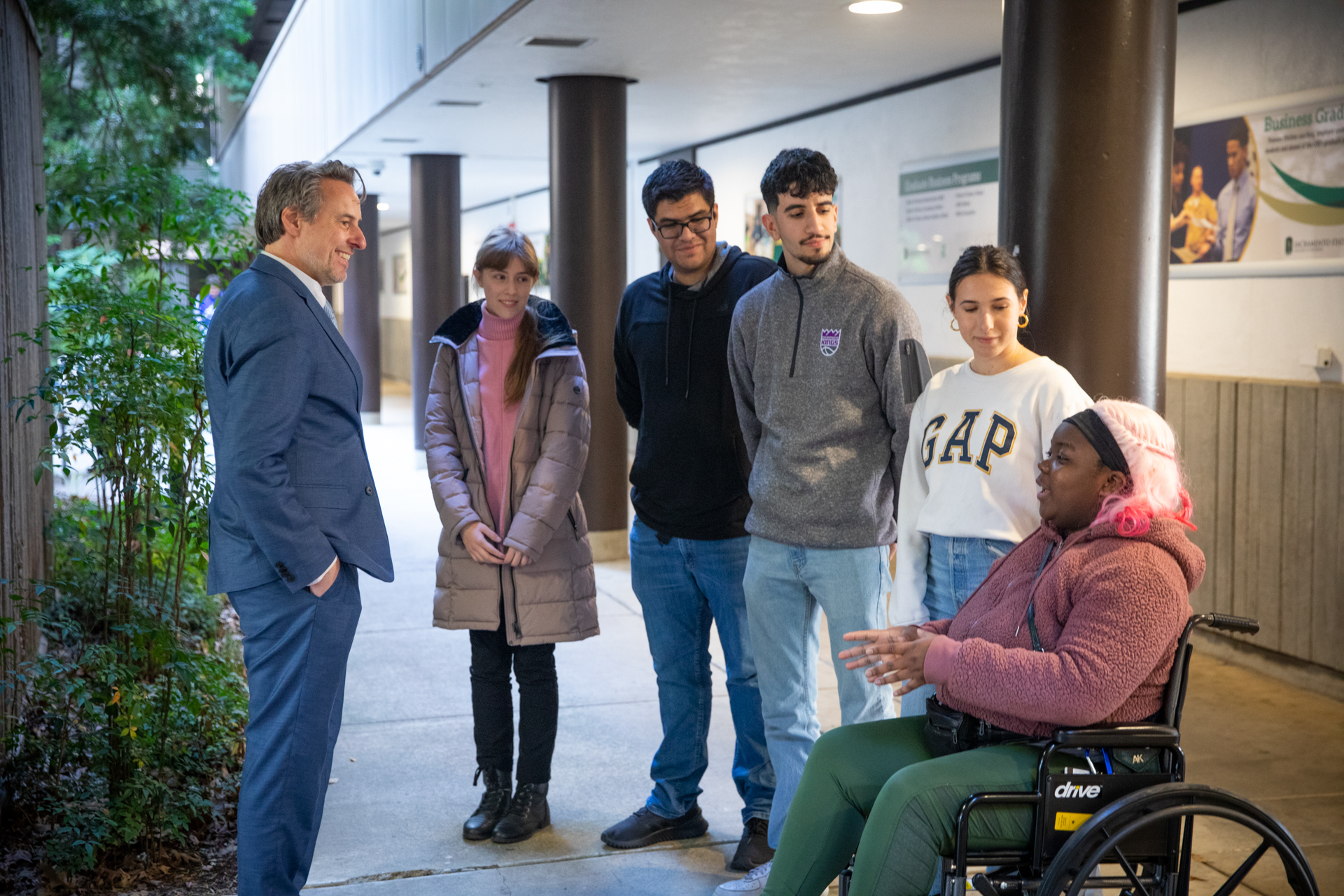 "The wonderful weather, the culture, the open-mindedness of the people … there's something about California that makes people more creative. California is leading the world in many ways, such as progress on such issues as sustainability and in the tech sector," he said.
"Californians are adventurous, but there's a responsible spirit at the same time."
Coget, 47, was appointed dean after a nationwide search to replace William Cordeiro, who retired in July 2022. Coget started his job in January.
"Dr. Coget's commitment to equity-minded student success and his experience managing budgets in challenging fiscal environments make him the perfect fit to lead the College of Business," said Carlos Nevarez, interim provost and vice president for Academic Affairs.
"We are very happy to welcome Jean-Francois to the Hornet Family and look forward to the impact he will have on the Sac State campus."
After earning his master's degree in management from the HEC School of Management in Paris, Coget worked for Ernst & Young and then Morgan Stanley's stock exchange trading floor in Paris.
"It wasn't my cup of tea," said Coget, who also goes by "JF."
His year of compulsory French military service as a naval attaché in Portugal helped Coget find a new direction.
"It gave me a year of reflection. I realized I really enjoyed psychology, and I always loved school and ideas," he said.
"I realized I'd love to continue to learn more about people and how people function."
He decided to get his Ph.D. in organizational behavior, a field where psychology intersects with business, from UCLA's Anderson School of Management.
"I fell in love with California," Coget said. "It's much more relaxed than in Europe in some ways. There's innovation and creativity here.
"People will smile and say 'hi' to you on the street, even though they don't know you. In Paris, that would never happen."
After UCLA, he returned to France to be a professor at HEC School of Management, his alma mater, but his goal was to return to California. Two years later, in 2006, he was back stateside, teaching at Cal Poly San Luis Obispo's Orfalea College of Business.
He became the college's associate dean of Academic Programs in 2018.
"Life is funny. I never planned to be a dean," he said. "But I researched leadership and organizational management … and I got the itch to see what it would be like to practice and do what I'm studying."
San Luis Obispo is also where Coget met his wife, Rachel. They have two sons, Tristan and Max, aged 11 and 5.
"Placing students in careers and giving them the skills they need to succeed and join the middle or upper class is a noble mission. Sac State is fulfilling that mission the best I've seen in the CSU." -- Jean-Francois Coget, College of Business dean 
In July 2020, Coget became dean of Sonoma State's School of Business and Economics, where enrollment had dropped 25% after devastating wildfires and the COVID-19 pandemic.
He reorganized the college to absorb a 12% budget cut and developed marketing and recruitment strategies to increase enrollment.
He raised millions of dollars to support scholarships for underrepresented students, and embarked on a strategic discovery process to identify the college's strengths.
In the heart of Northern California wine country, Sonoma State is known for its wine business program. Coget knew the college had to expand beyond that niche.
"He really helped us focus on what our real priorities are," said Michael Visser, interim dean of Sonoma State's School of Business and Economics. "We're always trying to do the right thing by students and to put students first."
The process created a new focus on purpose-driven business – the idea that business can have a positive impact on sustainability with a diverse, equitable and inclusive workforce.
"A large segment of students go to college with some sort of social justice program in mind, and they don't automatically think of business as a place to give back to the community," Visser said.
"But we want to show them that business can be an important part of any community, and that it's not just about extracting from the community, but in fact, growing and strengthening it.
"JF really helped put a laser focus on that kind of intentionality around those ideas."
At Sonoma State, Coget also created a mentorship program for first-generation students and replaced the Graduate Management Admissions Test (GMAT) requirement for MBA programs with essays and interviews to make them more accessible to underrepresented groups.
He hopes to continue those efforts at Sac State.
"Here in the CSU system, we have a noble mission of promoting social mobility and helping the population of California that is not necessarily the most privileged to gain upward mobility," Coget said. "So placing students in careers and giving them the skills they need to succeed and join the middle or upper class is a noble mission.
"Sac State is fulfilling that mission the best I've seen in the CSU."
Coget said he was drawn to Sacramento for the opportunity to build onto an already successful College of Business.
"I've been thoroughly impressed by Sacramento State," he said. "It's a really well-oiled machine that's doing a lot of things right and has a lot of potential to go farther."
Media Resources
Faculty/Staff Resources