StingerStudio Makerspace provides access to high-end equipment, hands-on learning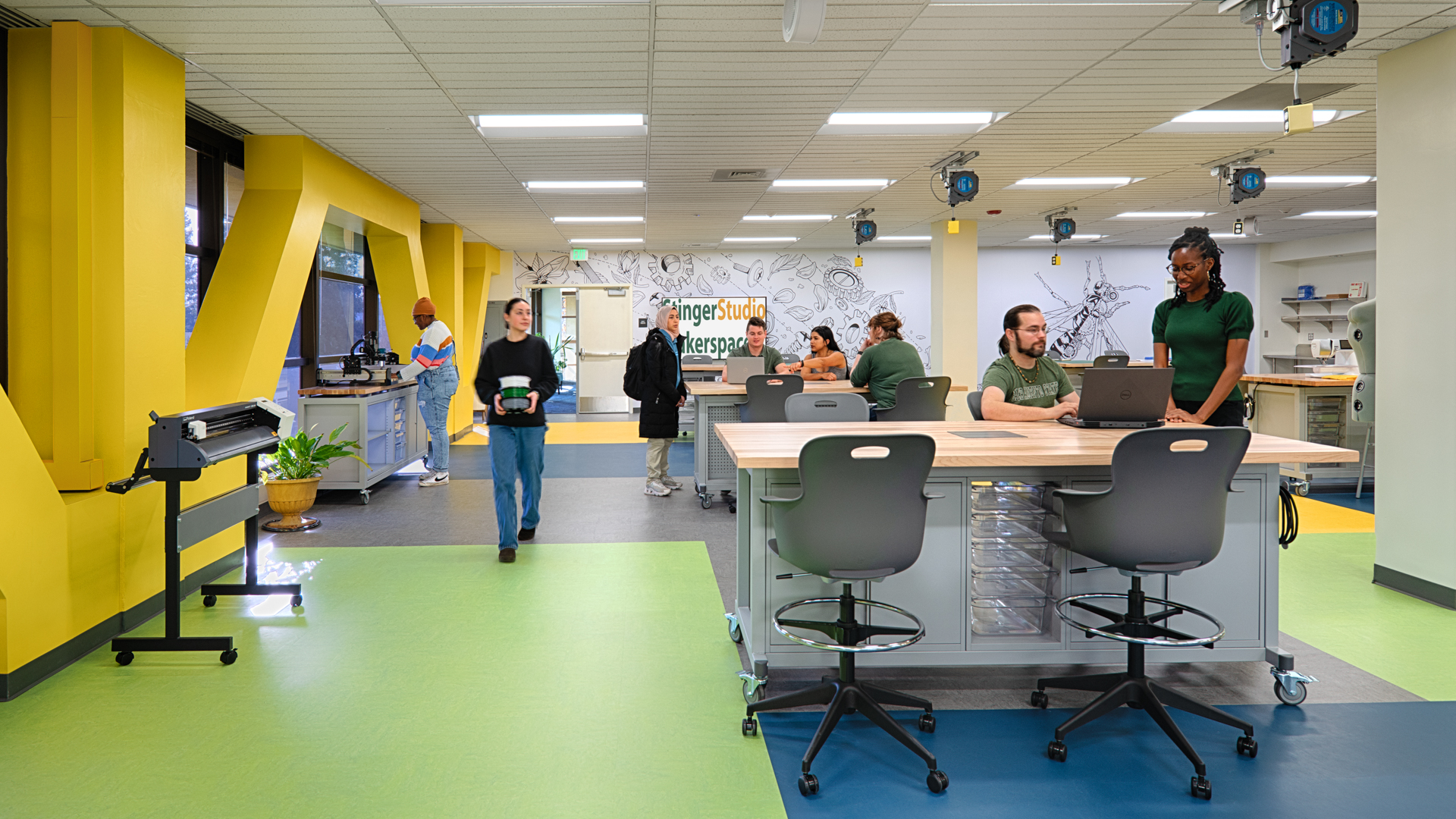 March 03, 2023
A new venue at Sac State will offer artists, entrepreneurs, innovators, and creators a place to transform their projects, designs, and ideas into reality.
The StingerStudio Makerspace — on the first floor of the University Library, next to the Carlsen Center for Innovation and Entrepreneurship — held its grand opening on March 1.
"We think of libraries as being in the book business, but in reality, libraries are in the business of thinking, learning, and doing," said Amy Kautzman, dean of the University Library. "This makerspace will be interdisciplinary, fun, challenging, and adventurous – in other words, a Sacramento State educational experience."
The grand opening allowed attendees to assess the space and hear several speakers, including Kautzman; Rodaina Abdelhafiz, a StingerStudio student assistant and Civil Engineering major; Yvonne Harris, associate vice president for the Offices of Research, Innovation and Economic Development; and Provost Carlos Nevarez.
StingerStudio includes 3D printers, virtual reality and augmented reality headsets, a presentation practice room, sewing and embroidery machines, electronic kits for programming, a vinyl machine for making stickers, and a laser cutter for shaping material and etching designs, among other equipment.
Accessed through the Carlsen Center, the makerspace spans four rooms totaling about 5,000 square feet. It was designed by Aaron Buehring of architectural firm Lionakis, and the space will evolve based on user feedback, Kautzman said.
Funding for the project, estimated to cost around $640,000, was provided by donors, including Pramila and Indru Kriplani, the estate of former University Library Dean Herb Drummond, and other University organizations.
StingerStudio was seven years in the making, with construction set to begin in 2020 before the pandemic and supply issues caused delays, Kautzman said.
In addition to renovation and construction costs, the money raised for StingerStudio helped to purchase equipment. Other essentials for the space came from community partners, said Kautzman. She also thanked Haskell Furniture, which donated furniture.
Due in part to the delays, a pop-up makerspace was set up during the Fall 2022 semester, serving as a test run for the permanent space. It attracted more than 700 users with no publicity or push, Kautzman said.
"(That) solidified our perception on how popular this space will be," Kautzman said. "It confirmed our confidence in the necessity of this sort of program."
StingerStudio is available for students and faculty to experiment and explore, but its primary purpose will be to support collaboration with faculty for specific coursework.
"I think the model of instruction that we're envisioning here is that you run a class, and you assign a project, and the project can be completed in a variety of different ways and tools," including use of tools in the makerspace, said Erik Beck, head of Library Information Systems and one of the developers of the makerspace.
The space could be used for simply teaching how to use the equipment, as well as hosting camps for local youth, he said.
"There is a broader movement in colleges, universities, and K-12 for building makerspaces to develop technical competencies," Beck said. "The idea of the makerspace is to serve those dual purposes."
Makerspace and instructional support technician Preston Tobery, who was hired to run the makerspace and played a role in its design, said one challenge will be attracting faculty who may not see how they can use the space.
"Trying to be a part of every college on campus is going to be our main goal," Tobery said. "STEM (science, technology, engineering and math education) is easy with this kind of space. It's the humanities side that's the key to get into. Working in makerspaces for quite a long time, I've found that it's really important for, especially students, to have access to this type of equipment."
That access is significant for many students. Sacramento lost a major resource for makers when Hacker Lab, a Midtown makerspace and coworking space, shut down last summer. StingerStudio could fill some of that void for the community, but its focus is really on students.
"We can do less now without the Hacker Lab, but we have a very different mission, a very different purpose," Beck said. "We're an educational space, so we get people started down that path."
More funds are needed to expand StingerStudio's hours and hire a director, as well as set up endowments and finance other amenities, Kautzman said. She emphasized, however, that she is looking forward to seeing what students will create.
"I want students to find their people, to uncover their passions, and to develop workforce and problem-solving skills," she said. "So much of what we hope to impart in the StingerStudio is applicable to today's career marketplace. We're already witnessing innovative teaching in this space. We can't wait for the magic to begin on a larger scale."
StingerStudio, located in room 1529 of the University Library, is open Monday through Friday from 9 a.m. to 5 p.m. and is available to students, staff, and faculty with a valid OneCard.
Media Resources
Faculty/Staff Resources