Drop-off and pick-up zones for rideshares and buses latest additions to Sac State's alternative transportation options
February 06, 2023
With climate change worsening, many are looking to alternative transportation methods — anything other than a single-occupancy, gas-powered vehicle — to help lessen environmental impacts.
At Sacramento State, that's a mission made simpler by the many travel options offered, including public transit, vehicle rentals, campus shuttles, a bicycle-friendly culture, and more.
Recently, the list grew even stronger with the addition of two new rideshare pick-up and drop-off zones, as well as new loading and unloading zones for school and commercial buses that will ease congestion in high-traffic areas.
"Any option to reduce single-occupancy travel is something that we always want to promote," said Jeff Dierking, director of University Transportation and Parking Services (UTAPS).
The new rideshare zones are located near the campus police station on Jed Smith Drive, and near Yosemite Hall on Bay Laurel Way. The University worked with popular rideshare services Uber and Lyft to ensure the app will direct drivers to those locations.
"Sac State can provide rideshare options, bicycle infrastructure, walking paths, electric vehicle charging and a number of other alternative transportation options, but the hard part is getting Hornets to choose these options over the status quo." -- Ryan Todd, director of Energy and Sustainability
The new bus loading and unloading zone, near the Broad Fieldhouse, is the University's second. A similar area is located on State University Drive near the Ernest E. Tschannen Science Complex to accommodate tours and field trips to the Sac State Planetarium and University Union.
"The campus has notoriously not had any dedicated bus area, except for the transit station," said Dierking.
Offering environmentally-friendly travel options and a wide range of ways to get to, from, and around campus is something Sac State has long prioritized, Dierking said. One such option is car rental service Zipcar.
Two Zipcars are located in Parking Lot 2. They are ideal for short trips, such as to the grocery store. The company offers significant discounts for Sac State students, faculty, staff, and alumni. Zipcar rebalances its fleets nightly to ensure vehicles are usually available.
Public transit is also a popular choice. Commuter sleeves are available to all students and, via purchase, employees. Alongside a OneCard, they grant  access to all Sacramento Regional Transit buses, light rail trains, and selected regional connections, such as Yolobus. Dierking said upwards of 17,000 commuter sleeves are issued each semester.
Of course, Dierking said, for those who are able, it's important not to count out the classics.
"Walking is great," he said. "For the students that are living close, they can use the Hornet Tunnel. You see a lot of people now walking from Hornet Commons. Coming over Guy West Bridge (is) another great area to walk through."
For bicyclists, Peak Adventures offers equipment rentals, repair services, bike storage, and more.
Regardless of which services one utilizes, getting people to think differently about transportation is vital, said Ryan Todd, Sac State's director of Energy and Sustainability.
"Sac State won't reach our carbon neutrality goals without a major shift in the modes of transportation that students, faculty and staff use," Todd said, in reference to Sac State's goal to reach full carbon neutrality by 2040, five years ahead of California's 2045 deadline.
"Sac State can provide rideshare options, bicycle infrastructure, walking paths, electric vehicle charging and a number of other alternative transportation options, but the hard part is getting Hornets to choose these options over the status quo."
Story continues below the image.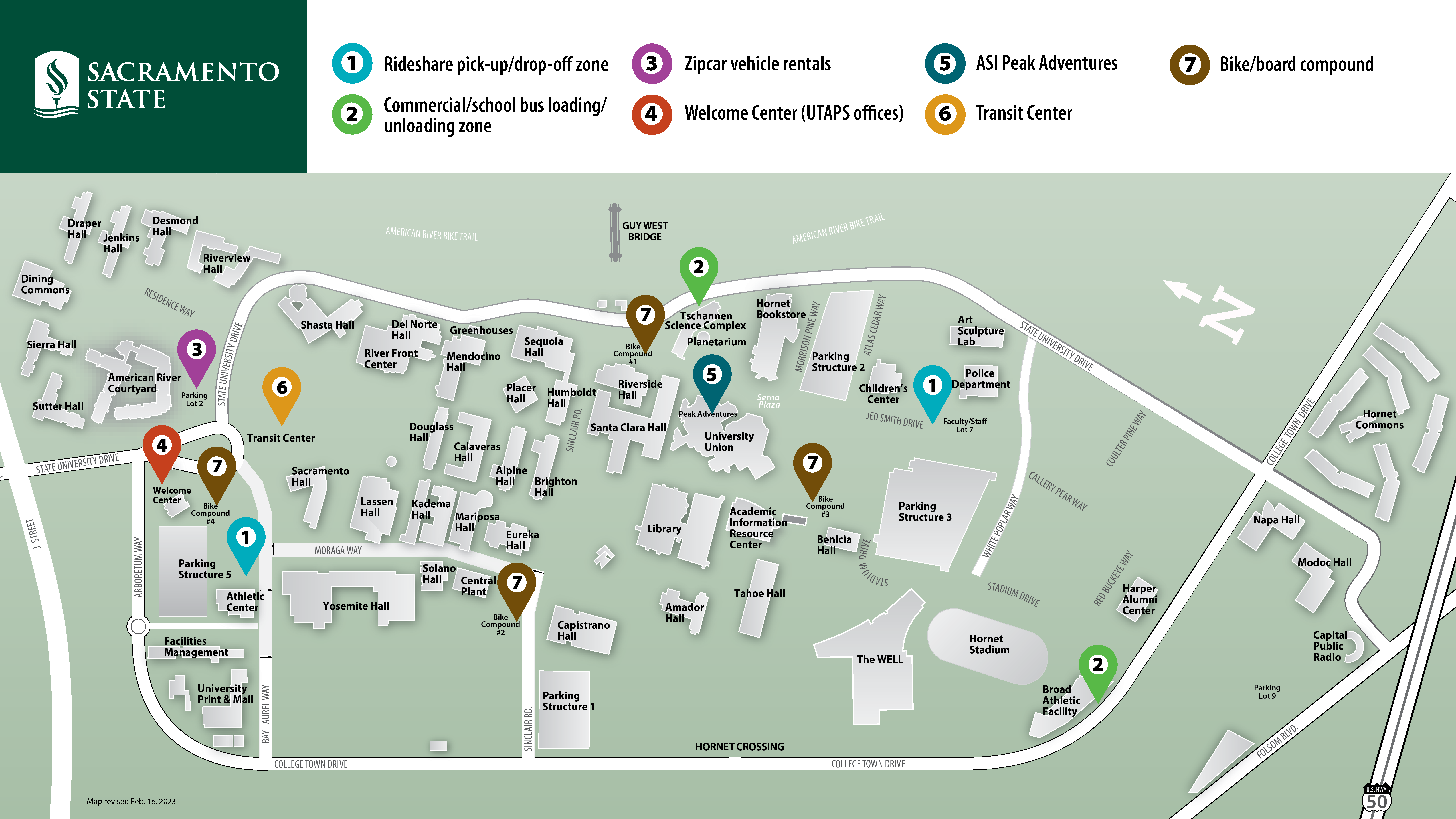 For those who must drive, electric vehicles (EV) are quickly gaining popularity. Sac State tracks on-campus EV charger use and posts results online, Todd said, and "electric vehicle usage has been way up the last year or so."
Despite the long list of available options, many still rely on single-occupancy, gas-powered vehicles, said Ghazan Khan, Civil Engineering department chair and chair of Sac State's Transportation Advisory Committee (TAC). Before the pandemic, an average of 12,000-13,000 vehicles were on campus on any given day, he said.
Khan said the University and TAC continue to discuss ways to provide and improve travel options, but he'd like to see more people utilize those that already exist.
"I believe Californians want to do something, but they have to be given the opportunity and choices to do something," said Khan. "If we don't give them those options, if we don't encourage that, if we don't provide a safe option, then they will not do that."
It starts with making small changes, Dierking said, such as riding a bike on the weekend or for the occasional errand.
"There isn't a one-size-fits-all solution, so I think it needs to be looked at as something that you want to try to incorporate wherever you can," he said.
To learn more about Sac State's wide range of alternative transportation options — including secure lockups for bicycles, skateboards and personal scooters; motorcycle parking spaces; carpool parking permits; and the Herky Street Car and Hornet shuttle service — visit the UTAPS webpage or visit the UTAPS office inside the Welcome Center.
Editor's note: A previous version of this story included information about Gig Car Share rentals. As of late February, Gig will no longer operate in the Sacramento region or at Sac State.
Media Resources
Faculty/Staff Resources