Unprecedented student honors, president's final appearance to highlight Sac State's 2023 Commencement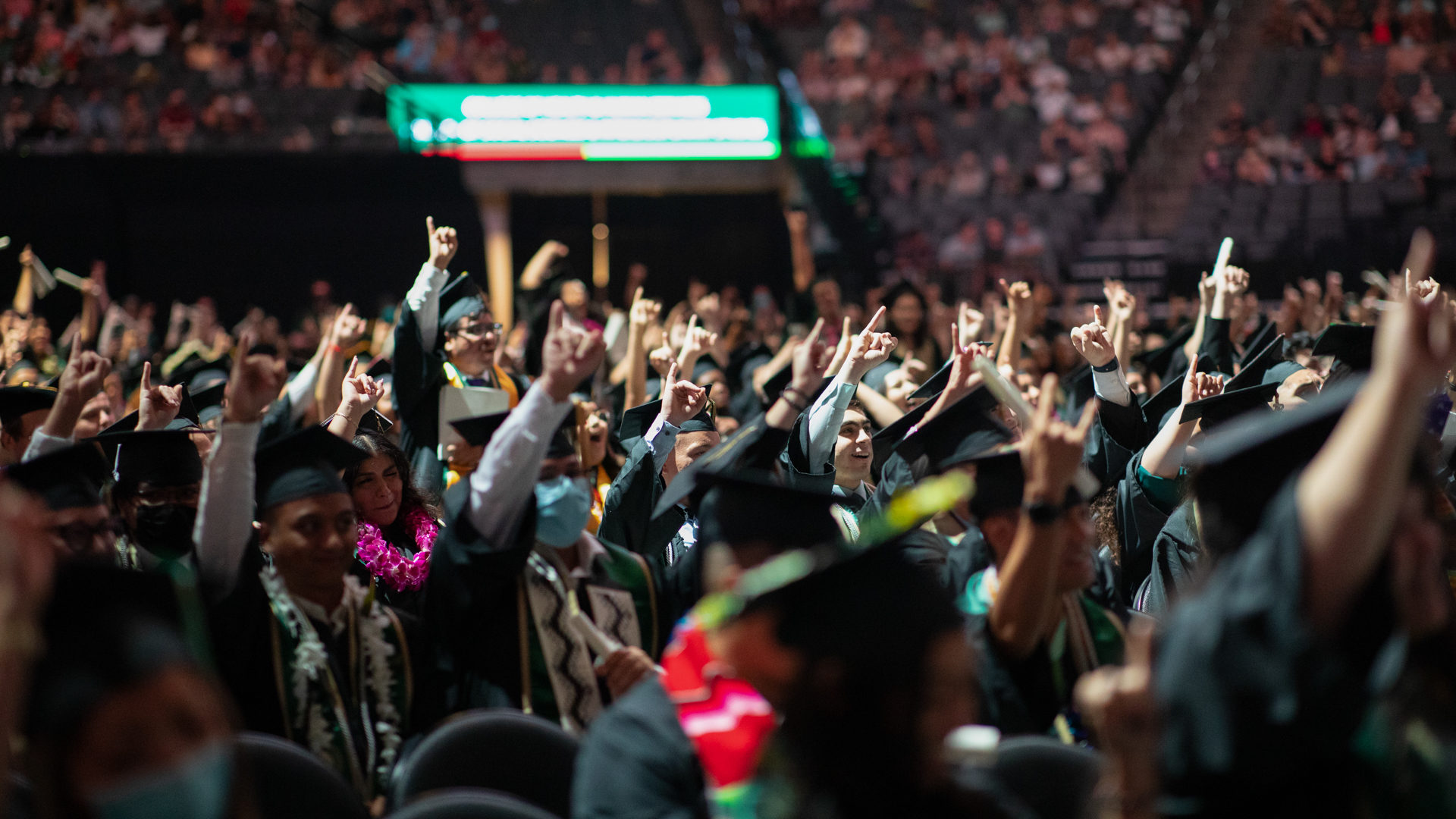 May 16, 2023
Sacramento State will bestow thousands of degrees during 2023 Commencement, May 19-21 at Golden 1 Center, and honor in an unprecedented way two young men, one who was killed before graduating, another whose life was tragically altered.
Biology student Aaron Nevin Rehman, killed in 2013 when a car struck his motorcycle, will be honored posthumously, his family accepting an honorary bachelor's degree.
History student Stephen Googooian suffered devastating injuries in 2018 when the vehicle he was driving was hit by another driven by a drunk driver, ending his academic career. Googooian and his family will attend to accept an honorary bachelor's.
• Complete 2023 Commencement schedule
The honorary undergraduate degrees will be the first awarded by Sac State. Googooian will receive his honorary degree May 19 during the College of Arts and Letters ceremony. Rehman will be posthumously honored during the May 21 College of Natural Sciences and Mathematics ceremony.
Those poignant moments will be part of three days and seven ceremonies during which up to a record 9,574 graduates will cross the G1C stage. Graduates include seven Deans' Award winners who were selected as outstanding students in their colleges. Two of those honorees, Norma Sanchez and Aylaliya Birru, also will receive President's Awards as the University's top scholars.
This year's Commencement will be the final one for President Robert S. Nelsen, who will retire in July after eight years at the University.
"I am excited to celebrate graduation with our students and their families and friends at this incredible venue one last time," Nelsen said in a message to the campus community.
Two honorary doctorates and two President's Medals for Distinguished Service will be presented to four individuals who demonstrated excellence in areas that benefit humanity, CSU campuses, the state, nation, and/or world.
On May 21, Aaron Rehman's parents will accept his degree on his behalf. His two siblings, Xavier and Jeanette, also will graduate with Biology degrees. Dozens of family members and friends are expected to attend.
"We feel so honored that this is happening," said Aaron's father, Shakeel. "It's not exactly what I had envisioned for Aaron's graduation, but it's special and very emotional."
Aaron Rehman was a standout student who loved soccer and outdoor adventures. He died after a vehicle struck his motorcycle along Fair Oaks Boulevard a few days before Christmas in 2013. The car's driver, an 88-year-old man, was deemed responsible for the crash and was ordered to surrender his driver's license.
Shakeel Rehman described his son as thoughtful, quiet, and intelligent. "Without even trying, he was an achiever," he said. "It seemed that everything he touched turned to gold."
Since boyhood, Aaron had dreamed of becoming a physician.
"Aaron wanted to complete everything he started," his father said. "So, it's a bit of closure for him to get the honorary degree."
Aaron's legacy includes an annual soccer tournament in his name at Sac State, and a school for needy children in an impoverished village in Peshawar, Pakistan. Shakeel Rehman founded the school in his son's memory. It offers classes, clothing, food, and other staples to more than 250 young students.
Honoree Stephen Googooian was about a year from graduating with a History degree when a drunk driver slammed into his car in August 2018, causing critical injuries and a lasting impact. His mother, Linda Googooian, said Stephen works hard every day to reclaim his former life.
"It's a true miracle that Stephen is alive," Linda Googooian said.
Although he is "independent in many ways," she said, Stephen's head injury robbed him of his dream to become a college history professor. He was comatose for several months, and had to learn to walk and speak again. He still has significant memory loss and some physical challenges, but is able to work part time, his mother said.
The drunk driver who plowed into Stephen's car was convicted of multiple felonies and imprisoned.
"Stephen is very determined and strong-willed," Linda Googooian said. "He has always been goal oriented and a model citizen. He always wanted to be the best, to earn that A-plus."
During the May 21 ceremony, he will take the stage with pride.
"He's excited and elated to receive his honorary degree," Linda Googooian said. "We're all so pleased about it. It's a blessing."
Commencement will mark the end of an eventful academic year for the University and its students.
Sac State continued to maintain a stable enrollment – going against state and national trends in higher education – and rising four-year graduation rates. The University's four-year graduation rate is approaching 30%, far higher than in 2016 when the University started a concerted effort as part of CSU's Graduation 2025 initiative.
Members of the Class of 2023 and their families will gather for Commencement beginning at 8 a.m. May 19, when ceremonies are scheduled to begin for graduates of the College of Arts and Letters, followed by ceremonies for the College of Business at 1:30 p.m., and the College of Education at 7 p.m.
The first College of Health and Human Services ceremony starts at 8 a.m. May 20. A second group from that college will join graduates of the College of Social Sciences and Interdisciplinary Studies at 1:30 p.m. A second SSIS ceremony will start at 7 p.m.
The May 21 ceremony will feature graduates of the College of Engineering and Computer Science and the College of Natural Sciences and Mathematics receiving their diplomas beginning at 8 a.m.
For more information on Commencement, visit the official webpage.
Media Resources
Faculty/Staff Resources