Public art project brightens parts of Folsom Boulevard, strengthens Sac State's 'anchor' ties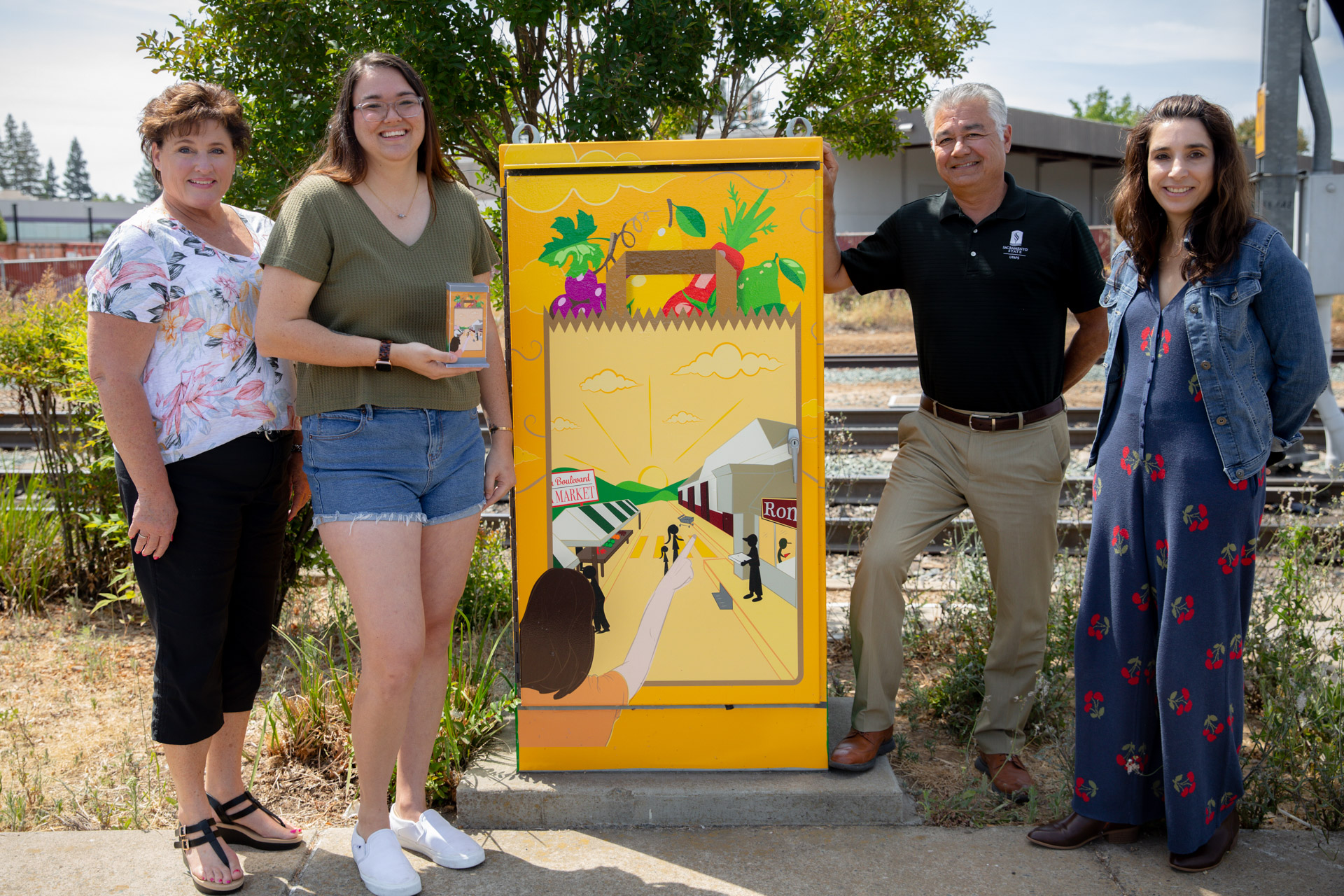 June 22, 2023
A new project is bringing more color to a stretch of Folsom Boulevard.
Art wraps designed by Sacramento State students now adorn six city-owned utility boxes on Folsom between Power Inn Road and South Watt Avenue. Senior Graphic Design students created the wraps during the 2022-23 academic year as part of a course taught by Professor John Forrest.
"Anytime we have an opportunity to bring in an outside entity that needs help, it benefits the students because it puts them in a position where they're dealing with a real scenario in a way that goes beyond what we can simulate sometimes within the classroom," Forrest said.
The project was a partnership among the Folsom Boulevard Coalition, and Power Inn Alliance (PIA), and the University, said Tony Lucas, Sac State's associate vice president for Business and Administrative Services and a coalition member. Support also came from Vice Mayor Eric Guerra.
"I drive that route every day, two times a day, and I'm just so proud of seeing the work and impact that our students are having on the community," Lucas said. "And, by the way, this is their community, too. They're getting a chance early on in their … careers to have direct engagement with the community."
An Anchor University grant financed the $5,000 project. The grants provide support for community-engaged research and projects that are meant to have lasting impact.
"The projects are really to help try to transform the lives of our students, get them connected," said Elisa Trimboli, Anchor University partnerships manager. "So, now they have professional development and personal opportunities from this, and then also work with equity issues, which I think is important."
Forrest's students were split into multiple groups to work on two projects – the art wraps, and Sacramento State 75th Anniversary exhibit in the University Library – with about 30 students devoted to designing the wraps. The designs tell stories of the area's agriculture, history, and more.
"The students met with Folsom Boulevard Coalition members to discuss concepts and then collaborated with their teams on the creative graphic designs," said Sue Brown, who co-chairs the coalition along with Maria Gutierrez. "This project is a win-win, as it is a résumé builder for students while helping us beautify Folsom Boulevard."
The group chosen included Juancarlos Sanchez, Alissa Horton, Crista Nauta, Thavie Keary, and Kelly Ho.
"I drove down the street and checked them all out, and it was just so cool," said Nauta, who graduated in May with a bachelor's degree in Graphic Design. "It was a very big learning experience, and being able to collaborate with everyone … it was fun."
Sacramento-based Allstar Wraps & Graphics installed the wraps, which are made from a durable vinyl signage material that can be cleaned of graffiti easier than the original utility box surfaces.
A second phase of the project, paid for with $5,800 in funds raised by the local community, will add wraps to five SMUD boxes, utilizing more of the student designs, Brown said. Sac State and the Coalition are exploring additional opportunities for future projects.
"We loved the artwork so much, we said, 'Well, can we use artwork from the other teams, too?' " Brown said. "The coalition is grateful for the partnerships with Sac State, the PIA, and others to improve the corridor."
Designer Sanchez, who also graduated in May with a bachelor's in Graphic Design, called the wrapped boxes "absolutely amazing" and said the experience helped prepare him for the workforce.
"When it comes to the research phase, the designing process, meetings, we were able to manage ourselves," he said. "So, I think going into the workforce after college, it's definitely going to help me out, understanding how to work more efficiently as a team."
Media Resources
Faculty/Staff Resources