Using latest tech, Sac State professor's Homeless World Cup documentary will give viewers 'sense of being there'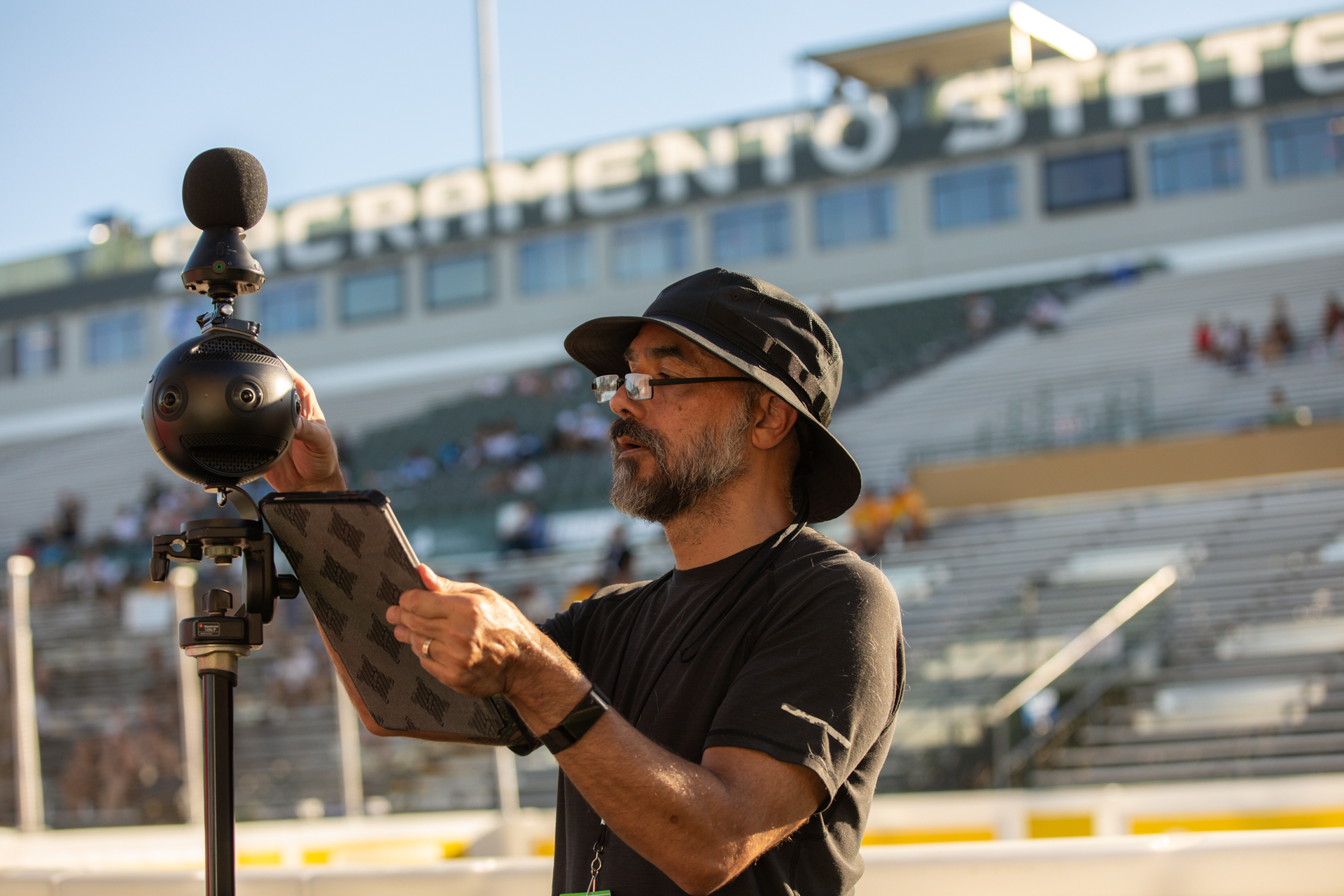 July 14, 2023
Hundreds of athletes from across the globe came to Sacramento State from July 8-15 to participate in the Homeless World Cup street soccer tournament, a week of competition aimed at transforming participants' lives and shaping perceptions about those who have struggled with homelessness.
For those unable to see the inspiring event in person, Sacramento State Professor and filmmaker Diego Bonilla has a solution.
"People for a moment are going to stand inside the stadium at Sacramento State," he said of the impact his project promises. "You're going to have that feeling."
The Homeless World Cup features teams of individuals who have faced homelessness or housing insecurity in the past year. Previously held in cities such as Paris, Mexico City, Cape Town, and Rio de Janeiro, this year's tournament is the first held in the United States.
Bonilla, a professor of Communication Studies, has spent the week filming a "3D documentary" about the tournament. He said it will allow viewers to feel like they are actually at the event, helping them better understand the challenges faced by those who have experienced homelessness.
Such filming has become an effective tool for documentaries, he said, because it places the viewer amid the action.
"That experience of being there, it is remembered like a true experience," he said. "You remember it in detail as if you were there. So, it's a very powerful experience."
Though the term "3D" applies to a wide range of technologies, for Bonilla's purposes it refers to "stereoscopic" filming, meaning it is shot in a way that provides a sense of depth similar to what the viewer would perceive in real life.
Using a spherical camera that can capture video in all directions, Bonilla is filming matches, ceremonies, behind-the-scenes footage of event organizers, and interviews with participants. Viewers will be able to pan the screen around as if they were turning their heads or looking up and down, further adding to the feeling they are there in person.
Bonilla said he hopes the documentary builds empathy for individuals who have experienced homelessness and the challenges they face in rebuilding their lives. The Homeless World Cup shares a similar goal, and that is a big reason Bonilla, who serves as a faculty associate with Sac State's Center on Race, Immigration and Social Justice, felt the event would be an ideal film subject.
"I have learned from (the center's partners) that once you become homeless, you suffer a sort-of isolation that is very difficult to come back from," he said. "People are not aware of that. What they see in homelessness might be other things, but they don't see that human suffering.
"It is typical in my work that I try to use cutting-edge technology to try to talk about very meaningful problems."
Much of Bonilla's work and research focuses on new and innovative technologies. His previous, award-winning film, "Uku Pacha," utilized 360-degree filming. As part of his preparation for the Homeless World Cup documentary, he downloaded more than 700 news and academic articles about the event and asked an AI program to summarize each and suggest interview questions.
While he doesn't yet incorporate virtual reality filming in his courses at Sac State, he prepares his students for the fast-changing technology landscape by emphasizing the foundational elements of digital media.
"When you understand that, it is easier to jump from one media to the next," Bonilla said. "You can keep up with changing technology."
Bonilla also wanted to film the event because of the beautiful game itself. Bonilla grew up in Mexico City and has played soccer since he was a child. When he moved to Sacramento in 2001 to join Sac State's faculty, pickup games held on campus introduced him to people that remain his close friends.
Playing soccer, he said, helps clear his mind.
"When you do things you really enjoy, you lose track of time. You forget about all other things," he said. "Soccer – football – does that to me. I get into this optimal mental state."
Bonilla said he expects the documentary to take about six months to complete, in part because the sheer size of the video files can make just a few minutes of footage take upwards of 15 hours to render.
Once it's ready, he'll begin submitting it to film festivals around the world, at which point he hopes it will begin helping people better understand the complex issue of housing insecurity.
"Once people are homeless, they enter a sort of isolation that makes it extremely difficult to get back on their feet again," he said. "If I can transmit that message, I am going to be successful."
Media Resources
Faculty/Staff Resources