New year at Sac State kicks off as more than 1,300 first-year students move into residence halls
August 24, 2023
Ruby Nunez and her mom, Mary Hill, drove from the Bay Area to Sacramento State on Aug. 23, their car packed with Nunez's belongings.
When they arrived, they headed to Jenkins Hall in the University's North Village student housing complex to the room where Nunez will live during her first year as a Hornet. It's the same room in which Sac State's new president, Luke Wood, lived as a student.
It's the first semester in new worlds for both.
"I'm super excited to start school," Nunez said. "I'm majoring in Health Science, and I want to pursue a career in anesthesiology. I'm super excited to start exploring campus and getting to know people."
Nunez is one of 1,378 first-year and transfer students who moved into one of the seven residence halls collectively known as North Village during Move-In Day on Aug. 23 in preparation for the Fall 2023 semester, which starts Aug. 28.
Another 751 upper division students will check into the residence halls on Aug. 25, along with just over 1,000 students who will move into the Hornet Commons student apartment complex on the south side of the campus.
Only Nunez and her roommate Georgina Webster, however, can say that the room they'll be sharing was at one time occupied by President Wood and his twin brother Joshua when they were Sac State students.
Wood stopped by as Nunez was decorating her new space.
"I was very happy to meet her," he said. "I'm looking forward to meeting her roommate. I want them to know that they're in a special room. I know what that space meant for me, and I hope it means something similar for them."
Nunez appreciated the significance of the room.
"I found out it was the president's room because we were actually on the way here, like 45 minutes away, and then I get a call and they were like, 'Oh, it's the president's room,' " Nunez said. "It's kind of odd that I picked the exact room, but yeah, it's pretty cool. I'm happy."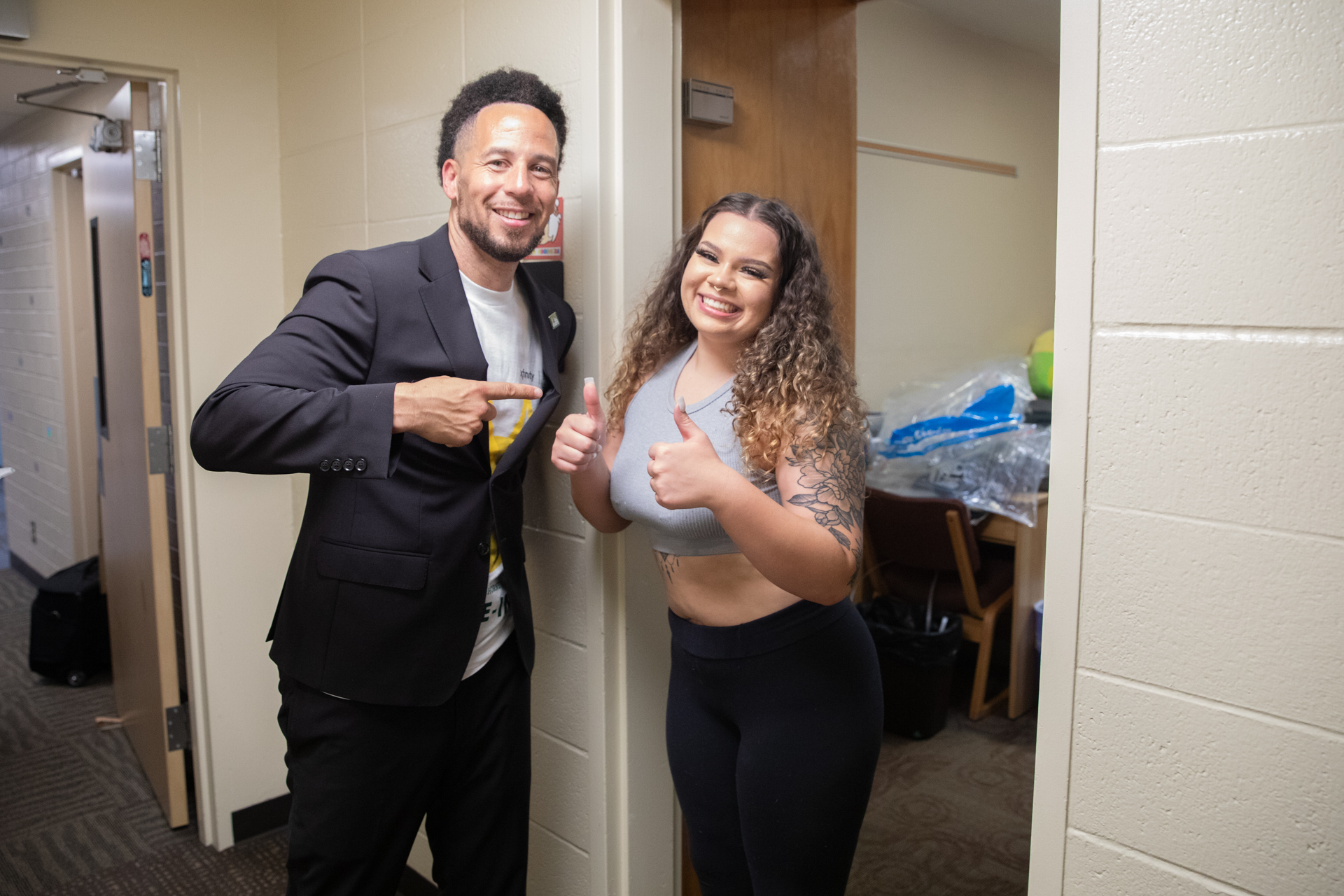 Wood also shared some words of comfort for Nunez, Webster, and all of the students beginning their college journey.
"You're starting somewhere new, there's lots of emotion," Wood said. "It's a big life transition. I'm just hoping that for the students who are here, that they know that they're in a place that cares about them and that cares about their success."
For Nunez's mom Mary Hill, the day was as tough as it was exciting.
"I'm an emotional wreck," she said, fighting back tears. "I'm proud of her. She could do it, and I'm glad she's doing it."
Elsewhere, incoming students and their family members loaded large green bins with blankets, pillows, area rugs, school supplies, electronic devices, food, and other essential belongings and wheeled them to their residence hall.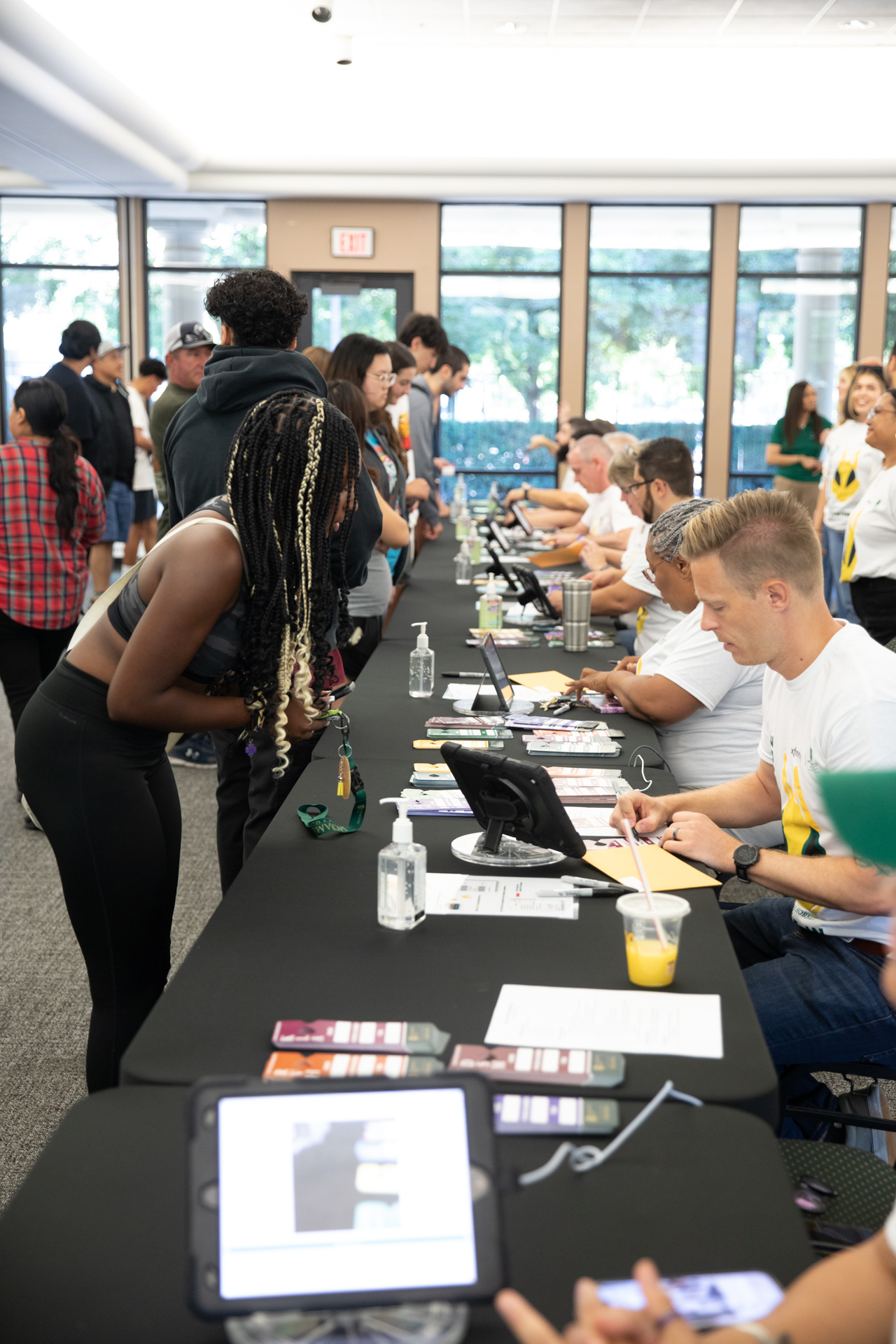 As the Sac State drumline band and cheerleaders performed, volunteers from the campus community helped people move in.
In Riverside Hall's parking lot, Assistant Men's Basketball Coach Lo Leath managed a group of athletes as they ran from car to car loading bins.
"They're helping people move into their rooms but also letting them see their faces, introducing themselves to each other," Leath said. "A lot of freshmen are a little nervous, so if they get some people that can talk to them and kind of ease their nerves, it all works out."
Samuel Jones, Student Housing executive director, praised the housing staff and volunteers for all their hard work.
"Move-In Day is always festive for the students, and it's festive to the parents and the guests," he said. "They really get to come in and experience what it's like for their students to be here."
Yolanda and Anthony Peterson drove to Sacramento from San Diego on Tuesday to help their son Anthony J. Peterson Jr. move in. Peterson Jr. said he chose Sac State because he wants to play baseball at a Division I school and join the Kinesiology program.
"I'm excited about moving in," he said. "(I'm) a little sad to be leaving my family but I'm stoked to be on my own and take charge of my life."
First-year student Marina Espinoza and her parents said although the day was emotional and overwhelming at times, they were impressed with Sac State's process.
"I'm very excited to dorm and be in a new environment, and I'm lucky that I'm not too far from home," said Marina, who is from Pacifica, as she helped her parents unpack her things from their vehicle. "I'm definitely overwhelmed, but the school is very organized with everything, so I feel a little bit better."
Lily Garcia, her husband, and their daughter, first-year student Mariana Garcia, are from Los Angeles, and said the handmade "Finding Nemo"-themed Draper Hall doorway decorations brought them comfort.
"Being our only daughter, it's hard for us to let go because this is the step towards being an adult," Lily Garcia said. "We see the way everybody (at Sac State) cares, how they're prompt to attend to the necessities … makes me feel happy because they're not coming to a soulless place."
University Communications senior writer Jennifer K. Morita contributed to this story.
Media Resources
Faculty/Staff Resources