North Village Move-In Details
Overall North Village Move-In Information
We are excited to have you join the North Village residential community. The following information and resources will be helpful as you pack and prepare to move into your residence hall space in North Village.
Move-In Appointments
Each student will be assigned a specific move-in appointment (date and time). Students will be asked to login to the HornetHousing Portal to confirm their time, change their appointment, or request an alternate arrival (early or late arrival).
Move-In Locations
Fall move-in: All North Village students will come to the Harper Alumni Center for their assigned move-in appointment. All students must check in at the Harper Alumni Center first before going to North Village to move their belongings in. If a student chooses a move-in appointment outside of the defined move-in dates/times, that student will go directly to their residence hall for check-in.
Spring and Summer move-in: All students will check in directly at their residence hall front desk.
Requesting Alternate Arrivals
Any North Village student who needs to arrive early due to extenuating circumstances must complete the online request form in HornetHousing Portal. Your request for early move-in will be reviewed by staff. When approved or denied, additional information will be emailed to you. Additional rates and policies will apply. Any student requesting to move in late will still be subject to all housing rent and board charges from the start of the license agreement.
Fall 2023 Move-In
Fall 2023 Move-In Dates
Thursday, August 24, 1 - 6pm at the Harper Alumni Center
Friday, August 25, 8am - 3:30pm at the Harper Alumni Center
Move-in appointments will be available later on Thursday and Friday as well as on Saturday, August 26 and Sunday, August 27. These later check-ins will occur at the residence hall you are assigned.
All dates are based on the University Housing Services and Dining License Agreement 2023-2024.
Move-In Instructions
Checking in on Thursday, August 24, 1 - 6 pm, or Friday, August 25, 8 am - 3:30 pm?

Stop #1 Check-in at Harper Alumni Center: All students will need to stop at the Harper Alumni Center to be checked-in and receive their move-in packet (keys, meal card, etc.)
Stop #2 Move-in at North Village: After students receive their move-in materials and unloading permit, students will proceed to North Village to unload all vehicle(s)

Once all vehicles are unloaded, all students, families, and guests will need to move their vehicle(s) to the Harper Alumni Center parking lot (and take the shuttle back) or to Parking Structure 5 (levels 5 and 6)

Checking in on Thursday evening, Friday evening, or beyond?

All North Village students should go directly to their residence hall for check-in. Staff will assist you once you arrive at your assigned residence hall.
Parking during Move-In
Lot 2 Residence Halls will remain closed for parking from Tuesday, August 22 at 5pm through Sunday, August 27.

All students that arrive on or before those dates must park in Parking Structure 5 (levels 5 and 6) or at the Harper Alumni Center starting on Thursday of move-in.

North Village and Lot 2 will become an "unloading zone" for all students moving into North Village. Students and families will be provided unloading permits.
Shuttle Route available from and to Harper Alumni Center and Transportation Center (by North Village)
Parent and Family Lounge
The Parent and Family Lounge is available if you want to meet other families or connect with our staff. We encourage you to stop by and write a letter to your student; this letter will be sent to them in the first three weeks of their move-in. Parents and Families Program is excited to meet you all!
Thursday, August 24, 1 - 4 pm in the Riverview Elderberry and Beetle Room
Friday, August 25, 9 am - 3 pm in the Riverview Elderberry and Beetle Room
Meal Card Office Move-In Hours (located in Dining Commons)
Hours of operation for the meal card office will be posted once determined.
University Housing Services Move-In Weekend Hours
The hours of operation over the weekend for UHS are as follows:
Saturday 8/26, 10 am - 2 pm
Sunday 8/27, 10 am - 2 pm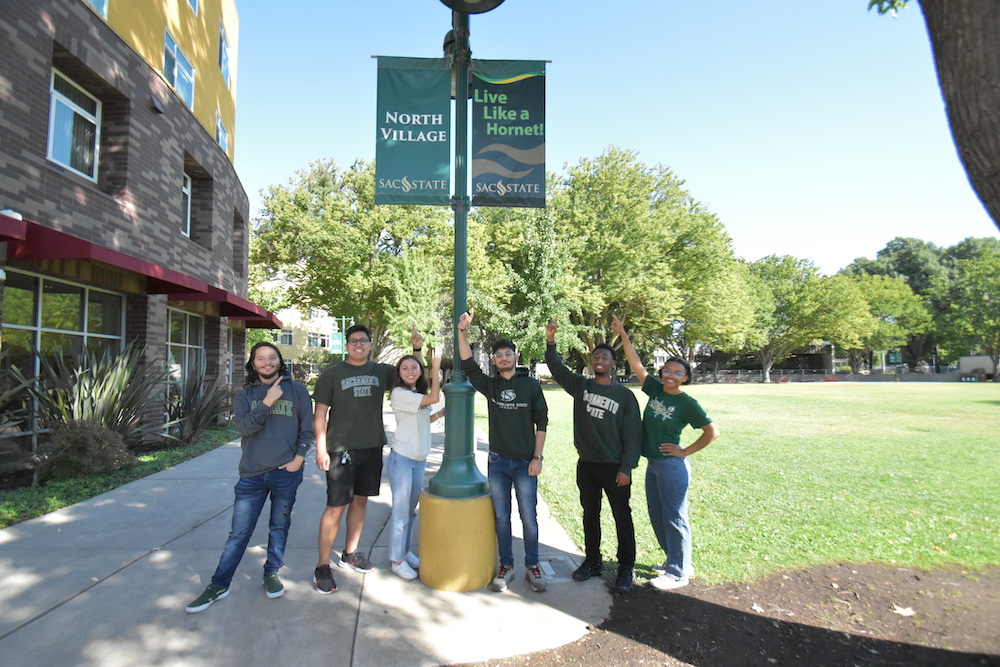 Fall 2023 Move-In Events
Move-in events are to be announced.
MicroFridge Rental
University Housing Services and Collegiate Concepts have partnered to provide a MicroFridge rental program to North Village residents. MicroFridge is the original combination appliance featuring a mini-fridge, freezer, and microwave. You can rent a MicroFridge for the academic year. We will place it in your room prior to move-in and will remove it at the end of the year following move-out.
Please visit our MicroFridge rental site to rent a unit for the upcoming year, review ordering deadlines, and learn more about the units.
Linen & Care Package Programs
Linen Program: The Residence Hall Association and SWAKU have partnered together to provide linens to students! Did you know that residence hall rooms have Twin XL mattresses? Take the guesswork out of it and let us ensure your room is outfitted with stylish and up-to-date linens. Visit the SWAKU Linens page to check out current offerings! The deadline to order is Aug 1st but order early for the best selection of linens and other popular products.
Care Package Program: The Residence Hall Association and SWAKU have partnered to provide care packages to students. Care packages consist of yummy treats that will be sure to get your student through the semester. As an added bonus, this year we are offering various health and safety options too! Visit SWAKU to check out current offerings!
Spring 2023 Move-In
New students and those returning from Winter Break will move-in on Friday, January 20. All students will be assigned a move-in appointment for that date, and there will be available appointments on Saturday, January 21 and Sunday, January 22, 2023. Alternate Arrival requests (early arrival or late arrival) will be reviewed. All new and returning students should go directly to their residence hall desk for check-in.
All dates are based on the University Housing Services and Dining License Agreement 2022-2023.
Parking (Courtesy Permits) during Move-In
A 3-hour virtual courtesy permit will be provided for parents, families, and guardians for the Residence Hall Lot 2 – residents should check their emails prior to the week of move-in for the instructions about the courtesy permit.
After 3 hours, vehicles can park in the Residence Hall area of Parking Structure V (PS V) on the 5thand 6th
Red zones, ADA spaces, parking on the grass, etc. will always be enforced.
Spring 2023 Move-In Events
Jeopardy
Friday, January 20th
7 - 8:30 pm
Riverview Hall Elderberry and Beetle Rooms
Decorate Your Own Mug
Sunday, January 22nd
7 - 9 pm
American River Courtyard Large Conference Room
What to Bring
Bed and Bath
Bed linens: sheet set (X–long twin size 36" x 80")
Pillow / pillowcase
Bedspread/comforter
Pad/Cover - enclosed/bed bug proof is recommended
Towels and washcloths
Shower caddy
Bathrobe and shower shoes
Hygiene items
First aid items
Thermometer
Toilet paper, Hand Soap, and other Bathroom Supplies (American River Courtyard and Desmond Deluxe Doubles Only)
Clothing and Laundry
Clothes hangers
Laundry basket
Detergent, fabric softener, dryer sheets
Iron (auto shut-off) and small ironing board - if needed
Electrical Accessories (UL Approved)
Television
RokuTVTM or a RokuTM streaming device (For access to all cable amenities in Riverview Hall)
Power strip w/Surge Protector for all electronic equipment
Ethernet cord
TV cable cord
Personal computer/printer
Floor/Desk/reading lamp (non-halogen) • Flashlight
Supplies and Misc.
Medications
School Supplies
Painters tape for hanging posters
Bike and heavy-duty lock
Cleaning Supplies Note: Recommended Multi-Purpose Cleaners (Seventh Generation, Green Works, Simply. Green, Lysol, Kaboom, Easy Off BAM). Recommended Disinfectant (Lysol II, Vanish, 409 Disinfectant). Bleach is not recommended and will harm surfaces. Cleaners with bleach additives should not be used.
Refrigerator and Microwave
One refrigerator per room not to exceed 4.5 cubic feet or draw more than 1.5 running amps
Microwave should not exceed 700 watts - One microwave per room
American River Courtyard - Kitchenette Items
All electrical cooking appliances must have an auto shut-off and cannot have open heating coils.
Coffee pot (must have auto shut off)
Plates, bowls, cups, silverware
Kitchen towels, paper towels, and sponges
Dish soap and drying rack
Mop, broom, and dustpan
What Not to Bring
Unpermitted Items
The following items are not permitted. This is not a complete list, just some of the more common things that wind up in the ride back home.
Pets (except fish, and tanks must not exceed 10 gallons)
Flammable liquids
Hot plates/electric skillets: Any cooking device with an open heating coils
Percolator
Oil popcorn poppers
Refrigerators larger than 4.5 cu.ft. with minimum amperage over 1.5
Halogen lamps
Black Lights
Sun lamps
Electric blankets
Extension Cord(s)
Weapons of any type
Candles/incense/potpourri burners
Electric space heaters • Air conditioner
Toaster/Toaster ovens without auto shut off
Water beds
Dartboards
Contact paper or wallpaper
Command hooks/adhesive, nails, screws, molly bolts, anchors, or other types of fastener hardware.
Outlet adapters
Alcohol or alcohol–related decorations
Fireworks
Any used upholstered furniture, including futons and wicker chairs that can harbor pests.
Hoverboards (possession prohibited on campus)
Personal router, switches, or hubs due to internet security concerns
Use this simple rule of thumb: leave it at home if an item presents a safety hazard, an annoyance to others, a likelihood of damaging your room or furnishings. Possession of these items is a violation of Housing policy.