Global Navigation

VOL.5 ISSUE 3 SPRING 2012
Page Content
ABA NEWS
SACRAMENTO HOSTS CSU BUSINESS CONFERENCE
Sac State's Financial Services team successfully hosted the 2012 CSU Business Conference from March 26 to 28, at the Hyatt Regency Hotel, in downtown Sacramento. Associate Vice President and Conference Committee Chair Justine Heartt led Conference Committee planning activities, and Business Associate Priscilla Llamas-McKaughan helped plan and coordinate the event for over 300 registrants, 70 plus vendors and 63 presenters.
The conference Capitalizing on Collaboration focused on partnerships among the CSU campuses. It was the first joint CSU conference for the Financial Officers' Association (FOA) and the Procurement and Support Services Officers Association (PSSOA). Included in the conference were five CSU speakers, each recognized in their field of expertise.
Dr. Jolene Koester, CSU Northridge President Emeritus (keynote speaker)
Benjamin F. Quillian, CSU Executive Vice Chancellor and Chief Financial Officer
Gail E. Brooks, CSU Vice Chancellor, Human Resources
Karen Zamarripa, CSU Assistant Vice Chancellor, Advocacy and State Relations
Robert Turnage, CSU Assistant Vice Chancellor for Budget
The Conference Planning Committee and the FOA and PSSOA officers are grateful to Sac State volunteers who assisted at the conference and helped prepare over 425 bags, name tags and session evaluations packets. The conference wouldn't have succeeded without the efforts of the whole team spirit and group efforts.

NEW ABA WEBSITES LAUNCHED IN "MONET" TEMPLATE
After months of collaboration and review, ABA published two new feature-laden webpages, including the ABA homepage, and the Public Safety webpage. The pages were designed with elements that match the University's latest template, referred to as "Monet." Both ABA and Public Safety are highly visited websites.
The ABA homepage was redesigned with the goal of creating an organized and user-friendly site. Public Safety's page contains information critical to campus safety. The redesign was a high priority, to better communicate important alerts and information about the diverse services provided by the department.
The new "Monet" template, defined by its rich bold coloring and use of photos and graphics, helps align ABA with the University's goals of having dynamic, organized, and accessible pages. "I absolutely love the new 'Monet' template," said Serena Fuson, executive assistant to the chief of police and Public Safety web editor. "It makes it easier for our readers to view the Public Safety/University Police website. I also like the design better because the information has been reorganized into a more photo-based format with fewer blocks of texts."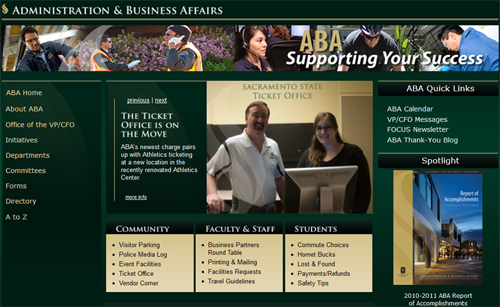 These new sites incorporate better link organization for easy navigation, and feature story carousels. ABA's carousel contains stories about ABA activities, news and announcements. Public Safety's carousel links to important services.
The redesigns were successfully launched thanks to the hard work and collaborative efforts of Public Safety, Public Affairs, Information Resources & Technology (IRT) and Strategic Planning & Quality Improvement (SPQI). The new Public Safety page launched in December, 2011 while the new ABA page launched in April, 2012.
Initial feedback has been very positive. Serena noted that, "The new website is very professional, has more personality and is quite dynamic. It serves as a much better resource for students, faculty, staff and the public; it is more user friendly."
Additional ABA pages will be redesigned using the Monet template in the future. For questions, comments, or feedback on the new ABA pages, or the timetable for additional ABA page redesigns, contact the ABA webmaster.
ABA staff professionals are encouraged to check out the new ABA homepage at www.csus.edu/aba and the new Public Safety page at www.csus.edu/aba/police.

ABA SPEAKER SERIES WITH DALE CARLSEN
On March 15, ABA welcomed Dale Carlsen, CEO of Sleep Train Mattress Centers, as part of ABA's Speaker Series. The Speaker Series brings community leaders to Sac State to share knowledge about their fields of business or expertise.
As a proud alumni of Sac State, earning a degree in Real Estate, Finance and Insurance in 1984, Carlsen spoke of some valuable words he received from his father. "Son, to be successful, surround yourself with great people." One year later, in 1985, he pursued his dream and founded Sleep Train Mattress Centers.
Carlsen also spoke of his company's values: integrity, ownership, inspiration, and celebration. "We value every aspect of our company," Mr. Carlsen said. "We coach to succeed." These values have led to success for Carlsen and his company.
Today, the Sleep Train enterprise has evolved into one of the top three mattress retailers in the United States, and the #1 mattress retailer on the West Coast, with more than 250 locations.
Carlsen strongly believes it is his responsibility and, in turn, his company's responsibility to give back to the community. An active proponent of foster care youths, Sleep Train Mattress Centers donated over 4,000 new mattresses to children in the foster care program in 2011.
Other contributions include his service as chairman of the Board for Junior Achievement and board member for the Boys and Girls Club of Greater Sacramento. He also presently serves as an Advisory Board member for Sac State's College of Business Administration.
ABA and the University were proud to have Carlsen share his insights. To learn more about the Dale Carlsen and the event, view the YouTube video.


BUILDING BRIDGES, ZONE BY ZONE
Facilities Services has launched a new work facilitation process that emphasizes customer service and job efficiency: The Zone Management Program. The program essentially divides the campus into three zones, each with its own overseer who acts as official liaison between the customer and Facilities Services. This model assigns to customers an individual from whom they can directly seek answers and service.
Mark Leisz, formerly manager of Customer Service, was tapped to helm the program as new senior zone manager. Former custodial supervisors Eric McWilliams and Douglas Power were brought aboard to superintend two other zones. The main Zone Management office is located in the Brighton Annex, the former site of One Card Services. Richard Mikeworth, the zone manager for Residential Life, is located in Desmond Hall. Check the Zone Map to find your zone.
The new programs has far-reaching ideals. The zone managers are the conduits through which many larger work projects will be completed. Far from being soley agents for the customer, the zone managers will also remain in close communication with Facilities Services staff and external contractors, in order to ensure work completion to the satisfaction of all involved. Because of their knowledge of the inner workings of Facilities Services, these zone managers will be able to facilitate, with efficiency, customers' requests and projects.
Additionally, the program affords a proactive presence throughout the campus, as each zone manager will physically survey their assigned zones for potential work/issues that need to be addressed and that may have otherwise slipped through any cracks. The hope is that the entire work order process will become more streamlined, thus ensuring a more agreeable physical plant for all at Sac State to enjoy.
For more information about the Zone Manager Program, as well as how to contact your zone manager, click here.

MADE AT SAC STATE - POLICE CHIEF IWASA
Just short of five months on the job, Police Chief Mark M. Iwasa is already a familiar face on campus. No stranger to Sac State, Iwasa holds two University degrees - a B.A. in Economics with a minor in Criminal Justice (1990) and an M.A. in Public Policy and Administration (1993).
Iwasa was previously the undersheriff for Sacramento County and brings more than 25 years of progressively expanding experience that includes criminal investigation, coordinated communication with neighboring municipalities, and administration of community-oriented programs. "This position will allow me to utilize the knowledge and relationships that I have accumulated over many years at the Sacramento Sheriff's Department in a way that I think will be very fulfilling," said Iwasa.
Iwasa is already engaged in developing goals for Public Safety, collaborating with colleagues to advance the University's Redefine the Possible initiative. "I am very pleased at the level of teamwork that I have encountered from other departments at the University and believe that we can make great strides toward our goals."

NEW TRANSPORTER WILL HELP RECEIVING DELIVER
In March, Sac State Receiving added a new vehicle to their fleet. This new material transporter is capable of handling two full pallets of material without concern for inclement weather or height restrictions. The van measures 6'2" inside, allowing workers to stand upright without bending over while working. This new transporter will help Receiving reach their goal of delivering packages in a quick and timely manner, and in good condition.



ABA'S KIRTLAND STOUT - FEATURED PHOTOGRAPHY
Spring is in the air, and with it, beautiful blooming flowers across the campus. From poppies to roses, we are lucky to enjoy such a picturesque season on a scenic campus.
To celebrate our campus' beauty, ABA's Kirtland Stout shot photos while out on routine campus business. His photos of floral landscapes were featured on Sac State's homepage, as well as on the official University Facebook page.
To view all of Kirtland's photos, visit Sac State's Facebook page.