Renaissance Society Seminars
The 2023 Fall Catalog
You can read the flipbook version of the Catalog online. Or you can view the PDF version, which you can download to your computer and print out pages you want. There is also a briefer Schedule-At-a Glance to help with your planning. You can also print it. NOTE: You can begin signing up for classes on Aug. 14!
Here is a link to a campus map.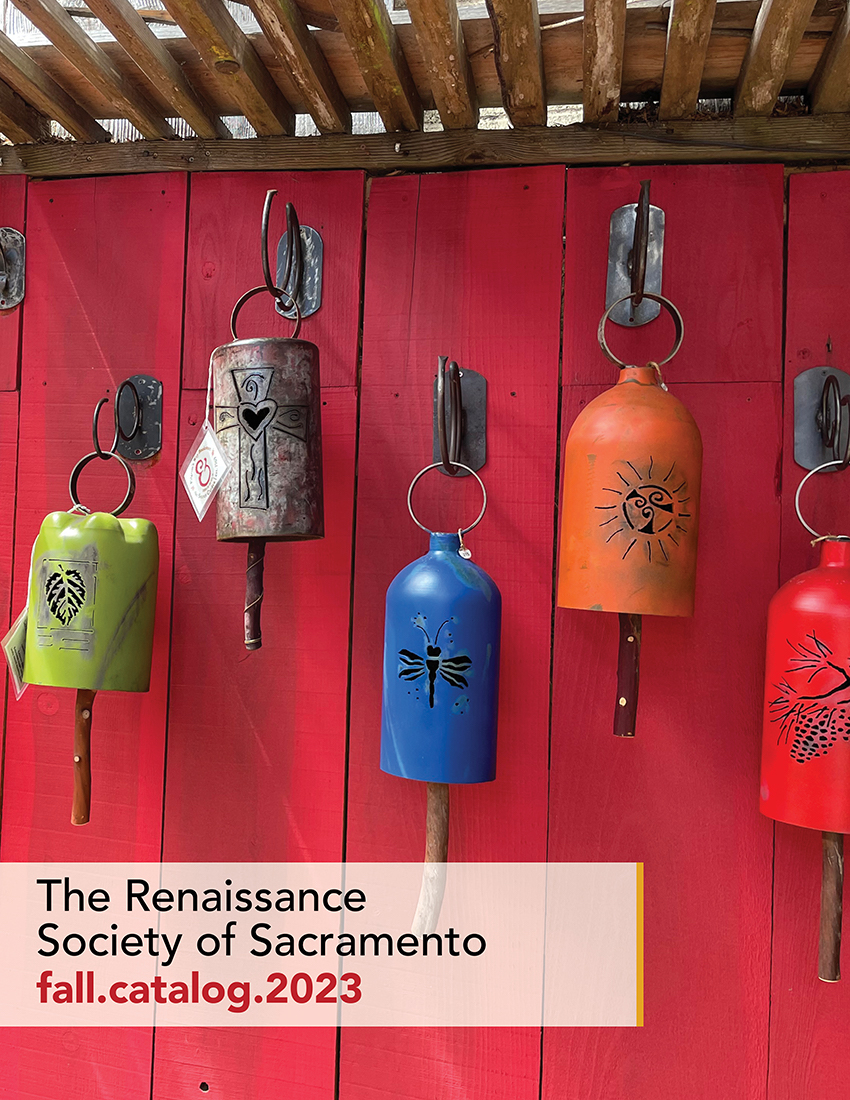 Frequently Asked Questions
Can't recall your membership number?
How to find your membership number in the registration system.
How Do I Enroll in Programs?
Our online registration system has been updated to make it easier to find and sign up for classes. It also now makes it much easier for you to know and keep track of the Zoom links for all the classes for which you sign up. HINT: Create a place on your computer, such as a special folder, to keep the email that will be sent to you listing all your classes and their Zoom links.
How to Enroll in Classes and Get Your Zoom Links
How Do I Access My Program Data?
How Do I Get a Parking Permit for On-Campus Classes?
There is a new system for parking permits, a virtual one using your car license number. Go here to find out the details.
What about wifi on campus?
You can connect your phone, laptop or tablet to the Sac State system. Here is the basic wifi info.
You can learn how to use a guest wifi account here.
Fall 2023 Update
Renaissance programs this Fall will have lots of choices. There will be classes on Zoom from Mondays through Thursdays. On Fridays there will be many classes on the Sac State campus! Some of them are in-person only, while others will be presented both to in-person participants and others from the comfort of their homes on Zoom. These "hyflex" or "hybrid" classes will also be recorded. That means members who sign up for these classes can choose each week whether to attend on campus or on Zoom. The Friday Forums will also be hybrid, viewable either in person on campus or at home on Zoom.
It is not difficult to use Zoom as a participant. You will get directions and instructions from your seminar leaders. There is training information on this website. You can download the Zoom application for free onto your computer, tablet or smartphone and practice yourself. Note: You do need to have a decent wi-fi connection.
Resources for Program Leaders
Leaders: Like some help with your classes? This Leaders' Handbook is full of useful information.
Fall 2023 Orientation & Open House
The Fall 2023 Orientation and Open House was held on Friday, Aug. 18, from 10 a.m. to 1 p.m. in the University Union on campus. The Orientation explained various programs and aspects of Renaissance. It was followed by the Open House, which showcased our community partners and Renaissance committees and allowed current and new members to meet Program leaders and sign up for classes.
Watch the Fall 2023 Orientation Zoom recording here
You can view the Orientation slide show here.
Questions
Please contact MDCE Committee Chair Debbie Martinez at debralyn78@pacbell.net.
Previous Seminars
Curious about seminars offered in previous years?
These are lists of seminars that were offered by the Renaissance Society on campus on Fridays and Saturdays beginning in 2010, and for off-campus beginning for the Spring semester of 2015.
Also, beginning in the Fall semester of 2015, seminars that were drop-in were added in addition to those that required a member to register. In the Fall semester of 2018, Short Seminars were added (seminars lasting less than the full semester).
This is informational for anyone interested in leading or co-leading a seminar. A brief description of each seminar is in the activity catalog for that semester; those past catalogs are available at the Renaissance office.
Contact: If you have questions about any seminar, you can contact the listed leader(s) or the Seminar Committee. Contact information is available through the Renaissance Office (916) 758-5133.