SSAA Board of Directors
The Sacramento State Alumni Association Board of Directors is a governance board of thirty alumni volunteers who lead the organization in its service to Sacramento State and its alumni.
Leadership provided by the Board is essential to the successful implementation of programs designed to accomplish the mission of the Association.
The Board and Association's mission is to connect, engage, and celebrate alumni, students, and friends of Sacramento State while building lifelong relationships that support the future of our University.
Meet the 2019-20 Executive Officers
Meet the 2019-20 Board of Directors
Now accepting nominations/applications for service on the SSAA Board of Directors. Deadline to submit is Thursday, February 20. Please email jbarber@csus.edu if you have any questions.
Submit Nomination for SSAA Board of Directors
Board Documents: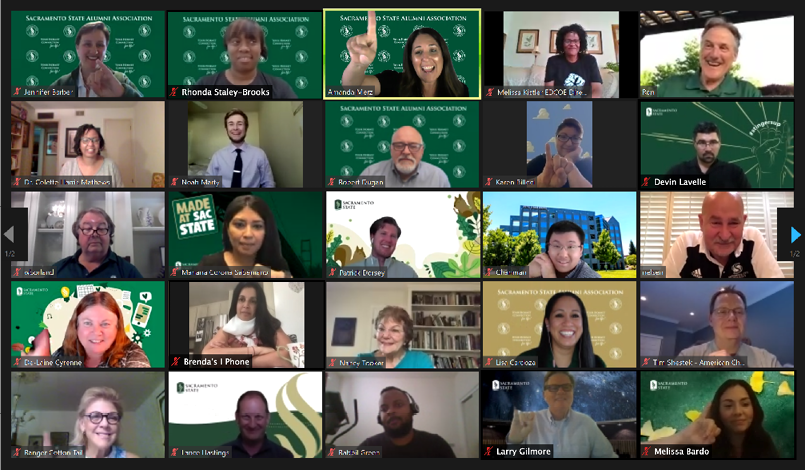 2019-20 Board Meeting Schedule
The Board meets bi-monthly to establish policy, develop goals and objectives, assist with long-range planning, and monitor Alumni Association finances.
| Meeting Date | Time |
| --- | --- |
| Monday, August 19, 2019 | 5:30 p.m. - 7:45 p.m. |
| Monday, October 14, 2019 | 5:30 p.m. - 7:45 p.m. |
| Monday, December 9, 2019 - Annual Member Meeting | 5:30 p.m. - 7:45 p.m. |
| Friday, February 7, 2020 - Annual Planning Retreat | 8:00 a.m. - 1:45 p.m. |
|  Monday, March 23, 2020 | 5:30 p.m. - 7:45 p.m. |
| Tuesday, May 11, 2020 - Board Meeting | 5:30 p.m. - 6:30 p.m. |
| Tuesday, May 11, 2020 - Board Installation Ceremony & Reception | 6:30 p.m. - 8:00 p.m. |